Free LLC First Meeting Minutes Template
Meeting minutes record who attended a meeting and what business was conducted. When forming an LLC, it's common to record the minutes of the first LLC meeting. An LLC's initial meeting can include organization and setup that some may find useful to document. We provide a free sample LLC first meeting minutes template here to memorialize the minutes of the first meeting of your LLC.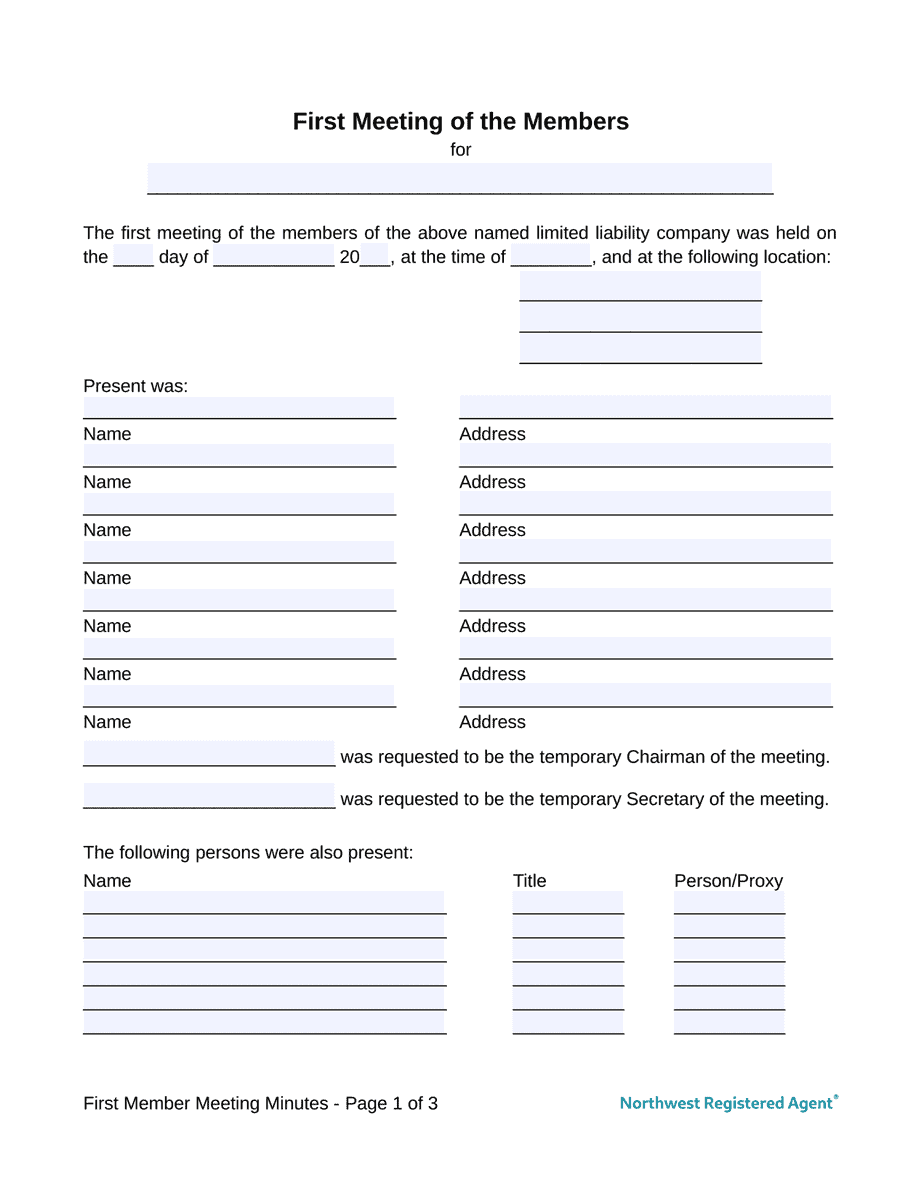 Why should I record LLC first meeting minutes?
As you'll see on our initial LLC meeting minutes template, the first meeting typically includes a lot of formalities that likely just confirm what you've already put into writing in other formal documents, such as your Articles of Organization and operating agreement.
Recording formal minutes may seem redundant, but initial minutes can come in handy. For instance, if a dispute were to arise later on, it could be useful to have multiple documents that demonstrate initial agreement on an issue. And, if your LLC formation documents and operating agreement aren't very strong, well-documented minutes of your first meeting can help cover your bases.
Of course, you'll want all of your documents—especially formation and operating agreements—to be strong and to reinforce one another. When we form LLCs at Northwest, we draft your Articles of Organization and operating agreement. The language of our meeting minutes is designed to easily support these other documents. We form LLCs for $100 plus state fees—it may be worth your time to have us form your LLC for you.
What should LLC first meeting minutes include?
An LLC's first meeting frequently covers a lot of ground, from electing managers to choosing an annual meeting date. Our free LLC first meeting minute template includes the following key information:
General Meeting Information: Our template includes spaces to list the LLC's name, meeting date, meeting location, members present, and non-members in attendance.
Chairperson and Secretary Elections: The LLC elects a chairperson to run the meeting and a secretary to complete the minutes template.
Quorum Confirmation: The chairperson confirms that the meeting was called by the members and determine whether or not a quorum (minimum number) of members is present.
Manager Elections and Salaries: If the LLC has managers, the managers should be elected or confirmed. Their salaries should be fixed at this time as well.
Adoption of Key Documents: The chairperson confirms that Articles of Organization were filed and that all members have read the document. The initial resolutions and operating agreement should also be approved, ratified and adopted at this meeting.
Reimbursements: Forming an LLC isn't free, so reimbursements for the organizers' expenses (such as filing Articles of Organization) can be approved at this time.
Contributions and Membership Interests: The LLC needs to be funded with initial capital contributions. These contributions and their corresponding membership interests should be approved and recorded at this meeting.
Business Operations and Bank Account: Members of the LLC agree to start business operations and establish a business bank account.
Reporting Basis: Income and expenses need to be reported on a regular basis (for instance annually or quarterly). The reporting basis should be agreed upon and recorded in the minutes.
Annual Meeting Date: LLCs are not required to hold annual meetings. That said, it's still common practice. In your minutes, note whether or not members decide to hold annual meetings. A specific date should be selected for this next annual meeting if there is one.
Other Items of Business: While the most common meeting topics are covered above, the template includes space for any additional items of business conducted.
Signatures: Members sign the meeting minutes. In addition, the secretary who took the minutes should provide a final signature as well.
Do single member LLCs need to record first meeting minutes?
For single member LLCs, initial meeting minutes would basically just formally list the same information as your single member LLC operating agreement. (Don't have an operating agreement? Check out our single-member LLC operating agreement template.) As such, recording LLC first meeting minutes for a meeting with yourself is probably a waste of your time. However, some people are more comfortable over-documenting everything, so go for it if you want to. Most states have laws that note that a lack of internal formalities, such as initial meeting minutes, won't cause you to lose your limited liability protections.