How To Start An LLC In Michigan
To start an LLC in Michigan, you must file Articles of Organization with the Michigan Corporations Division, pay a $50 filing fee, and get an EIN from the IRS. The complete steps to forming a Michigan LLC are as follows:
File Michigan LLC Articles of Organization

Pay the Michigan Corporations Division $50

Wait to receive the approved copy of your Articles of Organization

Get a Federal EIN tax ID for the LLC

Create a Michigan LLC Operating Agreement

Take these documents to the bank and get a Michigan LLC bank account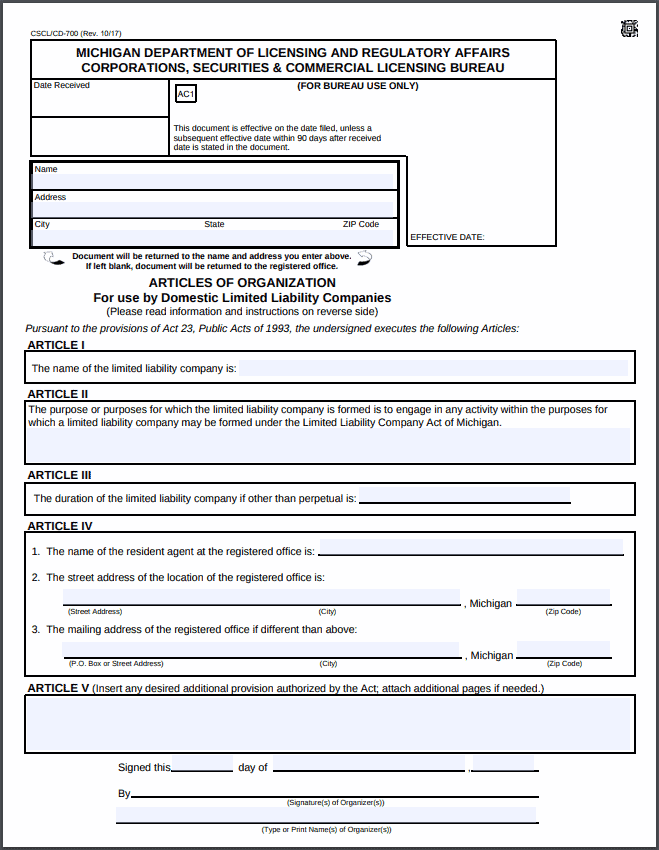 How to File Michigan LLC Articles of Organization
To form a Michigan LLC, you file Articles of Organization by following these steps:
Choose a name for your new LLC
Declare a purpose for your business
Choose how long you'd like your LLC to exist
Decide if you want to hire a registered agent service to minimize public disclosures
File online and pay $50 with a credit card or mail to the Corporations Division (Michigan Department of Licensing and Regulatory Affairs; Corporations, Securities & Commercial Licensing Bureau; Corporations Division; PO Box 30054; Lansing MI 48909) with a check or money order for $50
Free Download
File Online
HOW LONG DOES IT TAKE TO START A MICHIGAN LLC?
Fastest and Simplest 1 day: File your Articles yourself and pay an extra $50 for 24-hour expediting. Technically, the Corporations Division offers even faster expediting than this, but the prices are exorbitant for only incrementally faster service (including one-hour expediting for an additional THOUSAND dollars).
Almost Fastest (and some might say better) 1 day: Hire Northwest, choose expedited processing, answer a few brief questions, sit back and let our Corporate Guides file everything correctly the first time.
Not Too Shabby 3 days: Skip the expediting and file your Articles online (or let Northwest file for you).
Archaic 10-15 days: Mail in your unexpedited Articles of Organization, and in a couple weeks, someone will enter your data by hand and process your filing.
WHAT IS THE COST OF A MICHIGAN LLC?
Michigan's Corporations Division charges a $50 filing fee for Michigan LLC Articles of Organization. 24-hour expediting is an additional $50.
Hire Northwest, and your total, out-the-door cost is $275 ($325 expedited), including state fees and a full year of resident agent service.
How much does an LLC in Michigan cost each year?
There is a $25 filing fee for the Michigan LLC Annual Statement and Report.
What is a Michigan LLC Annual Statement and Report?
The Michigan LLC Annual Statement and Report is a form that LLCs are required to file each year in order to ensure the state has your most current contact and ownership information. If your report is late, there's a $50 late fee. The unusual due date (February 15th) is tough to remember, so it's not uncommon for LLCs to find that their $25 report has ballooned into a $75 report. Northwest can help. When you sign up for our services, we send you reminders for your Annual Statement and Report. You can even hire us to file your reports for you, so you can check this annoying task off your list entirely.
What are the Michigan LLC taxes?
The Michigan personal net income tax rate is a flat 4.25%. The state sales tax is 6% across the state (cities and counties don't tack on additional sales taxes).
IS A MICHIGAN LLC RESIDENT AGENT REQUIRED?
Yep—Michigan requires LLCs to appoint and maintain a Michigan resident agent. You don't have to hire one though. You can be your own resident agent—although there are a few downsides. The address you list in your Articles of Organization will become part of the permanent public record, a common target for data sellers. You'll also have to actually be at the address listed during business hours. As the resident agent, if you miss a process server, it's on you. The State of Michigan doesn't care that you have meetings to attend and suppliers to visit. (And if you're in the LP, you really have to get away and make the pilgrimage over the Mackinac at least once in the amazing summer season.)
Hire a commercial agent like Northwest and avoid all the hassle. We'll list our address on your Articles, sort through your spam, and be ready and waiting to accept your legal notifications. Keep your privacy and give yourself the freedom to run your business on your own time.
DO I NEED A TAX ID NUMBER (EIN) FOR A MICHIGAN LLC?
You're required to get a federal tax ID if you hire employees or file certain federal excise taxes. Your bank will almost certainly request your EIN when you go to open a business bank account or take on debt. Vendors may ask for your EIN when you go to establish credit. Depending on the local tax forms you file, you may need an EIN for local taxes as well. Even if an EIN isn't specifically required, you can often use it in lieu of handing out your personal social security number. Long story short, it's a good idea to get an EIN. You can apply for one for free directly from the IRS. Or, save some time and paperwork and hire us to apply on your behalf when you sign up for our services.
DOES A MICHIGAN LLC NEED A BUSINESS LICENSE?
Michigan doesn't have a statewide general business license, but there are a handful of licensing requirements for specific occupations and business activities. To see if you need a state-level license, you can conduct a state license search. Cities and counties may have their own requirements as well. For example, the City of North Muskegon requires a general business license that must be renewed each year.
MICHIGAN LLC VERSUS MICHIGAN CORPORATION:
In Michigan, it costs less to start an LLC than a corporation. The filing fee to start a Michigan LLC is a flat $50, while the minimum cost for a corporation is $60 for up to 60,000 authorized shares (the fee increases along with the number of shares). The yearly annual report fee, however, is the same for both LLCs and corporations: $25. Overall, there isn't a substantial difference in costs for either business type.
So why choose one over the other? It boils down to how you want to run your business. LLCs and corporations operate differently. LLCs are a little simpler. LLCs aren't required to have directors, officers, or even any managers at all—members can manage the LLC themselves. There also aren't requirements for formalities like annual meetings. Small businesses and new business owners often choose LLCs for this kind of flexibility. Corporations, on the other hand, are often popular for businesses that hope to scale quickly—those with Wall Street dreams go for corporations. Interested in incorporating in the Wolverine State? Here's information on Michigan incorporation.
DOES A MICHIGAN LLC NEED AN OPERATING AGREEMENT?
The State of Michigan may not legally require your LLC to have an operating agreement, but yes, you should absolutely have one.
When you're driving in the summertime and hit the inevitable construction fixing all the potholes, do you ever wonder why they didn't just make the roads out of something better in the first place? So you wouldn't have to deal with all the annoying reroutes and traffic EVERY summer? Instead of just poorly patching each problem area as it develops? Think of the road as your operating agreement. Start out with a solid operating agreement and avoid the bumps later on down the road.
Your operating agreement is the most critical internal document of your LLC. Your operating agreement spells out how your LLC really works—who invested what, how profits and losses are allocated, and what happens if the business comes to a close. When there are member disputes, you can refer back to your agreement. When potential lenders, investors or partners are considering working with you, they'll ask to see your operating agreement. Just to open a bank account, you'll likely need your operating agreement. You don't want to wait until you need an operating agreement to hurriedly patch one together.
That's why we give you a free operating agreement, specific to your management style, when you sign up for our services at Northwest. We also give you other free forms, like resolutions and membership certificates. We've spent years refining all of our forms. We were the first website to hand out free LLC forms, and while loads of imitators have put out free garbage since then, we're proud of our forms. And we should be—over a million LLCs have used our free LLC forms to help form and maintain their businesses.
WHAT IS THE MICHIGAN LLC STATUTE?
MICHIGAN LLC ARTICLES OF ORGANIZATION REQUIREMENTS:
Company Name:

Your name must include "Limited Liability Company," "LLC" or "LC." Most businesses go with "LLC."

Purpose:

If you want to narrow or otherwise specify the purpose of your business, you can add an optional sentence or two in this section.

The form already includes a

sufficient

general purpose

though, so most LLCs

skip this section.

Duration:

Unless you want to add an expiration date for your LLC, you can skip this section too.

Resident Agent:

You can list an individual Michigan resident, or you can list a business that provides resident agent service, like Northwest.

Registered Office:

This Michigan street address will become a permanent part of the public record. Hire Northwest, and our address will go here.

Michigan LLC Organizer:

"

Organizer" may sound fancy, but it's just the person who signs and submits your Articles of Organization. Hire us to form your LLC, and we'll be your organizer.
Our 1-Day Michigan LLC Formation Service Includes:
Same Day Filing of Michigan Articles of Organization
Listing our Michigan address instead of your home or office becoming permanent public records
Michigan LLC Filing Fees
Expedited Service
Organizer Initial Resolutions
Michigan LLC Operating Agreement
Michigan LLC Banking Resolution
Michigan LLC Membership Certificates
Michigan Resident Agent Services
Annual Compliance Reminders
Online Account with instant tools to help you start and run your business