How To Start An LLC In New Jersey
To start an LLC in New Jersey you must file a Public Records Filing with the New Jersey Division of Revenue, pay a $125 filing fee, get an EIN from the IRS, and file a Business Registration Application. The complete steps to forming a New Jersey LLC are as follows:
File a Public Records Filing for a New Business Entity

Pay the New Jersey Division of Revenue $125

Wait to receive your Certificate of Formation

Get a Federal EIN tax ID for the LLC

Create a New Jersey LLC Operating Agreement

Take these documents to the bank and get a New Jersey LLC bank account

Register with the New Jersey Division of Revenue by filling out a free Business Registration Application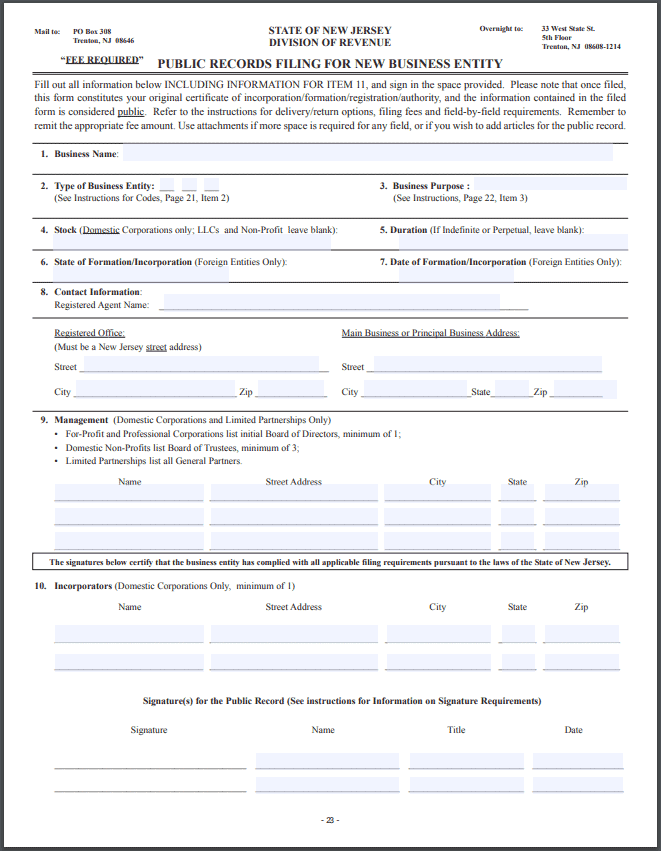 How to File a New Jersey LLC Public Records Filing
To form a New Jersey LLC, you file the LLC Public Records Filing for a New Business Entity by following these steps:
Choose a name for your new LLC
Declare your business's purpose
Choose how long you'd like your LLC to exist
Decide if you want to hire a registered agent service to minimize public disclosures
Decide what address you'd like to list publicly
File online or fax to 609-984-6851 and pay with a credit card, or mail two copies and a self-addressed return envelope to the New Jersey Department of the Treasury (Division of Revenue & Enterprise, Services/Corporate Filing Unit PO Box 308, Trenton NJ 08646-0308) and pay with a check
Free Download
File Online
HOW LONG DOES IT TAKE TO START A NEW JERSEY LLC?
Fastest* 1-2 days: Submit your Public Records Filing yourself. Either file online (which typically only takes a day or two) or pay for "8.5 hour" or "same-day" expediting when you submit with any other method.
Almost Fastest (and some might say better) 2 days: Save yourself the headache of navigating New Jersey's complicated filing process and hire Northwest to form and file your Public Records Filing for you. Just answer a few brief questions, sit back, and let our Corporate Guides file everything correctly the first time.
Archaic 2-3 weeks: Mail your filing without any expediting. Wait around for a couple weeks. Eventually someone will take pity and process your filing.
*Technically, there is a way to get your filing processed even faster, assuming you have deep, deep pockets. If you really need it fast, you can pay $1000 (that's not a typo) for one-hour service or $500 for two-hour service if you show up to the Division of Revenue in person.
WHAT IS THE COST OF A NEW JERSEY LLC?
The state filing fee for a New Jersey LLC Public Records Filing is $125. If you file online, there's also a credit card service fee of $3.50. Need expediting? 8.5 hour expediting is $25, and same-day expediting is $50.
When you hire Northwest, your total, out-the-door cost is $355, including state filing fees.
How much does an LLC in New Jersey cost each year?
The Division of Revenue charges a $50 filing fee for your New Jersey Annual Report (add $25 if you actually make any changes to your information).
What is a New Jersey LLC Annual Report?
Your New Jersey LLC Annual Report is a form your LLC is required to file each year in order to confirm or update your ownership and contact information. If you just confirm your information, the fee is $50, but if you make any updates, the fee increases to $75. Forget to file? There's no late fee, but if you fail to file two years in a row, the state will dissolve or revoke your LLC. At Northwest, we know you already have a lot to think about and remember when running a business. That's why when you sign up for our services, we send you reminder notifications for your Annual Report. Better yet, you can even hire us to file your report for you each year.
What are the New Jersey LLC taxes?
The New Jersey personal net income tax rates for single filers are:
1.40%: $0 to $19,999
1.75%: $20,000 to $34,999
3.50%: $35,000 to $39,999
5.53%: $40,000 to $74,999
6.37%: $75,000 to $499,999
8.97%: $500,000+
The New Jersey sales tax is a flat 6.625% statewide (cities and counties don't tack on additional local sales taxes).
If your LLC is taxed as a partnership, you'll also have to pay New Jersey's Partnership Tax, which is $150 per member. If your LLC is taxed as an S or C corporation, you'll have to file a corporate return instead and pay at least $375 for the minimum tax.
Do I need to register with the Division of Revenue?
Yes—within 60 days of forming your business, you're required to register your LLC with the Division of Revenue, so the state can make sure you're aware of your tax obligations. Registration is free and done by filing form NJ-REG.
DOES A NEW JERSEY LLC NEED A BUSINESS LICENSE?
New Jersey doesn't have a general statewide business license, but some cities and counties require local licenses. For example, if you engage in any business in the City of Trenton, you're required to get a business license and renew it each year.
IS A NEW JERSEY LLC REGISTERED AGENT REQUIRED?
Yes, New Jersey requires LLCs to have and maintain a New Jersey registered agent. You can even be your own registered agent. The title, however, comes with a lot of work and affects both you and your business. Registered agents are required to list a physical address that becomes a part of the permanent record of your New Jersey LLC—and a target for junk mail and solicitors. Registered agents also have to be available at the address listed during business hours to accept legal notifications. New Jersey isn't going to sympathize if you miss a process server because you were in a meeting, out sick, or just taking some "me" time with a drive on Old Mine Road.
Avoid these problems when you hire a commercial agent like Northwest Registered Agent. We put our address on your Public Records Filing, so you can keep yours private. We'll be available so you never miss a service of process—we'll even scan and send legal notifications the same day.
DO I NEED A TAX ID NUMBER (FEIN) FOR A NEW JERSEY LLC?
On the federal level, you're required to get a FEIN if your LLC has employees or files certain federal excise taxes (like Alcohol/Tobacco/Firearms returns). Locally, you'll likely need a FEIN to open a bank account, establish credit with vendors, or even to file the mandatory NJ-REG form after you create your business. In some of these cases, you could use your personal social security number instead, but in the era of identity theft and data mismanagement, why would you want to? Getting a FEIN is free and just requires an application with the IRS. You can even skip this step and hire Northwest to get your FEIN for you when you sign up for our services.
NEW JERSEY LLC VERSUS NEW JERSEY CORPORATION:
The state filing fees for New Jersey LLCs and corporations are the same: $125 for your Public Records Filing and $50 for your Annual Report. Taxes can be similar as well, depending on what tax election you make. For example, LLCs are usually taxed as partnerships but can also elect to be taxed as corporations. Whether taxed as a corporation or a partnership, there's no escaping entity-level taxes in New Jersey: it's either corporate returns of at least $375 or a Partnership Tax of $150 per member.
With costs differences being fairly negligible, why choose one business type over the other? LLCs and corporations operate a bit differently. LLCs are more straightforward and easier to understand and manage. There's no need for directors, officers, or even any managers at all—members can manage their LLC themselves. As such, new businesses and small business owners often go for LLCs. Corporations are a little more complex but are popular for businesses that hope to scale quickly. Interested in a corporation? Here's information on New Jersey incorporation.
DOES A NEW JERSEY LLC NEED AN OPERATING AGREEMENT?
It may not be a state requirement, but there are loads of reasons why your New Jersey LLC needs an operating agreement. There's basic information about how your business operates that members and managers will want in writing—like how much each person invested, how profits and losses will be allocated, and what happens if there are disagreements or if you close down the whole business. People outside your business will want to see your operating agreement as well. You'll almost certainly need one to open a bank account. Potential lenders, investors and partners will ask to see it too. While starting a business in the Garden State already involves a pretty incredible amount of paperwork, you don't want to put off writing an operating agreement until the moment someone asks for it. It's a document with real legal weight; you should spend some time on it.
Wondering where to start? Northwest can help. When you hire us to form your New Jersey LLC, we give you a free operating agreement, specific to your management style. We give you other free forms as well, like resolutions and membership certificates. We want to work with your business for years to come, so it matters to us that you start out on the right foot. That's why we've spent years refining and improving our free forms. We're proud of our forms. We should be—over a million LLCs have used our free LLC forms to help form and maintain their businesses.
WHAT IS THE NEW JERSEY LLC STATUTE?
NEW JERSEY LLC PUBLIC RECORDS FILING REQUIREMENTS:
Company Name:

You must include "Limited Liability Company" or an abbreviation. Most companies keep it short and sweet with "LLC." There's a long list of

words you can't use

as well, including some odd ones like "blind," "cemetery," "mail," "

O

lympic" and "urban renewal."

Purpose:

This may sound like an existential question, but your LLC's purpose is just what your business does. Most businesses include a general purpose that explains the LLC is organized to engage in any lawful activity in New Jersey.

Online, you can

just

choose the NAICS code that best matches your business activities.

Duration:

Have an end date in mind for your business? Enter the date you want your business to stop

existing

. Want your business to continue indefinitely? Skip this section. Tip: Most LLCs skip this section.

Registered Agent:

You can list either an individual (like yourself) or

a

business that provides registered agent service (like Northwest). We recommend Northwest.

Registered Office:

This New Jersey street address will become a part of the permanent record of your LLC. When you hire Northwest, our address goes here.

Principal Office:

This is your main business address. You can keep things simple by using our address here when you hire us—and avoid having to check and update multiple addresses.

New Jersey LLC Authorized Representative:

This is the person who signs and submits your New Jersey LLC's Public Record

s

Filing. It doesn't have to be anyone in the LLC. Hire Northwest, and we'll be your authorized representative.
Our LLC Formation Service Includes:
Filing of New Jersey Public Records Filing
Listing our New Jersey address instead of your home or office becoming permanent public records
New Jersey LLC Filing Fees
Organizer Initial Resolutions
New Jersey LLC Operating Agreement
New Jersey LLC Banking Resolution
New Jersey LLC Membership Certificates
New Jersey Registered Agent Services
Annual Compliance Reminders
Online Account with instant tools to help you start and run your business