Online Credit Card Processing Simplified
How to Accept Credit Card Payments Online
Online credit card processing is crucial to the internet-based economy, and a must have service for just about every online business. This is true whether you do business through an E-marketplace or through a dedicated business website of your own.

Below, we cover the key details you'll need to know if your small business wants to accept credit card payments online, including information on getting a merchant account and the pros and cons of using an integrated or hosted payment gateway.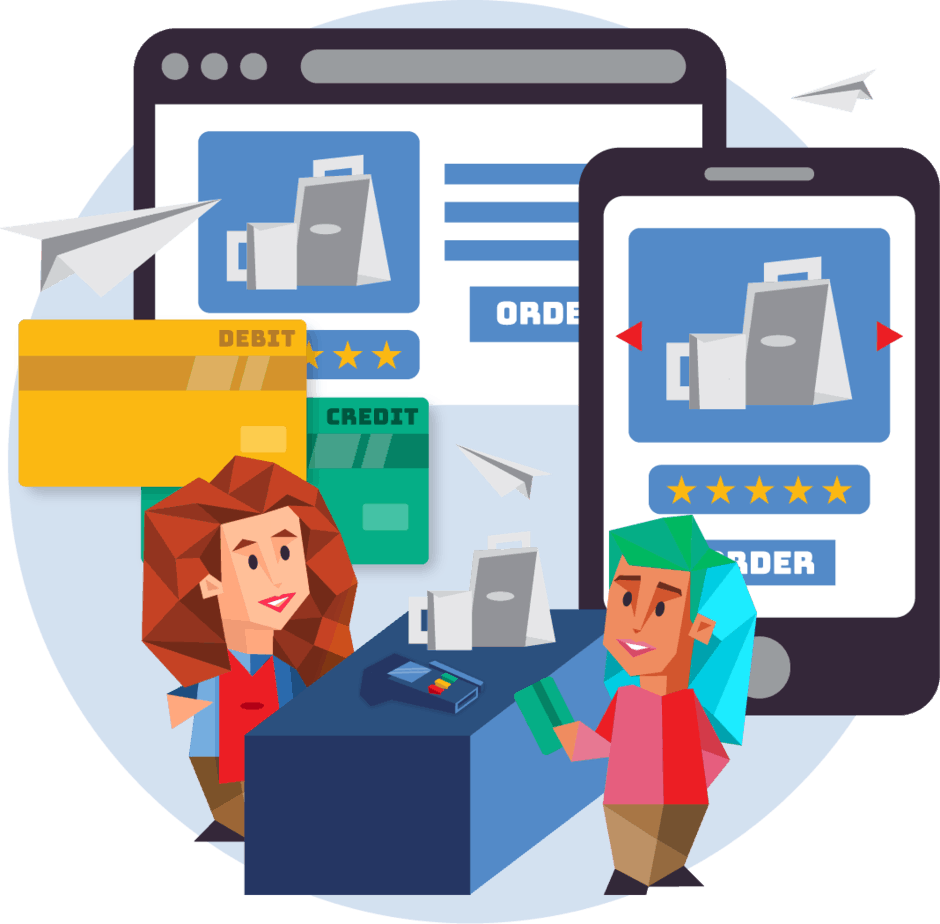 Online Payment Processing:
What You'll Discover Below
1
Online Payment Processing Overview
2
Online Processing Requirements
Payment Processing 101
If you do business online, you need the ability to accept credit card payments online. Understanding how online credit card processing works will help you find the right payment processing deal for your business.
Want to know more about payment processing as a business owner? Click the button below to access our paymentprocessing guide.
LEARN MORE
What is Online Credit Card Processing?
Online credit card processing refers to the range of solutions that make it possible for businesses to accept credit and debit card payments online.
In general, online credit card processing involves a website, a payment gateway, and a merchant account.
The website provides the virtual equivalent of a "store" or "marketplace" for your business—a place to pitch your goods or services, interact with customers, and make sales.
The payment gateway serves as the link between the website and the payment processor that handles the technical aspects of the credit card payment process

for merchants.

The merchant account is the pass-through bank account (really a line of credit) without which your business can't process credit card payments at all.
Of course, this general scheme is just the tip of the iceberg when it comes to understanding how online credit card processing works, so let's take a closer look.
E-Marketplaces vs. Business Websites
You can't accept credit card payments online without a website, but you'll have two basic options for how to do so: an E-marketplace or a dedicated business website.
Think of these as the virtual equivalents of the various ways to accept credit card payments offline. On the one hand, someone might run a brick-and-mortar store where customers can go to make purchases, which is like the physical equivalent of a dedicated business website. On the other hand, a business might make sales at farmers markets, crafts fairs, and similar collectives—the physical equivalent of an E-marketplace like eBay.
Of course, some businesses do both—and, as an online business, you'll have that option too.
1
E-Marketplaces
An E-marketplace (or electronic marketplace) is an online platform where merchants can sell their goods and services. Well-known E-marketplaces include Amazon, Etsy, and eBay.
E-marketplaces can be a good option for smaller merchants who lack the funds or the technical savvy to maintain a website of their own because the platforms already exist, are known to potential customers, and are easy for customers to access through internet search engines. Of course, plenty of merchants who have business websites also do business through E-marketplaces to generate more sales.
One potential drawback to E-marketplaces, however, is that you'll typically pay product listing fees and high transactions fees when you accept payments through the platform's payment system—and you won't be in a position to negotiate what those fees are.
Still, if you want to do business online, and if you aren't yet in a position to start a website and get a merchant account through a payment processor, doing business through an E-marketplace could give your small business the leg-up it needs.
To get a sense for how E-marketplaces (and their fees) work, check out our page on How to Start an Etsy Shop.
2
Business Websites
If you want an online store that's yours and yours alone, you'll need to take steps to create a business website and set the website up to accept online payments. This will include:
registering a domain name;
getting a website hosting service;
building and designing your website (or hiring professionals to do the work);
choosing your online payment methods (credit and debit cards, PayPal, etc.);
getting a merchant account through a payment processor; and
getting a payment gateway to connect your website to the payment processor.
The key benefits to having a dedicated business website are obvious: it will create a unique virtual space where you can interact with customers and make sales—a space where you control the customer's experience and tailor it to best fit your company's needs. Plus, you'll have the ability to monitor how customers interact with your website and make improvements in light of this information.
Dedicated vs. Aggregated Merchant Accounts
If you intend to make sales through your own website, you'll need access to a merchant account for processing payments. A merchant account is a pass-through bank account (essentially a line of credit) that transfers funds to your business's bank account once a payment gets cleared and settled.
Businesses can get access to a merchant account in two ways:
Through a payment processor that can provide a merchant account dedicated solely to your business, or
Through a payment service provider (PSP), or payment aggregator, that uses aggregated merchant accounts to process payments for multiple businesses.
When you get a dedicated merchant account, the merchant account is yours and yours alone. When you go with a payment aggregator, you'll be one of many "sub-merchants" using a merchant account owned by the provider.
The application process varies from provider to provider. In general, you can expect payment aggregators like Square and Stripe to make things easy because they don't closely vet applicants in advance. Traditional merchant account providers, however, use a more stringent underwriting process that takes longer, requires detailed financial information about your business, and includes the chance that your business won't qualify.
Check out our merchant accounts page for a detailed discussion of how merchant accounts work and how to apply for a merchant account with a payment processor.
Hosted vs. Integrated Payment Gateways
A key feature of accepting payments online through a website is the need for a payment gateway. This the software that connects your website to your payment processor and securely transmits encrypted data when your customer enters their card information.
Generally, there are two types of payment gateways you can use: hosted and integrated payment gateways. We'll discuss the pros and cons of each option below.
1
Hosted Payment Gateways
A hosted payment gateway redirects your customer to a different website (the host page) when it's time to make a purchase, and then sends the customer back to your website when the payment is complete. When compared to an integrated payment page, a hosted payment page is typically the cheaper option for small businesses.
With a hosted payment gateway, your gateway provider takes care of transaction security, which can be good for small businesses that aren't particularly tech-savvy. Additionally, most payment processors can set you up with a hosted payment page as part of your merchant agreement—though the processor will often work with a third-party provider to do so.
The trouble, though, is that you won't have complete control over your customers' experience. Your customer might be aware that they've left your site (often because the host pages looks different than your website), which has the potential to cause confusion and hesitancy at the point of sale. And because the host page isn't part of your website, you'll lose direct access to the user-data that would be available if you used an integrated payment gateway instead.
2
Integrated Payment Gateways
In contrast to a hosted payment gateway, an integrated payment gateway allows you to accept online payments without your customer ever leaving your website. This means you have more control over your customer's user experience and more data available for understanding how your customers behave at your website's point of sale.
That said, integrated payment gateways aren't for the faint of heart. You'll need some technical expertise to get set up, and you'll shoulder the responsibility for storing and securing your customers' data. This means you'll need to invest in the proper web development and get the certifications you need to process payments directly through your website.
Ultimately, the choice between using a hosted or integrated payment gateway depends on the technical burdens your business wants to take on and the costs it can afford. If your business is just starting out in the world of online payments, a hosted payment gateway is probably the route to go. If you're more established and have the technical skills on-hand to manage a fully integrated solution, an integrated payment gateway might be right for you.
Online Credit Card Processing Fees
Regardless of the approach you take to accepting card payments online, you'll have fees to pay. You'll pay interchange fees paid to card issuing banks, card brand fees paid to the networks like Visa and MasterCard, and the markups and additional service fees added on by your payment processor (including fees for your payment gateway if you use one).
Note that most of the credit card processing fees you'll pay for accepting online payments, apart from gateway fees, don't differ in type from the fees you'd pay for accepting in-person payments—the fees will just be higher. This is partly because online payments are "card-not-present" transactions, and they carry a higher risk of fraud and consumer chargebacks.
For E-marketplaces, your processing fees can be particularly egregious because you won't accept payments through a merchant agreement of your own—you'll use the platform's payment system, and just have to deal with whatever rates the platform has. But, hey, if selling through an E-marketplace is the right approach for your business, go for it.
If your goal is to have a website and strike out on your own, however, you'll need to work with a payment processor of some kind, and then the prospect of finding the right deal (or getting duped into high fees) really comes into play.