Payment Processing
Low-Cost Payment Solutions For Small Businesses
When your business accepts credit card payments, around 95% of payment processing costs are set by credit card networks and aren't negotiable. The last 5% gets shared by your payment processor and the agent who signed you up. So most agents add steep markups—and most merchants overpay.

We're different. Our bread and butter is registered agent service, so when we sign you up with a payment processor, we don't need big markups. That means we can negotiate the best deals and pass the savings on to you.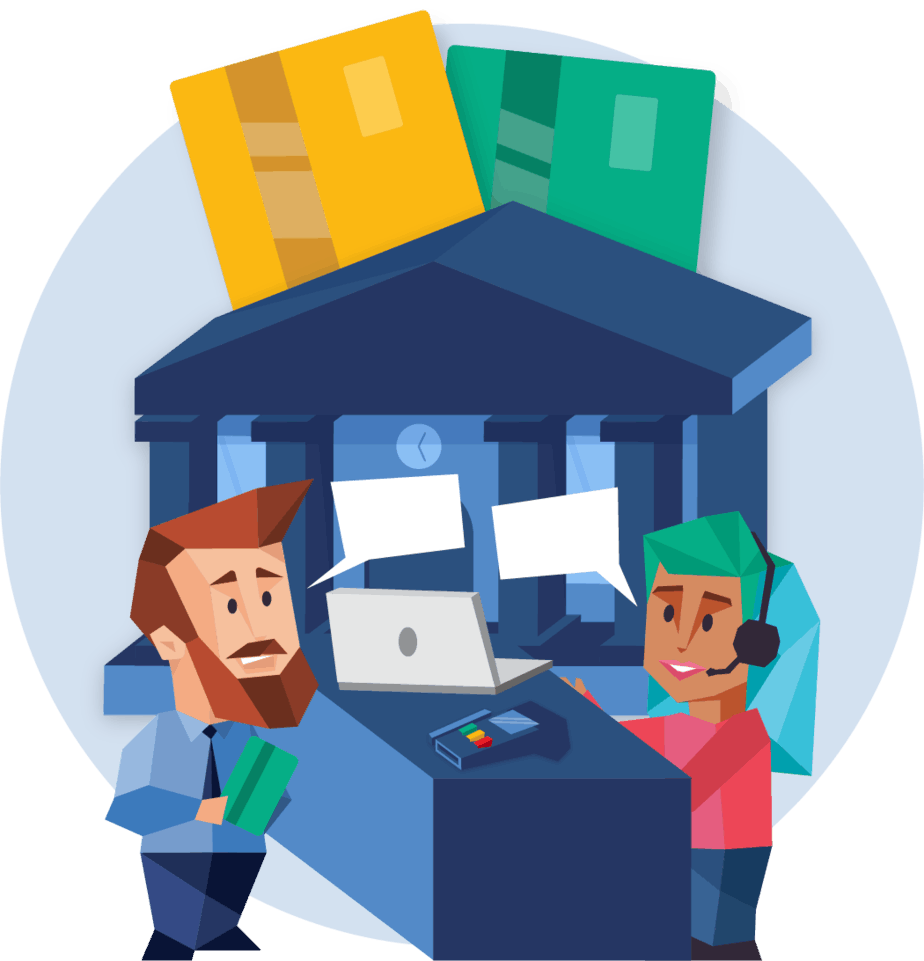 Save Money on Payment Processing
The card payment industry is a maze of card networks, banks, and third-party providers, all jockeying to take their cut when you accept card payments. Since only the payment processor's markups are negotiable, and since your processor's agent or ISO will determine how high those markups go, saving money on payment processing really depends on the person who signs you up. If your agent's goal is to make more, they'll charge you more.
We'll charge you less because we're chiefly a registered agent service and don't rely on payment processing to support our business. In fact, we created this service with no other goal than to help our clients get the payment options they need at affordable rates.
We offer transparent interchange plus pricing that includes the nickel-and-dime fees the card networks charge, the processor's costs, and the slimmest markups to keep your overall processing costs low. That's it.
The Value of Interchange Plus Pricing
At Northwest, we're all about transparency, so we stress the importance of interchange plus pricing when we sign up merchants with a payment processor. Interchange plus pricing means the interchange fees and assessment fees charged by issuing banks and card networks will pass through to you directly, instead of getting hidden in obscure "tiered" or "flat-rate" pricing structures, so we'll always know the difference between those fees and your payment processor's markups and other fees.
Why does that matter? As your agent, one of our goals is to keep the processor and sponsoring bank honest. With interchange plus pricing, not only can we keep your costs low by negotiating low markups on the transactions you process and the services you receive—we can also audit your merchant statements to help you catch processor errors and junk fees.
Itching to learn about credit card payments, processing fees, and more? Check out our pages on Understanding Payment Processing below.
Benefits of Your In-House Phone Consultation:
1
It's Free
It doesn't cost you a thing to talk to us and explore the available ways to accept credit card payments. Even the quote is free. Costs don't enter the picture until you decide to get signed up with a payment processor.
2
It's Risk Free
You won't enter into a contract with any payment processor until you choose to do so, and there are no obligations to get signed up.
3
It's Private
We don't sell or share leads. No processors will learn anything about your business from us until you decide to apply.
Our Payment Processing Service Includes:
Expert guidance
Ongoing support
Custom low rates
Interchange plus pricing
Multiple payment options (in-person, mobile, and online)
Next-day and same-day funding available
Merchant statements audited by request
START A FREE ACCOUNT
How Our Payment Processing Service Works
The free phone consultation is the first part of our payment processing service, but we can do more than simply talk to you about your options for accepting credit and debit card payments. We can also get you signed up to take payments through a payment processor.
Here's how the service works from start to finish:

1
Talk to an Expert
We start with a free phone consultation because our goal is to really understand how your business works. We'll talk you through the payment options your business likely needs, and discuss your current or estimated sales information. We're talking average monthly sales, average ticket, the types of products you sell or the services you provide.
Why do these details matter? Because the card payment industry revolves around minute details of this kind, and our goal is to help your business save. The more our we know, the more we can finagle things in your favor, including setting the most beneficial rates for the credit card processing fees you'll pay.
2
Get Signed Up
From there, we'll pair you with the right payment processor and work up a rates package and free quote designed to keep your costs low. If you like the offer, you'll then have the option to sign up for a merchant account with the payment processor at our pre-negotiated rates and contract terms.
This involves a few crucial steps:
First, we submit your basic company information, your rates, and your hardware or software requirements to the payment processor.
Then the processor's underwriting team takes over. They'll usually reach out to you directly to gather more detailed business information (financials, business history, etc.—stuff that isn't our business to know).
If the processor's underwriting team approves your account at the rates we requested, you're good to go.
If they don't approve, then we'll get back together and discuss your options—including any counter-offers from the processor and the possibility of shopping your account to another processor altogether. Whatever it takes.
3
Start Taking Payments
Once the processor approves your application, your account will get activated, and our team will help make sure you receive and set up the hardware or software your business needs. At this point, your business is ready to start taking payments.
However, we're always in it for the long haul at Northwest. We'll still be here to serve as your voice when you need to deal with the payment processor, and we can even audit your monthly merchant statements, at your request, to make sure your payment processor treats you right.
Payment Processing Service FAQs
What is payment processing?
Payment processing is a service that automates payments that don't involve cash or paper checks. Think credit cards, debit cards, EMT, E-checks, and online money transfers. Each requires a near-instant exchange of information between multiple parties, and so each requires a service provider—a payment processor—to help facilitate that exchange.
Payment processing services go by a lot of names, including payments, merchant services, and credit card processing. But whatever term gets used, it amounts to the same thing.
What is a payment processor?
Payment processors are the companies that handle the merchant's side (your side) of the credit card payment process. They work the technical magic that connects your card payment terminal or website to the big card networks like Visa and MasterCard, and so they help manage the flow of information and money between your customers and you.
Will Northwest be my payment processor?
No. We're basically an agent or broker who acts as a go-between with various payment processors. We help get you signed up with a payment processor, and we provide ongoing customer support for you as your agent, but your merchant account will be with the payment processor.
Will I pay Northwest or the payment processor?
You'll pay the payment processor for the services it provides, not us. Once you get signed up, you'll receive a merchant statement each month from the processor that details your overall processing costs for that month (your transaction fees, card network fees, service fees, and so on). Typically, you'll never even see those funds. The processor will debit your processing costs prior to transferring the funds to your business's bank account.
Can I get a free consultation if I'm not a Northwest client?
Yes! Just sign up for a free account. This will give you the option to sign up for a free phone consultation without signing up for any of our paid services.
Is my phone consultation really free?
Yes. It doesn't cost you a thing to talk to us about your payment processing needs, and there are no upfront obligations. If you like the deal we work up for you, you can choose to get signed up with a payment processor. If not, that's fine too.
Can I get a free quote before making any decisions?
Yes. Based on your phone consultation, we'll analyze your sales estimates and service needs, identify the payment processor that can best fulfill those needs, and then put together a rates package for you. Your free quote will then appear in your online account for review, and you'll have the option to either accept or decline the quote.
How will I know when to expect a call?
Once you request your free consultation, we'll send you an email indicating when to expect a call.
How long will the phone consultation last?
Call times can vary, but most phone consultations take about 15-30 minutes.
What will we discuss in my free phone consultation?
The phone consultation will cover your business type, how you do business, your current or estimated sales information, and how you want to accept card payments—including the types of software or equipment you want or need.
If you're concerned that you won't be able to answer all of these questions, don't worry. You'll be talking to a trained expert, after all, who is more than capable of providing the guidance you need.
Will you keep my information private?
We practice Privacy by Default® at Northwest, and this practice extends to our payment processing service. We won't share a scrap of information with any processors until you decide you're ready to submit an application.
Even then, the business information we gather from you and share with the processor is limited—covering basic details like your business name and location, contact information, sales estimates, and business type. The truly significant disclosures—your business financials, credit check, and so on—get handled directly by the processor's underwriting department.
Can't I just sign up directly with a payment processor?
Definitely. Despite working with outside agents, just about every payment processor has an in-house sales force that can sign up merchants. Just keep in mind that those sales agents aren't typically in a special position. They have buy rates to deal with like any sales agent, so whether you save by going directly to a payment processor still depends on the goals of the person who signs you up.
Our special value is that we don't need to rely on excessive rate markups to pay the bills.