Restaurant Credit Card Processing
Accepting Credit Cards at Your Restaurant or Cafe
For just about every restaurant, credit card processing is a must-have service, but knowing what to expect when you accept card payments matters because most restaurants skate by on thin enough margins already. Restaurants that do accept credit card payments, though, tend to thrive in the long run.

Below we'll dig into how to minimize your processing fees wherever possible, and why the benefits of accepting card payments at your restaurant so often outweigh the drawbacks.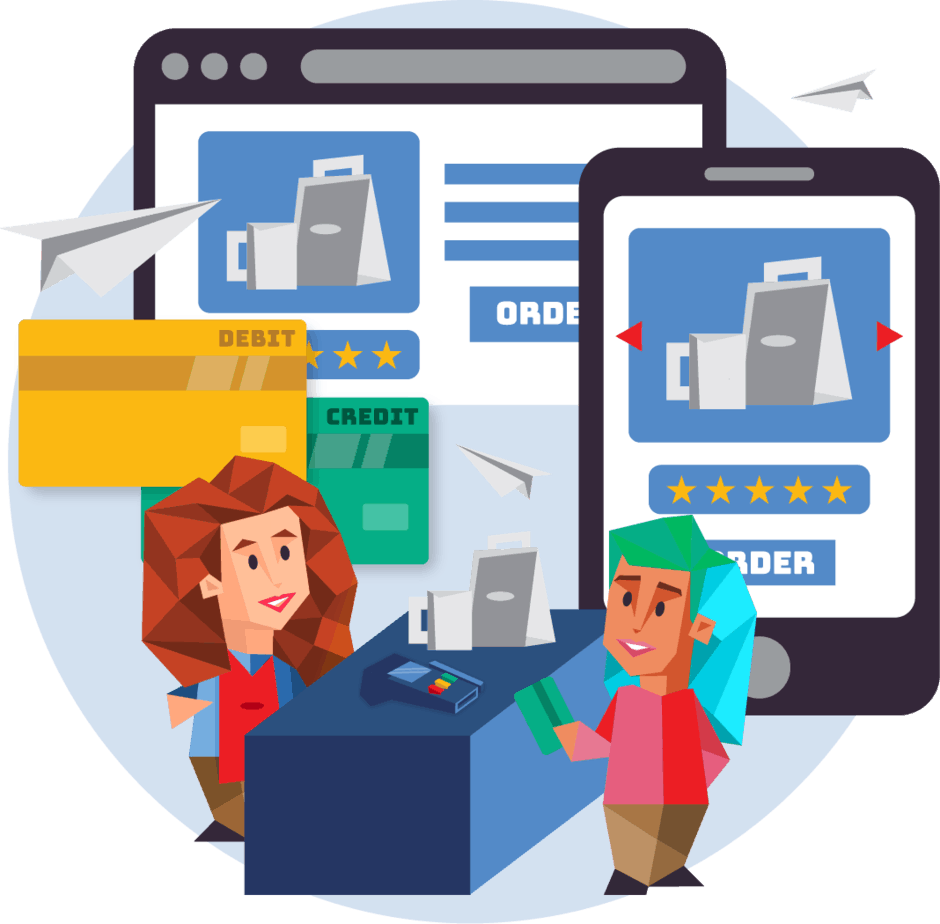 Restaurant Card Processing:
What You'll Discover Below
1
Restaurant Card Processing Overview
2
Accepting Cards at Your Restaurant
Payment Processing 101
Accepting credit card payments at your restaurant doesn't have to eat up all your profits. Learn how to find the right payment processor so you can negotiate low-cost rates for your business.
Want to know more about payment processing as a business owner? Click the button below to access our paymentprocessing guide.
LEARN MORE
The Benefits of Restaurant Credit Card Processing
Since roughly 80% of payments in restaurants are made via credit or debit card, it's safe to say that accepting credit card payments is a net positive for most restaurant owners. Credit card processing allows restaurant owners to accept card payments, opening the door to larger transactions, a more streamlined operation, and happier customers.
That said, there's no sugarcoating the fact that accepting credit cards comes with fees that you wouldn't be charged when accepting cash transactions. But when you consider the advantages of credit card processing, we think it's a no-brainer: accepting credit cards helps your business in the long-run.
We'll explain in the next section how simple and painless it actually is to set up credit card processing at your restaurant. For now, let's run through why accepting credit cards at your restaurant is worth it.
1
Increased Sales
People don't carry much cash anymore. That means when you don't offer customers the option to pay with a card, they're immediately restricted to the money in their wallet. Plus, it's been long established that people will spend more when they pay with a card—that's how you can rack up the appetizers, cocktails, and desserts.
2
Happier Customers
A satisfied customer is priority #1. While offering your customers a variety of payment options can increase your sales, perhaps the biggest win for your business is that your customers will be pleased to have those options. They won't just spend more—they'll likely become repeat customers, too.
3
Streamlined Operation
A cash-only business is a pain for a number of reasons. Someone has to count the cash. You need secure storage and transportation. And at the end of the day, there's a lot of room for human error. Accepting credit cards streamlines your operation by reducing the amount of cash you have to handle, making accurate accounting much easier. All it takes is the swipe of a card and the card network industry takes it from there.
4
Competitive Advantage
If your competitors accept credit cards, then your competitors have a significant advantage. You'll lose customers before they even enter your business if you become known as a cash-only establishment.
This is just the tip of the iceberg. Yes, it costs money to accept credit card payments, but you'll likely net more money for your business in the long run. That's the bottom line—the rest of the benefits are just added perks.
How to Accept Credit Card Payments at Your Restaurant
Restaurant owners are in an excellent position to secure payment processing at lower rates because the nature of the restaurant industry lends itself to cheaper credit card processing. Plus, restaurants typically don't incur as many chargebacks as many other businesses, and you'll likely have fewer risky transactions hiking up the cost of your card processing fees.
Here's what setting up payment processing for your restaurant looks like in a nutshell.
1
Sign Up With a Payment Processor
Your first step is finding the right payment processor to get your business connected with the card payment industry. Your processor will get you merchant account access and will ensure that you can accept major card brands (Visa, MasterCard, etc.).
2
Choose the Right Credit Card Pricing Structure
Every payment processor has one or more credit card pricing structures that it uses to cover its costs and make a profit, and choosing the right pricing structure is one of the keys to saving money on credit card processing. With some processors there is no choice (payment facilitators like Square use flat rate pricing across the board), but most traditional payment processing companies offer several options.
The three common pricing structures include tiered pricing, flat rate pricing, and interchange plus pricing. In general, we recommend interchange plus pricing to almost all of our clients because it is consistently the most transparent and cost-effective pricing structure there is.
3
Choose a Restaurant POS System
Having the right POS hardware and software doesn't just allow you to accept credit card payments—it facilitates communication between servers and the kitchen, making accounting and inventory significantly easier.
Fortunately, there are numerous ways to accept credit card payments at your restaurant, traditional standalone card terminals to fully integrated Point-of-Sale (POS) systems. Every payment processor worth its salt should have plenty of options for your restaurant's needs.
Restaurant Credit Card Processing Fees
Credit card processing fees are an unavoidable cost of accepting card payments at your restaurant. Understanding how those fees work, however, can help you save money.
Here are the main credit card processing fees you'll need to know:
Interchange Fees: These are fees set by the card brand networks. They make up most of the processing fees you'll pay, and these fees end up with the banks that issued your customer's card. While you can't avoid paying them, there are ways to minimize your interchange fees if you understand the factors that influence interchange fees & rates.
Card Brand Fees: These fees are set by the card brand network as well, but the card brands also pocket this fee to cover the cost of their role in credit card processing. Learning about card brand fees is especially useful when you're on an interchange plus pricing plan because knowing how to identify card brand fees can help you spot when a payment processor might try to disguise a markup as a card brand fee.
Payment Process Markups: Payment processors charge this fee to cover their costs and make a profit. Keep in mind that this is the only negotiable fee, so when you're shopping for a payment processor to set your restaurant up to accept card payments, keep a close eye on the markup.
Basically, you'll have to pay interchange fees and card brand fees no matter how you slice it. Those two make up roughly 90% of card processing fees—they are the wholesale cost of payment processing. However, the benefits of accepting card payments often offset those costs, and you can help minimize your costs by having the right pricing plan and making sure you practice accepting payments in ways that keep your fees low (such as swiping cards instead of keying in card information at your terminal).
Can Restaurants Make Servers Pay Credit Card Fees?
Deducting credit card processing fees from your waiting staff's tips takes you into murky legal and ethical territory. Most states will allow it. Some prohibit it. And a lot of states simply don't have any legal precedent in the books for this practice.
But your employees might not be too happy to see that your restaurant cuts into their tips when accepting credit cards. There are other ways to combat credit card fees without riling up your staff.
Can a Restaurant Owner Charge Customers a Credit Card Fee?
Some restaurant owners might look to cover their credit card processing fees by passing the cost on to customers. In some states, you can apply credit card surcharges to cover costs. Alternatively, you can employ cash discounts to encourage customers to pay with cash while offsetting fees on credit card payments.