How to Accept EBT Payments
Learn How to Become an EBT Retailer
EBT payments are a card payment option for many low-income consumers in the United States. Funded by the Supplemental Nutrition Assistance Program (SNAP), EBT payments can only be accepted by SNAP authorized retailers.

There's paperwork involved in getting a SNAP permit and getting equipped to accept EBT payments. Below we'll explain the eligibility requirements for retailers and the steps you'll take to get your business started.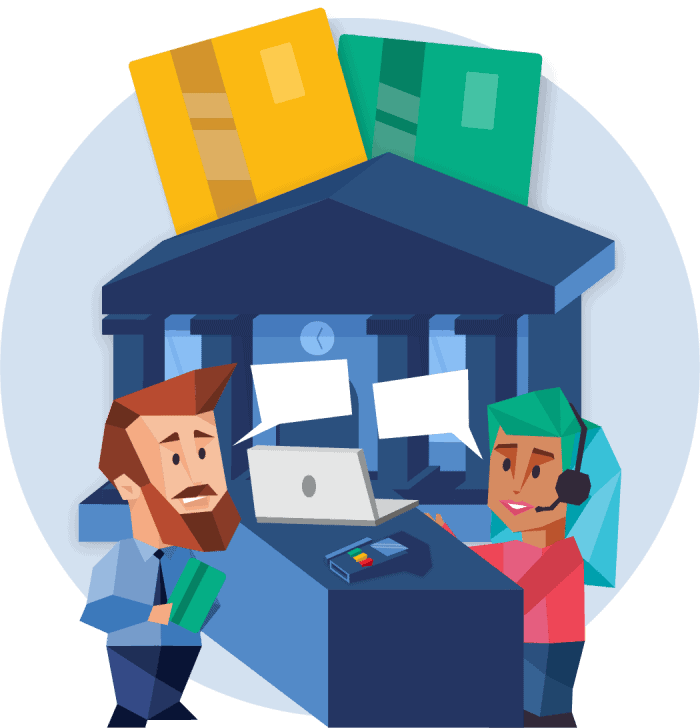 Accepting EBT Payments:
What You'll Discover Below
1
Accepting EBT Payments Overview
2
Becoming an EBT Retailer
Payment Processing 101
Accepting EBT payments can benefit your business in numerous ways, so understanding how to choose the right payment processor is crucial.
Want to know more about payment processing as a business owner? Click the button below to access our paymentprocessing guide.
LEARN MORE
What Is an EBT Payment?
An EBT (Electronic Benefit Transfer) payment is a government-funded method of payment that allows many low-income consumers to purchase food from SNAP authorized retailers. SNAP participants are issued an EBT card that comes with two key features: a magnetic strip that carries the cardholder's EBT account data and a unique personal identification number (PIN).
How does EBT payment processing work?
EBT processing resembles debit card processing in a lot of ways. Your customer swipes a card at a POS terminal (currently, EBT cards don't have chips) and enters a PIN to verify their identity. The main difference is that the funds for the payment aren't drawn from your customer's bank account. Instead, SNAP benefits are deposited into the participant's EBT every month, and the funds for the payment are drawn from there.
Will my business pay processing fees for EBT payments?
Yes. Since SNAP is a government program, EBT transactions are not subject to interchange fees or card brand fees charged by banks and credit card networks, but payment processors have the right to charge a fee for their role in processing the transaction. EBT processing fees can vary from processor to processor, but somewhere between $0.07 and $0.10 per transaction is common.
Are EBT cards the same thing as food stamps?
The SNAP program was formerly the Food Stamp Program. SNAP replaced food stamp coupons with EBT cards in the mid-2000s mostly because issuing a replenishable plastic card was cheaper than continuing to produce food stamp coupons. Additionally, the magnetic strip and PIN associated with EBT cards minimizes the chances of fraud.
EBT Eligibility Requirements for Retailers
In general, most grocery stores, convenience stores, and farmers markets are eligible to accept EBT cards. Restaurants, on the other hand, often aren't eligible because restaurants prepare meals on site exclusively, though there are some exceptions (such as the Restaurants Meal Program).
Becoming a SNAP authorized EBT retailer requires that you meet either an inventory or sales threshold regarding staple foods. Staple foods, according to the Food & Nutrition Service (FNS), are basic foods that constitute a large part of a person's diet and can be prepared at home.
Below are the four staple food categories listed by the FNS:
Meat, poultry, or fish;
Fruit or vegetables;
Breads or cereals; and
Dairy products.
To be eligible to accept EBT payments, your store must meet one of the following criteria:
Your store must sell at least 3 qualifying varieties in each of the four staple food categories on a continuous basis. In addition, your store must sell perishable food in 2 of the staple food categories.
Over 50% of your store's total gross retail sales must come from the sale of the staple foods.
How to Become an EBT Retailer
Becoming an EBT retailer requires a SNAP permit from the Food and Nutrition Service (FNS) of the United States Department of Agriculture (USDA). Before you apply for a permit, you will need to register and activate an eAuthentication account with the USDA. Once approved, you'll have 30 days to complete your SNAP application and submit any supporting documents.
Here are the typical steps to becoming an EBT retailer:
You'll submit the application to become a SNAP authorized EBT retailer.
You'll likely be asked for additional information and supporting documents, including copies of your business license and government-issued ID.
You'll receive an in-store visit from an FNS representative.
During the application process, you can expect questions about the ownership of your business, who manages the operation, the food and goods in your inventory, and your actual or estimated sales. If all goes well, you'll be on your way to becoming SNAP authorized and your business will be issued a 7-digit FNS account number to set up your merchant account to accept EBT payments. You'll need to take one last step, though: ensuring you have the processing hardware to read EBT cards.
How long does it take to get approved for SNAP?
The FNS has 45 days to approve or decline your application.
EBT Machines for Payment Processing
EBT payment processing requires the right EBT processing machine. While POS equipment used to accept debit cards is often compatible with EBT cards, your payment processor might need to program your hardware to accept EBT payments.
Otherwise, you could acquire a standalone POS terminal that only processes EBT transactions. You'll typically need to pay for these devices (as you would for any card reader for commercial card transactions), but exempt retailers, such as farmers' markets and nonprofit food buying cooperatives, are eligible for free POS equipment provided by the state.