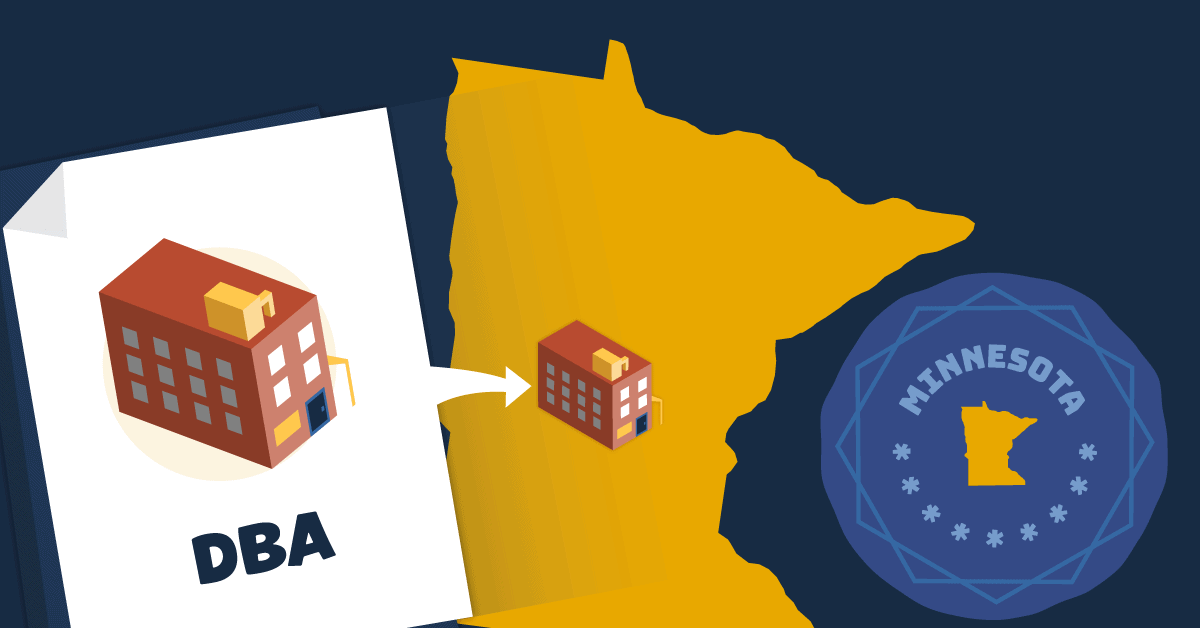 Q: How do I obtain a DBA for my Minnesota LLC?
Thank you to a customer from Minnesota for that great question! If you want to operate under a business name other than your own name or your business's legal name, you need a DBA ("doing business as" name). To use a DBA in Minnesota, you must first file a Certificate of Assumed Name with the Secretary of State and publish your Certificate of Assumed Name in a legal newspaper. We'll tell you what you need to do.
What is a DBA in Minnesota?
A DBA is any name a business uses that is not the owner's legal name or the official name of the business. In Minnesota, DBAs are called assumed names.
Why would I need a DBA?
There are many reasons why a business may need a DBA, such as:
To use a shortened version of a long business name. For instance, if your full business name was Veronica's Rare Used Books and Antiques, Inc., you might get a DBA for "Veronica's Books."
To use a business name as a sole proprietorship/general partnership. Non-registered businesses like sole proprietorships and general partnerships are required to use the owners' full legal name in their business name unless they get a DBA. Don't want to call your business "Susan Jones"? You might want a DBA.
To expand into a new industry. Say you started a business called "Quality House Painters, LLC," but you've expanded into doing home repairs as well. You might get a DBA for "Quality Home Remodels and Repairs" so that your name better reflects your business.
How do I get a Minnesota DBA?
Here are the steps to getting a DBA in Minnesota:
Choose a DBA name
First, make sure the DBA name you want to use follows Minnesota law and is not already in use. According to MN Stat. § 333.01, you may not include words in your assumed name that suggest your business is a different entity type. For example, if you own a Minnesota LLC, you can't use the word "incorporated" in your assumed business name. The law also states that your assumed business name can't intentionally misrepresent the geographic origin or location of your business. So, don't call your restaurant "Main Street Eats" if you're actually located on Broadway Ave.
Additionally, you can't use a DBA name that's already being used by another Minnesota business. You can conduct a business search on the Secretary of State website to find out if your preferred name is available.
File the Minnesota Certificate of Assumed Name
Next, you'll need to file a Certificate of Assumed Name with the Minnesota Secretary of State's office. This form can be submitted by mail, in person, or on the MN Secretary of State website. The filing fee is $50 online or in person and $30 by mail. Here's the information you'll need to provide:
Your assumed name
Your principal place of business (Must be a physical street address)
The names and addresses of people using the assumed name (for sole proprietorships/general partnerships)
The official business name and registered office address (for LLCs, corporations, and limited partnerships)
Email address for official notices from the Secretary of State
Contact name and phone number
Signature
Publish your Certificate of Assumed Name.
Per MN Stat. § 333.01, after you register an assumed name in Minnesota, you must publish your Certificate of Assumed Name in a "qualified newspaper," in the county where your business is located, for two successive issues. The newspaper notice should contain the same information as your Certificate of Assumed Name.
What counts as a qualified newspaper? MN Stat. § 331A.2 lists the requirements for qualified newspapers (also called "legal newspapers"). The Secretary of State website also provides a Legal Newspaper List to help business owners find a legal newspaper in their county.
The price of publishing a Certificate of Assumed Name will vary depending on the newspaper. We recommend calling the legal newspapers in your county to find out their fees. Once your notice has been published in two successive issues, the newspaper will send you an affidavit of publication, which you should keep as proof that you met the publication requirement.
Renew your Certificate of Assumed Name annually.
The Certificate of Assumed Name must be renewed by December 31st every year by filing an Assumed Name Annual Renewal online, by mail, or in person. Renewing your assumed name is free.
Want to learn more? Check out our guide on How to Get a DBA.