How to Start an LLC in the District of Columbia
To start an LLC in the District of Columbia you must file Articles of Organization with the Department of Consumer & Regulatory Affairs (DCRA), pay a $220 filing fee, and get an EIN from the IRS. The complete steps to forming a District of Columbia LLC are as follows:
File District of Columbia Articles of Organization
Pay the Department of Consumer & Regulatory Affairs $220
Wait to receive your approved Articles
Get a Federal EIN tax ID for the LLC
Create a District of Columbia LLC Operating Agreement
Take these documents to the bank and get a DC LLC bank account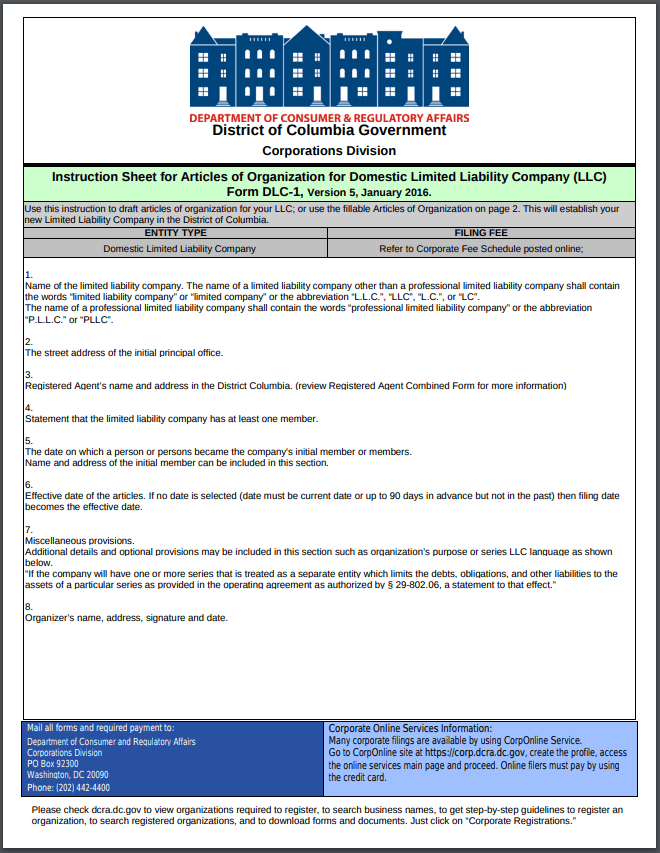 How to File District of Columbia LLC Articles of Organization
To form a District of Columbia LLC, you file Articles of Organization by following these steps:
Choose a name for your new LLC
Decide what address you'd like to list publicly
Decide if you want to hire a registered agent service to minimize public disclosures
Choose when you'd like your business to start
File online, mail to the DCRA (Corporations Divisions, PO Box 92300, Washington DC 20090), or drop off in person (1100 4th St SW, Washington DC 20024)
Free Download
File Online
HOW LONG DOES IT TAKE TO START A DISTRICT OF COLUMBIA LLC?
Fastest (1 Day): File in person or online and pay a $100 expediting fee.
Almost Fastest (3 Days): File online and pay a $50 expediting fee.
Standard (15 Days): Skip all the expedited fees and submit online.
Archaic (Eventually): Forgo online filing and print and mail your Articles of Organization to the DCRA. In perhaps 3-4 weeks, someone will be nice enough to manually enter all your data into the system and process your information.
Or, make the whole process even easier—hire Northwest, answer a few simple questions, choose your processing speed, and relax while our Corporate Guides file everything correctly the first time.
WHAT IS THE COST OF A DISTRICT OF COLUMBIA LLC?
The DCRA filing fee is $220. Hire Northwest and your total, out-the-door cost is $445.
Need it expedited? Our total package cost, including expediting fees, is $495 for 3 days or $545 for 1 day.
How much does an LLC in Washington DC cost each year?
Not including taxes and licenses, the cost averages out to $150 a year—every other year, your LLC is required to file a Biennial Report, which has a filing fee of $300.
What is a District of Columbia Biennial Report?
The DC Biennial Report updates the DCRA on your LLC's ownership and contact information. Even if your information hasn't changed, you're still required to file this form and pay the $300 filing fee every two years. Forget to file? You'll owe an additional hundred bucks in late fees and lose your good standing. When you hire Northwest, we'll send you reminder notifications for these reports (or if you don't want to worry about it at all, you can hire us to file your Biennial Reports for you as well).
What are the District of Columbia LLC taxes?
The Washington DC personal net income tax rates are:
$0-10,000: 4%
$10,001-40,000: 6%
$40,001-$60,000+: 7%
$60,001-$350,000: 8.5%
$350,001-1,000,000: 8.75%
$1,000,001+: 8.95%
The sales tax for most goods and services is 5.75%. However, there's a reason DC visitors are often hit with sticker shock. A few of the categories of goods and services that visitors utilize the most also have significantly higher sales tax. There's a whopping 18% sales tax for commercial parking (like trying to park in DC isn't bad enough), 14.8% for hotels, and 10% for restaurant meals, rental vehicles and liquor sold for consumption.
DC also has a few other taxes that often surprise new business owners, including a personal property tax (you only have to pay it if you have personal property valued at over $225,000, but you still have to file). There's another unusual tax that some LLCs will have to pay called the Unincorporated Business Franchise Tax. The tax starts at $250 for unincorporated businesses (like LLCs) with gross receipts over $12,000.
IS A DISTRICT OF COLUMBIA LLC REGISTERED AGENT REQUIRED?
Yes, the District of Columbia requires LLCs to appoint a registered agent. You could be your own registered agent, but the few bucks you save can cost you privacy and tie you to your desk. Any names and addresses you list in your Articles of Organization become a part of the permanent public record. Public records are unfortunately prime targets for data sellers who sell your information over and over again and fill your mailbox with junk.
Also, in a city where you're defined by your job—where the first thing people ask you is "what do you do?"—you want to be the best at what you do. At Northwest, we work hard to be the best at what we do, and we think you should too. Devote your time and energy to improving your business and living your best life—go run DC's beautiful trails and actually go visit the galleries—and leave the registered agent service to us.
DO I NEED A TAX ID NUMBER (EIN) FOR A DISTRICT OF COLUMBIA LLC?
Your LLC will need an EIN if you plan to have employees or if you're required to submit special tax filings, such as an Alcohol/Tobacco/Firearm return. Most banks will request your EIN when you go to open a business bank account. EINs can even help you out with the security of your personal information—you can often use your EIN instead of offering up your personal social security number in situations like establishing credit with a vendor. Getting an EIN from the IRS is free, so you might as well get one just in case. (If you really just don't want to fill out the paperwork, you can add on EIN service when you hire Northwest.)
DOES A DISTRICT OF COLUMBIA LLC NEED A BUSINESS LICENSE?
Yes, if you're engaging in business in DC, you'll need a business license. A basic business license from the DCRA business center is sufficient for most businesses. A basic license lasts 2-4 years and will cost upwards of $100 (and sometimes over $1000 depending on the license category). A business license for a bakery, for example, currently lasts two years and will set you back $517.
DISTRICT OF COLUMBIA LLC VERSUS CORPORATION:
Your average LLC or corporation in the District of Columbia will cost about the same to start. The basic filing fee to form either a DC LLC or corporation is $220. However, high-value corporations will cost more to form. If the value of your corporation's authorized shares is more than $100,000, your filing fee increases ($550 up to $500,000, $1100 up to $1 million and $1650 for over $1 million in authorized shares).
There's little difference in the maintenance costs for DC LLCs and corporations. Both LLCs and corporations file Biennial Reports and pay a $300 filing fee. Both entity types have some flexibility in their tax elections, so it's tough to pinpoint any significant tax advantages. For example, both LLCs and corporations can elect to be taxed as S corporations. Think a corporation might better serve your needs? Read more about District of Columbia incorporation.
DOES A DISTRICT OF COLUMBIA LLC NEED AN OPERATING AGREEMENT?
Your LLC should absolutely have an operating agreement. While a written operating agreement isn't legally required, it's one of your LLC's most critical internal documents. Your operating agreement is a snapshot of how your business really runs—it lists how much each person invested, how profits and losses will be allocated, what happens if the business goes belly up, and more. DC is a city built on paperwork. Documentation of your basic business operations is expected. Don't wait to create an operating agreement until a dispute happens or the bank or a potential member or business partner asks to see it.
You know that feeling when you're stuck in DC traffic for hours behind a motorcade (or even more likely, stuck behind groups of adorable yet painfully slow elementary students on field trips to the capital)? And there's nothing you can do except slowly inch your car forward while the temperature, humidity and your anxiety rise? And you're kicking yourself because you know you could have prevented this situation with better planning? But you're stuck.
Don't get stuck. Sure, you may luck out and never need your operating agreement, but why risk it? Plan ahead. As you've probably guessed, we feel very passionate about operating agreements at Northwest. We include an operating agreement—specific to your LLC's management style—for free with all orders. We also have loads of other free LLC forms that we've spent years refining—our free forms have been used by over a million LLCs.
WHAT IS THE DISTRICT OF COLUMBIA LLC STATUTE?
DISTRICT OF COLUMBIA LLC ARTICLES OF ORGANIZATION REQUIREMENTS:
Company Name:

You have to include "Limited Liability Company," "Limited Company" or an abbreviation

.

Principal Office:

Your principal office

should be a street address, not a PO Box. Some people list their home office, but it's important to remember that your Articles of Organization are a matter of public record, so putting a personal address could jeopardize your privacy and security. When you hire Northwest, you can list our address.

Registered Agent:

You can list an individual or a business that provides registered agent service, such as Northwest.

Registered Office:

This is the address where your registered agent will be available. It has to be a street address in DC (like our address).

Effective Date:

Skip this section if you want your LLC to start right away. Want to wait a bit (maybe the current tax year's almost done with)? You can list a start date up to 90 days in the future.

District of Columbia LLC Organizer:

Most people think your organizer has to be a member or manager of the LLC. Nope. Your organizer is just whoever signs and submits your Articles. Organizers must include their name and address. Why include any more personal information than you have to? Hire Northwest, and we'll be your organizer.
Our LLC Formation Service Includes:
Same-day filings and instant registered agent service included (renews annually for $125).
State resources and business maintenance services in your online service account, with self-filing instructions to help you.
We send multiple annual report reminders, and you can also track your due dates in your online account.
We locally scan 'service of process' and all documents to you in real-time for no added cost.
And, most importantly…We're just not annoying™.