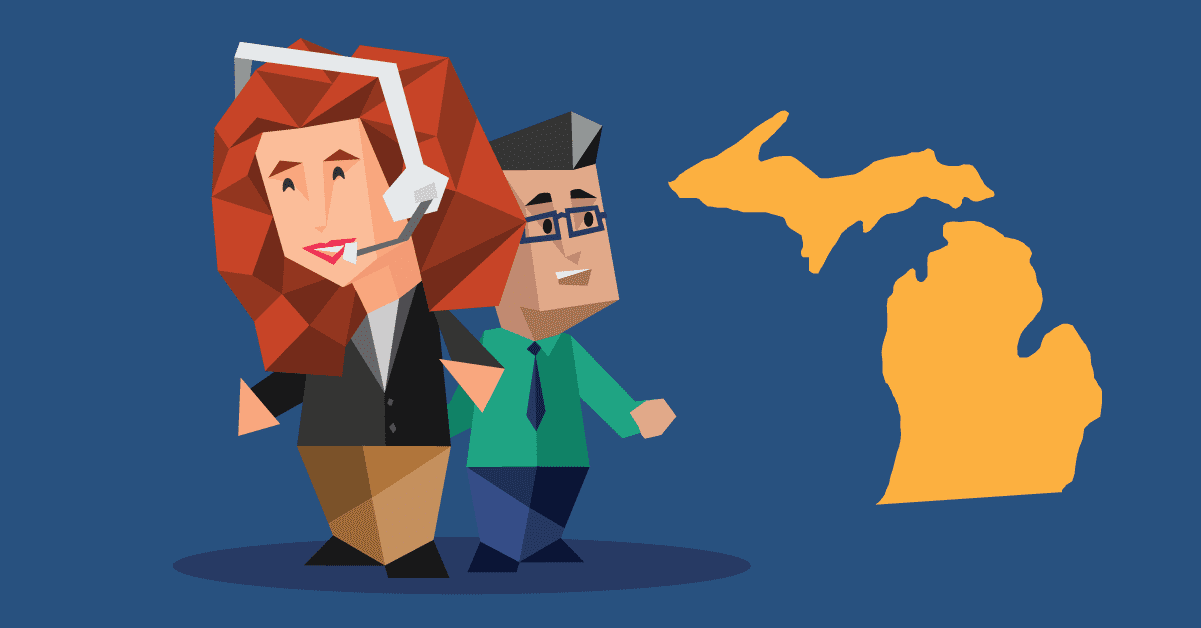 Q: I recently [formed] a new LLC, but I needed a PLLC instead… Can someone assist me in switching it?
Thank you to one of our customers in Michigan for this question! (And yes, we're happy to help!) Once you've formed an LLC, you'll need to file corrective paperwork with the state to change to a PLLC. As many people are initially unsure of whether to form an LLC or PLLC, we were inspired by your question to go over how and why people may form a Michigan PLLC.
A Professional Limited Liability Company is similar to an LLC, but it can only be created by a person (or group of people) who renders a professional service. In fact, people in certain professions are required to form a professional entity, rather than a traditional corporation or LLC. If you're thinking about starting a business for a professional service, here's what you need to know about forming a PLLC in Michigan:
1. Make sure you are licensed in Michigan
According to MI Comp L § 450.4904, each member and manager of your PLLC must be licensed to perform the professional service offered by your company—or at least one of the professional services offered, if there are several. So before forming your PLLC, make sure your license (and the licenses of any other members and/or managers) is current with the state licensing board associated with your profession.
What are professional services?
In Michigan, those who render professional services include:
Attorneys
Dentists
Doctors of divinity (or other clergy)
Osteopathic physicians
Physicians
Surgeons
According to the Michigan Department of Licensing and Regulatory Affairs (LARA), these professions MUST form as a professional service limited liability company, rather than a traditional LLC.
Architects, engineers, and surveyors may also form a PLLC if all members and managers are licensed in their professional service.
2. Hire a registered agent
As a business entity registered with the state of Michigan, your PLLC is required to have a Michigan Registered Agent. (The state sometimes refers to a registered agent as a "resident agent," but they mean the same thing.) Your registered agent must be available during regular business hours and be able to deliver legal notices to your business in a timely manner—so it should be someone you trust.
While you may appoint a friend or even be your own registered agent in Michigan, many people choose to hire a service like Northwest to make sure important legal notices don't slip through the cracks.
3. File Michigan PLLC Articles of Organization
To officially form your PLLC in Michigan, you'll have to file the state's Articles of Organization for use by domestic professional service LLCs. This document must include the following information:
Name and address of filer (for mailing purposes, not for the public record)
Name of PLLC
Type of professional service(s) rendered
Duration of PLLC (if there's a proposed end date)
Name, address, and mailing address (if different) of registered agent
Statement that all members/managers are licensed for at least one professional service rendered by the PLLC
Additional provisions (if applicable)
Signature of organizer(s) (PLLC members or managers, or someone authorized to sign on behalf of your company)
Payment of $50
Name of person or organization responsible for payment
Name and business telephone number of "preparer" (person or organization submitting documents)
Are there any naming requirements for a PLLC in Michigan?
Yes. Professional Service LLCs must contain one of the following terms:
Professional Limited Liability Company
P.L.L.C.
P.L.C.
PLLC
PLC
How can I submit my Michigan PLLC Articles of Organization?
You can submit Articles of Organization for your Michigan PLLC online, by mail, or in person.
Online: LARA Corporations Division Online Filing
By Mail:
Michigan Department of Licensing and Regulatory Affairs
Corporations, Securities & Commercial Licensing Bureau
Corporations Division
P.O. Box 30054
Lansing, MI 48909
In Person:
Michigan Department Of Licensing And Regulatory Affairs
Corporations Division
2407 N Grand River Ave
Lansing, MI 48906
Telephone: (517) 241-6470