Second Phone Number
Get a 2nd phone number with all the essentials—no business required.
You know what's comforting? Not having to share your primary number with anyone who doesn't need it. Northwest Phone Service makes it easy to choose privacy—giving you an independent second line that works with your existing devices, plus unlimited talk, text, voicemail and call forwarding, for just $9 a month.
Convenience, Privacy
& Security—In One

Easy Step.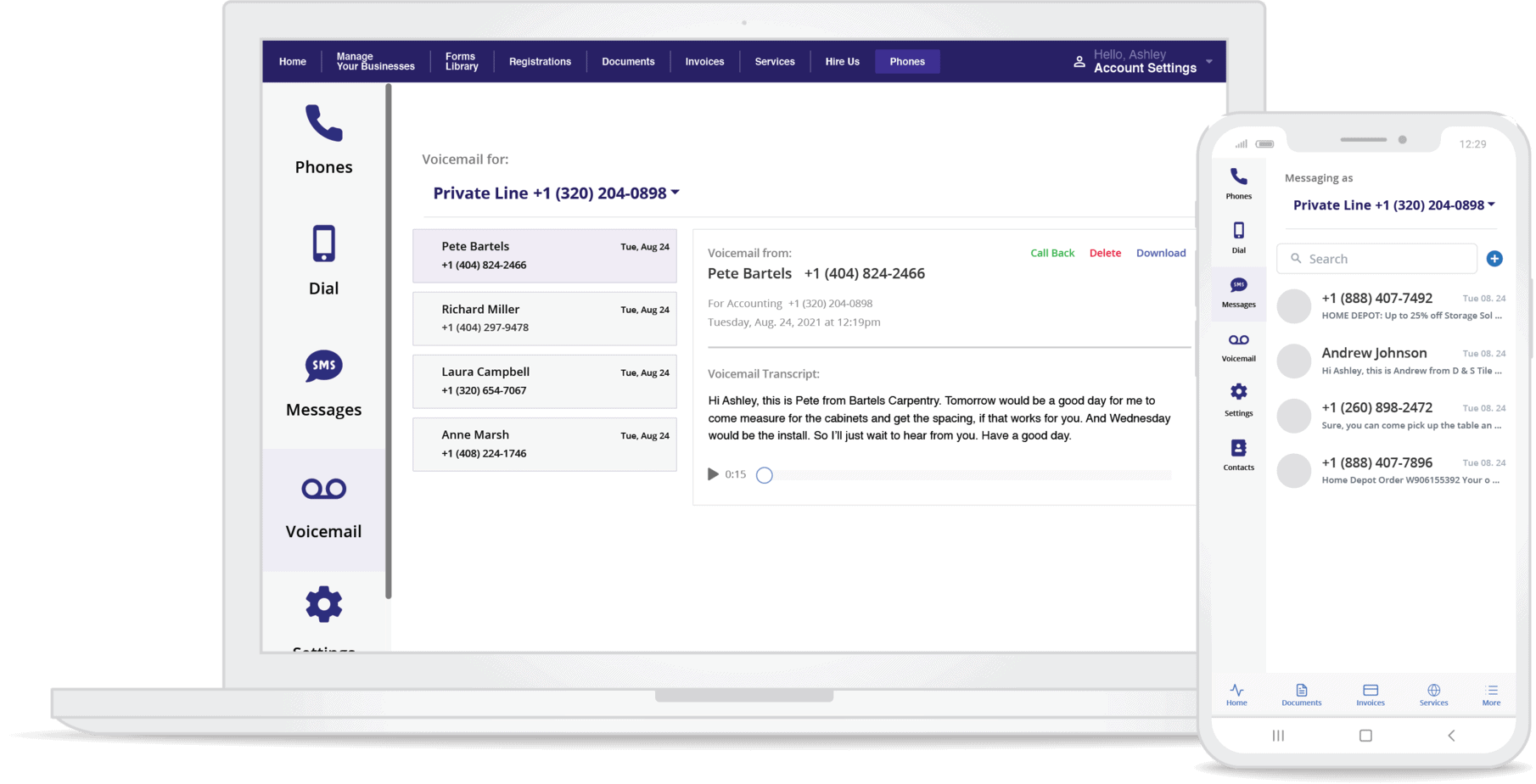 3 Things You Should Know About Second Phone Lines
Unless you're a masochist who enjoys keeping track of two different cell phones, you'll be happy to know that having a second number has gotten a lot simpler. Thanks to the internet—and a technology called VoIP (Voice over Internet Protocol)—you can now add a cloud-based local number to your existing phone, cloaking your personal digits. Here are 3 quick facts about the phone lines of the future.
1
They're powered by the internet.
VoIP numbers don't rely on SIM cards, telephone cables, or even a specific phone to operate—any mobile device, laptop, or desktop will do. What's essential is an internet connection, whether you're at home or out for the day. To make the most of your second phone line (and the unlimited calls and texts that come with it) you'll need reliable in-home internet and a good data plan on your cell—or at least the address of a cafe with wifi and free refills.
2
They have real phone functions (plus some high-tech extras).
You probably can't take pictures or listen to rain sounds with your second phone line. But in most other ways, your second number should function like your first one—allowing you to call or text any other number, check your messages, choose a ringtone, record a voicemail greeting and manage your contacts. The best VoIP providers (like Northwest!) include all these fundamentals, plus advanced extras like Visual Voicemail and downloadable messages.
3
They're affordable—but the best ones aren't free.
The disposable phone number accounts out there? They charge extra for basic features like voicemail—and make it impossible to get in touch if things go wrong. Your VoIP number shouldn't cost you an arm and a leg, but if you want a well-rounded suite of features, a user-friendly experience and reliable service, you should budget around $10—$15 per phone line.
Did we mention that Northwest Phone Service is just $9 a month? You get a full-featured local phone line (with hundreds of area codes to choose from), and support is just a phone call away.
What Can You Do With Northwest Phone Service?
A heck of a lot. We designed our Phone Service with a focus on privacy and convenience—including features like Universal Compatibility so you can switch easily between devices, Flexible Call Forwarding for when you're out-and-about, and lots of room to customize. Here's a closer look at what you can do with your second line.
Get Instant Privacy Protection.
There are so many interactions that require a phone number—but sharing your contact information shouldn't be the default. Northwest Phone Service gives you an instantly-usable local number that works with all your preferred devices, so you can start safeguarding your privacy right away.
Talk Until Your Throat Hurts.
Ok, you probably don't plan to spend every waking hour on your second phone line. You could if you wanted, though. Our cloud-based service gives you unlimited talk, text, voicemail and call forwarding for $9 flat.
Take Your Number Anywhere.
Forget your phone sometimes? Us too. Luckily, your second phone number works on any internet-connected device—including your nice coworker's computer. There's zero set-up required: just sign into your client account from anywhere, and start using the features.
Personalize to Your Heart's Content.
Route calls to your cell or web browser, record a custom voicemail greeting, choose from a variety of in-browser ringtones, and add your name to your outbound Caller ID. Make it yours.
Northwest Phone Service FAQs
Can I add a second phone number to my existing cell phone?
Yes—our browser-based Phone Service is instantly compatible with your existing smartphone (it's iOS and Android-friendly). There's no need to purchase a second cell phone or an additional SIM card.
Do I have to buy a SIM card?
Nope! (See the answer above).
Do I need an internet connection to make calls?
Yes—but not to receive them.
You can make calls from within your client dashboard on any internet-connected device. Just hit Dial to display the dial pad, and get started.
If you know you'll be somewhere with terrible internet (but you still want to be reachable), set your Call Forwarding feature to direct incoming calls to your cell, rather than your client account.
Is there an app?
We have a free mobile app coming very soon (sit tight!). In the meantime, you can access the mobile-friendly client portal—and all of your phone's features—from any web browser.