How To Start An LLC In Rhode Island
To start an LLC in Rhode Island, you must file Articles of Organization with the Division of Business Services, pay a $150 filing fee, and get an EIN from the IRS. The complete steps to forming a Rhode Island LLC are as follows:
File your Rhode Island LLC Articles of Organization

Pay the Division of Business Services $150

Wait to receive your approved Articles

Get a Federal EIN tax ID for the LLC

Create a Rhode Island LLC Operating Agreement

Take these documents to the bank and get a Rhode Island LLC bank account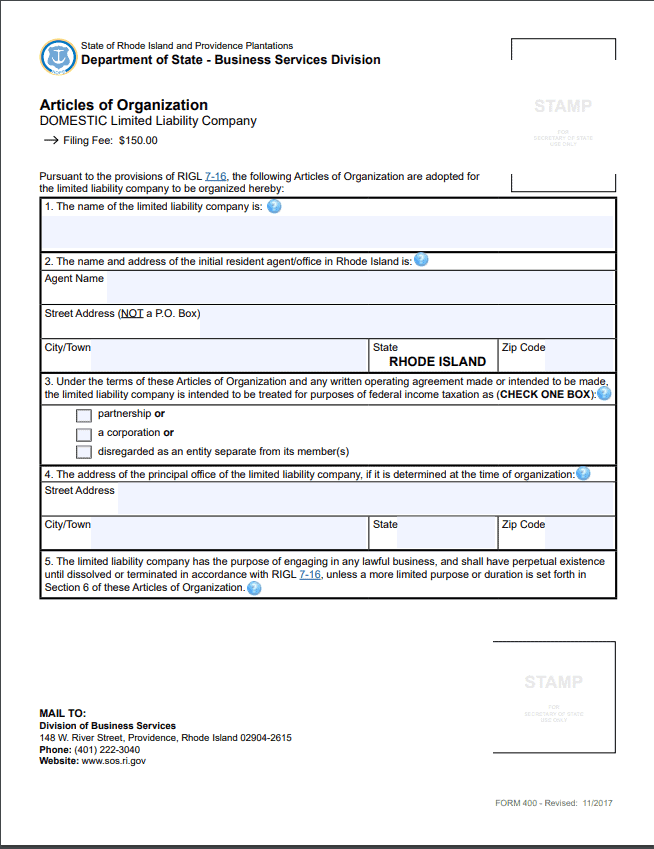 How to File Rhode Island LLC Articles of Organization
To form a Rhode Island LLC, you file the LLC Articles of Organization by following these steps:
Choose a name for your new LLC
Decide if you want to hire a resident agent service to minimize public disclosures
Note how you want your business income to be taxed
Decide what address you'd like to list publicly
Choose if members or managers will manage your LLC
Choose when you'd like your Rhode Island LLC to start
Drop off your filing and $150 fee in person (148 W River St, Providence RI 02904), file online and pay $156 with a credit card, or mail to the Division of Business Services (148 W River St, Providence RI 02904) with a check or money order for $150
Free Download
File Online
HOW LONG DOES IT TAKE TO START A RHODE ISLAND LLC?
Fastest (same day): The absolute fastest way to file your Articles is also the most annoying—visiting the Division of Business Services in person. Wait in line, submit your filing, and you can have your Articles approved in a couple hours.
Fast (1-2 days): A much easier way to go is to file online. There's a $6 online fee for the convenience, but at least the processing is pretty fast (and you don't have to stand in line).
Not Too Shabby (2-5 days): Print and mail your form. In a few days, someone will eventually enter your data in by hand and process your filing.
The best option of all? Hire Northwest to form your Rhode Island LLC in just 4 days. Just answer a few brief questions, sit back, and let our Corporate Guides file everything correctly the first time.
WHAT IS THE COST OF A RHODE ISLAND LLC?
The state filing fee for your Rhode Island LLC Articles of Organization is $150. If you file online, there's also an "enhanced" fee of $6.
Hire Northwest and your total, out-the-door cost is $381, including state filing fees.
How much does an LLC in Rhode Island cost each year?
Every year, your LLC has to pay $50 ($52.50 online) to file a Rhode Island LLC Annual Report.
What is a Rhode Island LLC Annual Report?
Your Rhode Island LLC Annual Report is a form you submit to the Business Services Division each year to update your contact and ownership information. The form is due November 1st. You'll have to pay a late fee of $25 if your form isn't received by December 1st. The unusual filing date (seriously, why November 1st?) means plenty of LLCs forget to file and end up paying more than they need to—but Northwest will help you remember. When you sign up for our services, we send you report reminders. You can even hire us to file your Annual Report for you each year.
What are the Rhode Island LLC taxes?
The Rhode Island personal net income tax rates are:
3.75%: $0 to $61,299
4.75%: $61,300 to $139,399
5.99%: $139,400+
State sales tax is a flat 7% across the state—cities and counties don't tack on any additional sales tax.
Word to the wise: No matter how your LLC is taxed, be prepared to shell out at least $400 in entity-level taxes or fees each year to the Rhode Island Division of Taxation. LLCs taxed as partnerships or disregarded entities have to pay a fee "equal to the minimum business corporation tax:" $400. S corporations just owe the $400 minimum tax, and regular corporations owe $400 or more.
IS A RHODE ISLAND LLC RESIDENT AGENT REQUIRED?
Yes, a resident agent is required for your Rhode Island LLC. This doesn't mean you're required to hire someone though. You could be your own resident agent—if you don't mind giving up a chunk of your privacy and free time. State business filings, like your Articles of Organization, are public. So, if you list your personal address or office on these forms, you could end up with a mailbox full of junk and strangers knocking at your door. Also, the key job duty of a resident agent is to be available at the address you listed. Business, however, doesn't always take place in the office—you have meetings, business travel and just time away to hit the beach. Unless you plan to be tied to your desk during business hours, you may want to hire a resident agent service like Northwest.
Hire Northwest, and our address will go on your formation documents. We'll take on the spam and solicitors, and we'll be there to ensure you never miss a legal notification. We'll even scan and send them the same day. An added perk? Using our address throughout your Articles provides consistency and convenience. No need to check or update multiple addresses as your business grows and changes.
DO I NEED A TAX ID NUMBER (EIN) FOR A RHODE ISLAND LLC?
You'll need an EIN if you want to hire employees or if you submit certain federal tax filings like Alcohol/Tobacco/Firearms returns. You may also need an EIN to open a business bank account, establish credit with a vendor or fill out local tax forms. You might as well get one, especially since they're free from the IRS. Not keen on filling out any more applications? You can add on EIN service for an additional fee when you hire Northwest.
DOES A RHODE ISLAND LLC NEED A BUSINESS LICENSE?
While Rhode Island requires licenses for specific business activities and professions (such as architects and real estate appraisers), there's no general, statewide business license. Cities and counties in the 401 often have their own licensing requirements as well.
RHODE ISLAND LLC VERSUS RHODE ISLAND CORPORATION:
It's cheaper to start a Rhode Island LLC than a corporation. To file Articles, LLCs pay $150 while corporations pay $230. (Technically, the corporate formation fee is even higher if you have more than 75 million authorized shares, but that'd be pretty surprising for a new business entity.) Annual Reports, however, are the same for both LLCs and corporations: $50 a year.
LLCs also tend to be easier to manage—no need to appoint directors, authorize stock, or hold annual meetings. Members can even manage the business themselves. Unless you really need a corporation (maybe you're dreaming of Wall Street), a Rhode Island LLC is likely going to be the cheaper, easier choice. Interested in a corporation in the Ocean State? Here's information on Rhode Island incorporation.
DOES A RHODE ISLAND LLC NEED AN OPERATING AGREEMENT?
Absolutely. Some Rhode Island LLCs fall into the trap of thinking "Rhode Island doesn't require me to submit an operating agreement, so it must not be important," but that couldn't be further from the truth. Sure, Rhode Island isn't concerned with every exact detail of how you run your business, but for you, that's EVERYTHING. Your operating agreement is your most critical internal document. It puts into writing who owns the business. Who invested what. How profits and losses are allocated. What happens if there's a disagreement. What happens if your LLC closes its doors (knock on wood). Members will want to see it. So will lenders, investors, and partners. Just to open an LLC bank account, you typically need your operating agreement.
Since it's not a standard form you file with the state, what should your operating agreement even look like? Where do you begin? You don't have to reinvent the wheel—at least not when you hire Northwest to form your Rhode Island LLC. When you hire us, we give you a free operating agreement, specific to your management style. We'll give you other free forms too, from membership certificates to resolutions. Our forms aren't like the other cheap-o garbage floating around the web. We hope to work with your business for a long time, so we want you to start out on the right foot. That's why we've spent years refining and improving all of our free forms. We're proud to say that over 1 million LLCs have used our free LLC forms to help form and maintain their businesses.
WHAT IS THE RHODE ISLAND LLC STATUTE?
RHODE ISLAND LLC ARTICLES OF ORGANIZATION REQUIREMENTS:
Company Name:

You must include "Limited Liability Company" or an abbreviation. Most businesses go with "LLC."

Resident Agent:

You can list either an individual or a business that provides resident agent service like Northwest.

At this point, you probably know who we recommend. (It's

Northwest.

)

Resident Agent Address:

This Rhode Island street address will become part of the permanent public record of your LLC.

O

ur address go

es

here

when you hire Northwest

.

Tax Election:

You'll have to tick a box to indicate how you plan to have your

business

income

federally

taxed: as a partnership, corporation or disregarded entity.

For your federal taxes (if you don't make any tax election changes), s

ingle-member LLCs

are taxed as

disregarded entities and multi-member LLCs

are taxed as

partnerships. To be taxed as a corporation, you'

ll

have to file appropriate paperwork with the IRS.

Principal Address:

Th

is

street address is the official address of your Rhode Island LLC. Hire Northwest and you can use our Rhode Island address as your principal address.

LLC Management:

Your Rhode Island LLC can be managed by either members or managers. In a member-managed LLC, members have all the decision-making power. If you don't plan to run the day-to-day operations, however, you can turn that decision-making power over to one or more managers (who don't have to be members). Tip: Most LLCs are member-managed.

Effective Date:

Your

Rhode Island LLC

can either start upon filing or you can choose a specific date within 30 days (such as the beginning of a new tax period). Tip: Most LLCs begin upon filing.

Rhode Island LLC Authorized Person:

Your authorized person is the person with permission to form and submit your Articles of Organization. The authorized person doesn't have to be a member or manager, but they do have to include their name, address and signature. When you hire Northwest, we'll be your authorized person.
Our Rhode Island LLC Formation Service Includes:
Filing of Rhode Island Articles of Organization
Listing our Rhode Island address instead of your home or office becoming permanent public records
Rhode Island LLC Filing Fees
Organizer Initial Resolutions
Rhode Island LLC Operating Agreement
Rhode Island LLC Banking Resolution
Rhode Island LLC Membership Certificates
Rhode Island Resident Agent Services
Annual Compliance Reminders
Online Account with instant tools to help you start and run your business