How To Start An LLC In South Carolina
To start an LLC in South Carolina, you must file Articles of Organization with the South Carolina Secretary of State, pay a $110 filing fee, and get an EIN from the IRS. The complete steps to forming a South Carolina LLC are as follows:
File South Carolina LLC Articles of Organization

Pay the Secretary of State $110 ($125 online)

Wait to receive your approved Articles of Organization

Get a Federal EIN tax ID for the LLC

Create a South Carolina LLC Operating Agreement

Take these documents to the bank and get a South Carolina LLC bank account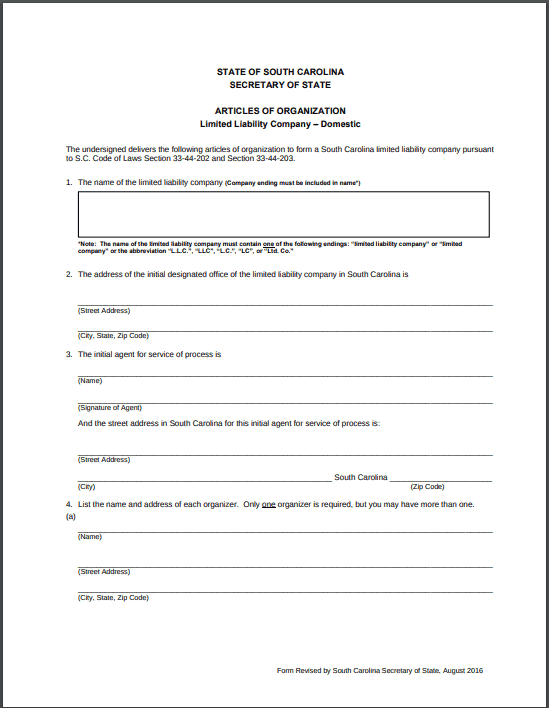 How to File South Carolina LLC Articles of Organization
To form a South Carolina LLC, you file LLC Articles of Organization by following these steps:
Choose a name for your new LLC
Decide what address you'd like to list publicly
Decide if you want to hire a registered agent service to minimize public disclosures
Choose how long you'd like your LLC to exist
Choose whether members or managers will manage your LLC
Decide who you will list publicly as the members and managers
Choose when you'd like your business to begin
File online and pay $125 with a credit card (fastest) or mail two copies and a self-addressed stamped return envelope to the South Carolina Secretary of State (Attn: Corporate Filings, 1205 Pendleton St, Suite 525, Columbia SC 29201) with a check or money order for $110
Free Download
File Online
HOW LONG DOES IT TAKE TO START A SOUTH CAROLINA LLC?
Fastest and Simplest 2 days: File online yourself, and you'll receive your approved Articles in one or two business days.
Almost Fastest (and some might say better) 2 days: Hire Northwest and let us file your Articles of Organization. Just answer a few brief questions, sit back, and let our Corporate Guides file everything correctly the first time.
Archaic 1-2 weeks: While you'll save $15 filing by mail, it can take a couple weeks for the Secretary of State Office to manually enter all your data and eventually process your filing.
WHAT IS THE COST OF A SOUTH CAROLINA LLC?
If you file by mail, the state filing fee to submit Articles of Organization for your South Carolina LLC is $110. Filing online is faster but more expensive at $125.
Hire Northwest, and your total, out-the-door cost is $350, including state filing fees.
How much does an LLC in South Carolina cost each year?
What are the South Carolina LLC taxes?
The South Carolina personal net income tax rates are:
0%: $0 to $2,929
3%: $2,930 to $5,859
4%: $5,960 to $8,789
5%: $8,790 to $11,719
6%: $11,720 to $14,649
7%: $14,650+
However, income from a pass-through entity (like a standard LLC) is typically taxed at a flat 3% on each member's personal return, thanks to the South Carolina Income Tax Act.
State sales tax is 6%, but cities, counties and special rates can increase the total possible sales tax. The average total sales tax is 7.443%, but is as high as 9% in cities like Charleston.
IS A SOUTH CAROLINA LLC REGISTERED AGENT REQUIRED?
You bet—your South Carolina LLC is required to have and maintain a South Carolina registered agent. While some people opt to take on this responsibility themselves, it can put a real dent in your privacy and even just your ability to run your business how you want. Registered agents have to include their names and the addresses where they'll be available in their Articles of Organization—a public document and a common target for data sellers. It's not unusual to end up with a mailbox full of junk and solicitors banging on your door. Registered agents also have to be at the address listed during business hours. Business doesn't just take place in the office though, so being tied to a desk can really slow you down.
That's why many LLCs opt for a commercial registered agent service like Northwest. At Northwest, we list our address on your public formation documents. We're ready and waiting to accept your legal notifications. We'll also scan and send them to you the same day, so you can stay on top of your business even when you're on the go (or just taking it easy at Myrtle Beach).
DO I NEED A TAX ID NUMBER (EIN) FOR A SOUTH CAROLINA LLC?
Hiring employees? You'll need an EIN. Filing certain federal excise taxes (like Alcohol/Tobacco/Firearms returns)? You'll need an EIN. Just to open a bank account, you'll almost certainly need an EIN. A variety of local forms—from tax filings to business license applications—will need your EIN as well. In some cases, you can use your personal social security number instead, but that just puts your personal information unnecessarily at risk. There's no fee to get an EIN directly from the IRS, so you might as well get one, even if you don't think you'll need it right away. Want to skip yet one more application? You can hire us to get your EIN for you when sign up for services at Northwest.
DOES A SOUTH CAROLINA LLC NEED A BUSINESS LICENSE?
South Carolina doesn't have a general, statewide business license, but there are a few common, state-level licenses that many businesses need, such as a retail sales tax license from the South Carolina Department of Revenue. Cities and counties have their own requirements as well. For example, Jasper and Charleston Counties both require a general business license.
SOUTH CAROLINA LLC VERSUS SOUTH CAROLINA CORPORATION:
Starting a corporation costs a bit more than starting a South Carolina LLC. While the filing fee for Articles is the same ($110), corporations are also required to submit an initial report, which has a filing fee of $25. Tax obligations can either be similar or radically different—it depends on the tax elections of your business. For example, it's possible for both an LLC and a corporation to be taxed as S corporations, which means their tax obligations would be the same.
With costs being pretty even, many people choose their business type based on how it operates. LLCs are straightforward and easy to manage. Members can even self-manage, without the need for any hierarchy of management. This makes LLCs especially appealing for small businesses and new business owners. Corporations are a little more complex but are common choices for businesses that hope to scale quickly. Thinking about a corporation? Here's information on South Carolina incorporation.
DOES A SOUTH CAROLINA LLC NEED AN OPERATING AGREEMENT?
Yes, your operating agreement is the single most important internal document for your South Carolina LLC. Consider this—you don't have to publicly list your members in your Articles or in any kind of annual report. So, how would anyone know who was actually a member or even the owner of your LLC other than going by their word? Although it's a private, internal document, your operating agreement holds legal weight and fills in these blanks. It lists who owns the company and who invested what. It also includes important procedures, like how profits and losses will be allocated and what happens if you shut it all down. Banks will typically ask to see your operating agreement when you go to open an account. Investors and partners will ask to see it as well.
At Northwest, we understand the importance of operating agreements—that's why we give you a free operating agreement, specific to your management style, when you hire us to form your South Carolina LLC. We'll give you other essential forms as well, like resolutions. We're proud of our forms—we were the first website to hand out free LLC forms, and we've spent years refining and improving them. Over 1 million LLCs and counting have used our free LLC forms to help form and maintain their businesses.
WHAT IS THE SOUTH CAROLINA LLC STATUTE?
SOUTH CAROLINA LLC ARTICLES OF ORGANIZATION REQUIREMENTS:
Company Name:

Your name must include "Limited Liability Company," "Limited Company," or an abbreviation. Most businesses keep it short and sweet with "LLC."

Initial Designated Office:

This is the official street address of your South Carolina LLC.

Hire Northwest and you can use our

South Carolina

address as your

initial office

.

Agent for Service of Process:

You can list an individual (like yourself) or a business that provides this service (like Northwest). We're fans of Northwest.

Agent Address:

This street address, like your initial office, becomes part of the permanent public record of your South Carolina LLC. When you hire Northwest, our address goes here.

South Carolina LLC Organizer:

Your organizer is the person you authorize to form and file your Articles of Organization. It doesn't have to be anyone in the LLC, but the organizer does have to list their name and address. Hire Northwest, and we'll be your organizer.

Duration:

Want a self-destruct timer for your LLC? Choose to be a "term company" and include how long you want to exist. Want your LLC to continue indefinitely? Skip this section.

LLC Management:

LLCs can be managed by members or managers. Most LLCs are managed by members, but if you don't plan to run the day-to-day operations of your business, you can turn decision-making powers over to one or more managers. If you choose to have managers, you must list the name and address of each manager.

Member Liability:

While one of the benefits of an LLC is limited liability (it's even in the name!), i

f

you want one or more members to be liable for specific debts or obligations, you can tick this box. This section is optional. Tip: Most businesses skip this section.

Effective Date:

Pass by

this section

as well

if you want your LLC to begin right away. Want to begin on a specific date in the future (maybe the next tax period is on the horizon)? Include an effective date up to 90 days in the future. Tip: Most businesses skip this section too.
Our South Carolina LLC Formation Service Includes:
Filing of South Carolina Articles of Organization
Listing our South Carolina address instead of your home or office becoming permanent public records
South Carolina LLC Filing Fees
Organizer Initial Resolutions
South Carolina LLC Operating Agreement
South Carolina LLC Banking Resolution
South Carolina LLC Membership Certificates
South Carolina Registered Agent Services
Online Account with instant tools to help you start and run your business