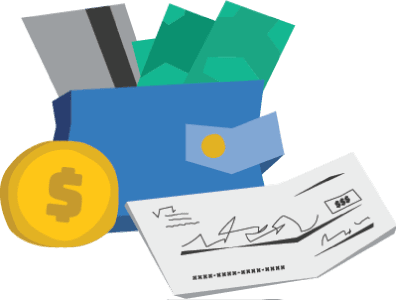 To celebrate Juneteenth, we wanted to give shout-out to the Black-owned small businesses that help our communities thrive, so we compiled a list of small business grants for Black-owned businesses. Grants are a great source of funding because they don't need to be paid back and don't make you give up control to investors. Since competition for small business grants is stiff, we also suggest alternative funding options like SBA loans and CDFIs.
Federal Small Business Grants
While not exclusively for Black-owned businesses, these federal grant programs are a great place to start when looking for funding options for your small business.
1. Grants.gov
When looking for small business grants, the best place to start is Grants.gov. This online database contains information about over 1,000 federal grants. To start applying for grants, you'll first need to create a Workspace account. Workspace allows you to apply for grants individually or with a team.
2. USDA Rural Business Development Grants
Rural businesses with less than $1 million in gross revenue and fewer than 50 new workers can apply for a USDA Rural Business Development Grant (RBDG) through their local or state Rural Development office. There's no standard grant amount, but RBDG grants are typically between $10,000 and $500,000.
3. Small Business Innovation Research (SBIR) and Small Business Technology Transfer (STTR) Programs
The SBIR and STTR programs provide grants to businesses researching and developing innovative technologies in partnership with a research institution. You can search for grants in your field of research through the SBIR website.
Private Grants for Black-Owned Small Businesses
Additionally, these private grants and prizes are specifically aimed at Black-owned businesses:
4. Coalition to Back Black Businesses
The Coalition to Back Black Businesses initiative launched in fall 2020 to support Black-owned small businesses financially harmed by the COVID-19 pandemic. They award $5,000 grants to hundreds of Black-owned businesses each fall. Grantees also have the chance to compete for $25,000 enhancement grants. To qualify, your business must have 3-20 employees, be in a qualifying industry, and be located in an economically vulnerable community. The program will continue awarding grants through 2024.
5. National Black MBA Association Scale-Up Pitch Challenge
NBMBAA Scale-Up Pitch Challenge is an annual competition in which teams of startups pitch a business idea in the early stages of development to a panel of judges, with the chance to win startup funding. 1st prize is $50,000, 2nd prize $10,000, 3rd prize $7,500, and the People's Choice Award is $1,000. To be eligible, at least one startup founder must be of African descent, and one team member must be an active member of NBMBAA. Applications for 2023 open on June 19th and close on August 4th.
6. Backing the B.A.R.
Backing the B.A.R. is an initiative from the NAACP in collaboration with Bacardi, which awards $10,000 grants to Black-owned businesses in the alcohol service, sales, and hospitality industry. To be eligible, your business must be at least 51% Black-owned and have or currently be seeking a liquor license. Applications opened June 17th and close on July 30th, 2023.
7. Power Forward Small Business Grant
The Power Forward Small Business Grant, created by the Boston Celtics Shamrock Foundation and Vistaprint, in partnership with the NAACP, offers $25,000 to Black-owned businesses located in New England. To qualify, your business must have 2-25 employees (including the owner) and be based in Massachusetts, Maine, New Hampshire, Rhode Island, Vermont, or select areas of Connecticut. Applications for this cycle close June 30th, 2023.
8. Bridge the Gap Fund
A program of the Rebuild the Block organization, the Bridge the Gap Fund is a grant for Black entrepreneurs who were financially impacted by the COVID-19 pandemic and/or looting destruction. To qualify, the business must have launched no later than January 1st, 2020 and be able to show documentation of financial loss. The organization accepts applications on a three-month cycle and allows 90 applications per submission cycle. Up to 15 applicants are selected to receive funding per cycle.
9. The Black Ambition Prize
The Black Ambition Prize competition gives business owners who identify as Black and/or Hispanic/Latinx the chance to compete for prize money. Up to 250 semi-finalists are chosen each year, with prizes ranging from $15,000 to $1 million. The Black Ambition Prize also has a separate prize track for HBCU students and recent alumni. Applications for 2023 are closed, but you can subscribe to the Black Ambition Prize newsletter to be notified when 2024 applications open.
10. Sage "Invest in Progress" Grant Program
The Sage "Invest in Progress" Grant, a collaborative initiative from Sage and the BOSS Network, awards $10,000 grants to 25 Black female entrepreneurs, along with mentorship and networking opportunities. The applications for 2023 have closed, but you can follow the BOSS Network website for future grant opportunities.
Alternatives to Small Business Grants
Small business grants are highly coveted and thus very competitive. For that reason, it's good to also consider alternate methods of funding your business.
SBA Microloans
Through the SBA microloan program, small businesses can apply for government-backed loans of up to $50,000. Loans are provided through intermediary lenders and nonprofits. The SBA website provides a list of SBA-partnered lenders you can contact.
Community Development Financial Institutions (CDFIs)
CDFIs are government-funded financial institutions, including banks, credit unions, and nonprofits, that provide affordable loans to people and businesses in low-income communities. To find a certified CDFI in your area, you can search the CDFI Fund website.
Want help getting your business off the ground? Sign up for a free account with Northwest and get access to our entire forms library—every state form you need to register and maintain your business in all 50 states.