Incorporate in Puerto Rico
To start a corporation in Puerto Rico, you must file the Certificate of Incorporation with the Department of State. You can file the document online or by mail. The Certificate of Incorporation costs $150 to file. Once filed with the state, this document formally creates your Puerto Rico corporation. However, to actually ready the corporation to do business, you must complete several additional steps.
Starting a Puerto Rico Corporation Guide:
Puerto Rico Corporation Filing Options
Go Monthly
Skip the state fees! Get a Puerto Rico corporation and the best of our services today. Includes EIN, hassle-free maintenance, business address & mail forwarding, Privacy by Default®, local Corporate Guide® service, and everything you need to operate at full capacity.
$
48
/ Month
Do It Yourself
Sign up for a free account and use our online tools to start your Puerto Rico corporation today. Includes Puerto Rico incorporation and maintenance walkthrough and company document creation. All for free.
Pay in Full
Includes Puerto Rico corporation, business address & free mail forwarding, Privacy by Default®, lifetime support from local Corporate Guides® and a year of registered agent service.
$
375
Total
Puerto Rico Certificate of Incorporation Requirements
To form a Puerto Rico corporation, you must complete and file the Certificate of Incorporation with the Puerto Rico Department of State. See the document below and click on any number to see what information is required in the corresponding section.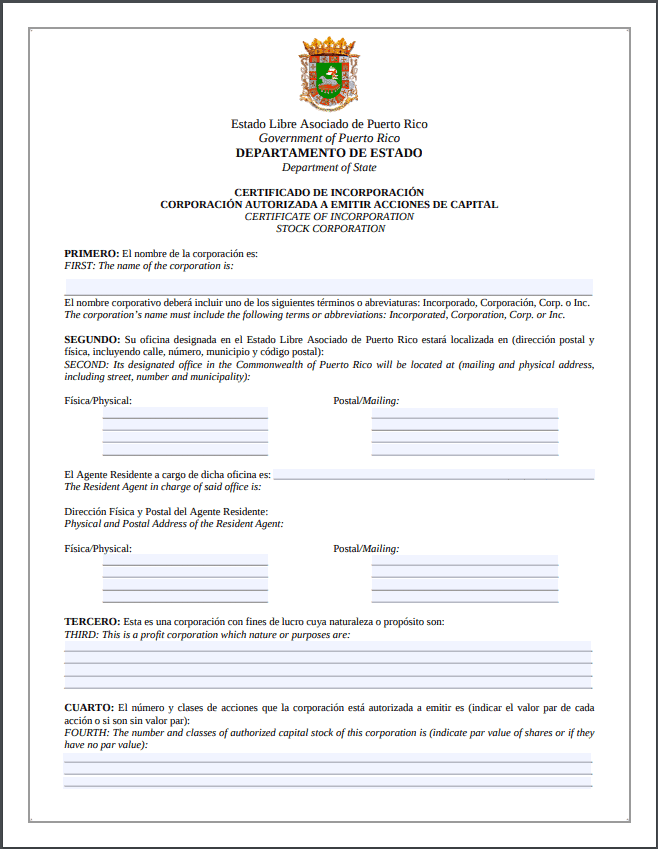 1. Corporation Name
Your name must include one of the following words or abbreviations: Incorporado, Corporación, Incorporated, Corporation, Corp, Inc, or a word of similar meaning in another language. Tip: Most businesses prefer to keep it short and sweet with "Corp" or "Inc."
2. Designated Office
List your corporation's physical Puerto Rico address (and mailing address if different).
3. Resident Agent and Address
Your resident agent must be available to accept legal notifications on behalf of your business at a physical address in Puerto Rico. Tip: When you hire Northwest, our information will go here.
4. Purpose
Your purpose is what the primary business activity you plan to engage in. It's sufficient to say that the purpose is to "engage in any lawful acts or businesses for which corporations may be established pursuant to 14 L.P.R.A. § 3502."
5. Authorized Shares
For each class, list the number and par value of each share. Par value (also known as "face value") is the value listed on stock certificates and is typically the lowest value at which the share will be sold. If you have multiple classes of shares, also include the total shares of all classes.
6. Share Rights and Limitations
Explain any conditions, preferences, rights, restrictions or limitations for each share type.
7. Puerto Rico Incorporator
Your incorporator signs and submits your Certificate of Incorporation. Incorporators must include their names and addresses. We'll be your incorporator when you hire Northwest.
8. Directors
If your incorporator's powers terminate upon filing (i.e. if your incorporator isn't a director), list the names and addresses of who will serve as directors at the first annual meeting.
9. Term of Existence
How long do you want your corporation to exist? Your can choose "perpetual" (unlimited), "indefinite" (existing until a particular event) or "specific date" (which you'll have to enter). Most corporations are perpetual.
10. Effective Date
When do you want your corporation to start? You can either start on the date of filing or choose a specific date up to 90 days in the future.
11. Email Addresses
Like all the information in your Certificate of Incorporation, the email you list will become part of the public record. If you'd rather not risk an inbox full of spam, note that we allow our clients to list our email address here.
How much does it cost to start a Puerto Rico corporation?
$150. This is the filing fee the Department of State charges to for submitting your Certificate of Incorporation.
Hire Northwest to form your Puerto Rico corporation and your total, out-the-door cost is $375. This includes state fees, a full year of registered agent service, and loads of useful forms and resources to help your business get up and running.
How long does it take to start a Puerto Rico corporation?
File online and you'll usually receive your approval the same day. If you mail your filing it will take a few days unless you expedite. Expediting fees range from $100 (24 hours) to $500 (2 hours).
If you hire Northwest to start your corporation, we file online and typically have your Puerto Rico corporation formed within 24 hours.
Does a Puerto Rico corporation need a registered agent?
Yes, you're required to list a Puerto Rico resident agent (also called a registered agent) and their Puerto Rico street address in your Certificate of Incorporation. Your agent's job is to be available to accept legal notifications for your business. If you're not a Puerto Rico resident (or just don't plan to be tied to your office), it'll be necessary to arrange a third-party to perform registered agent services. Hire Northwest, and we'll not only provide you our expert registered agent service, we'll help walk you through the filing process and send you Puerto Rico compliance notifications.
Create Bylaws for Your Puerto Rico Corporation
Do I need bylaws?
Yes, bylaws are an essential part of organizing your Puerto Rico corporation. Why? Your bylaws are the internal rules for your corporation.
Why are corporate bylaws important?
Bylaws outline basic procedures, like when your annual meetings are or how many members are needed to vote on a resolution. They define the roles of each corporate position, such as how long board members serve and how they're replaced. They determine the scope of each person's authority as well, such as who can open a bank account or call a meeting. As you can imagine, these kinds of decisions have a huge impact on how your Puerto Rico corporation really works.
How do I begin writing bylaws?
Sounds like a lot? You don't have to reinvent the wheel—let us help you get started. When you hire Northwest to form your Puerto Rico corporation, we give you free corporate bylaws, as well as other key business forms like resolutions. Check out the free corporate forms we provide to help corporations form and maintain their businesses.
Get an EIN for Your Puerto Rico Corporation
Do I have to get a tax ID number (EIN)?
Yes, you'll need to get an EIN for federal tax filings. You may also need your EIN for other common paperwork, such as opening a bank account or applying for licenses. You can apply for an EIN directly from the IRS for no fee, or you can skip the extra application and hire us to get one for you. Just add on EIN service when you hire us to form your Puerto Rico corporation.
Open a Bank Account for Your PR Corporation
To open a corporate bank account, you will need to bring the following to the bank:
A copy of the Puerto Rico corporation's Certificate of Incorporation
The Puerto Rico corporation's bylaws
The Puerto Rico corporation's EIN
If your bylaws don't specifically assign the power to open a bank account, you may also want to bring a corporate resolution to open a bank account that states that the person going to the bank is authorized by the business to open the account in the name of the corporation.
We recommend calling your bank ahead of time before going in and asking what their requirements are. Most banks don't open corporate accounts nearly as frequently as personal accounts, so some bankers may be unfamiliar with their own bank's requirements. As frustrating as that may be for you, calling ahead will help save you from being super annoyed when you walk into the bank.
Obtain a Business License
Does a Puerto Rico corporation need a business license?
Most businesses will need a license. If you plan to engage in any business in a Puerto Rico municipality, you'll have to get a "Patente Municipal" license. This is a municipal tax license. The tax is based on turnover (sales) with variable rates. If you fail to register, there's a fine of up to $500 in many municipalities. Also, if you have a physical office or location in Puerto Rico, you'll also need to obtain a Use Permit before you begin operating. The permits are available from either your municipality or the Office of Management of Permits.
File Puerto Rico Corporation Reports
What is a Puerto Rico Annual Report?
The Puerto Rico Annual Report is a doozy. This form requires more than just updating ownership and contact information. It also requires a financial statement prepared by a CPA in Puerto Rico (and if your corporation does more than $3 million in revenue per year, you'll also need to have your statement audited). The report and $150 fee are due April 15th each year—and Puerto Rico doesn't remind businesses to file, so it's important to keep this filing on your radar.
Not sure where to begin? Northwest can help. We'll send you report reminders to help you stay in compliance, and we can even provide a consult with a CPA who can handle your financial statement needs.
How much does a corporation in Puerto Rico cost each year?
At least $150. This is the fee for the mandatory Annual Report.
Pay Corporate Taxes
What are the taxes for a Puerto Rico corporation?
Because Puerto Rico is a US territory, corporate taxes are a little different, and the taxes you pay depend on residency, business activities, income sources, and more. Some corporations pay as a little as 4%, and others pay much more. For an overview of Puerto Rico business taxes, check out our Puerto Rico Tax Advantage page.
Let Us Be Your Guide
At Northwest Registered Agent, we've spent years crafting our Puerto Rico corporation service. When you hire us, we'll form your Puerto Rico corporation for $375 total and include:
One year of registered agent service
Corporate bylaws and resolutions
Digital notifications
Puerto Rico Annual Report reminders and directions for fast filing
A secure online account filled with intuitive business maintenance tools and forms to make corporate upkeep simple
Lifetime Corporate Guide Service—call us anytime, and one of our Corporate Guides will help you navigate whatever business problem, task or curiosity you have
Northwest Registered Agent is the only national corporation formation service that is dedicated to your personal privacy. We don't sell data to third-parties, and we do everything we can to keep your personal information secure.
START YOUR PUERTO RICO CORPORATION FOR $375 TOTAL