Annual Meeting of Shareholders – Minutes Template
An annual meeting of shareholders is held to discuss the needs of the corporation, review the previous year, and—most importantly—elect the directors. Of course, these kinds of major decisions should always be properly recorded in meeting minutes and added to the corporate record. We provide a free meeting minutes template for your annual shareholder meeting.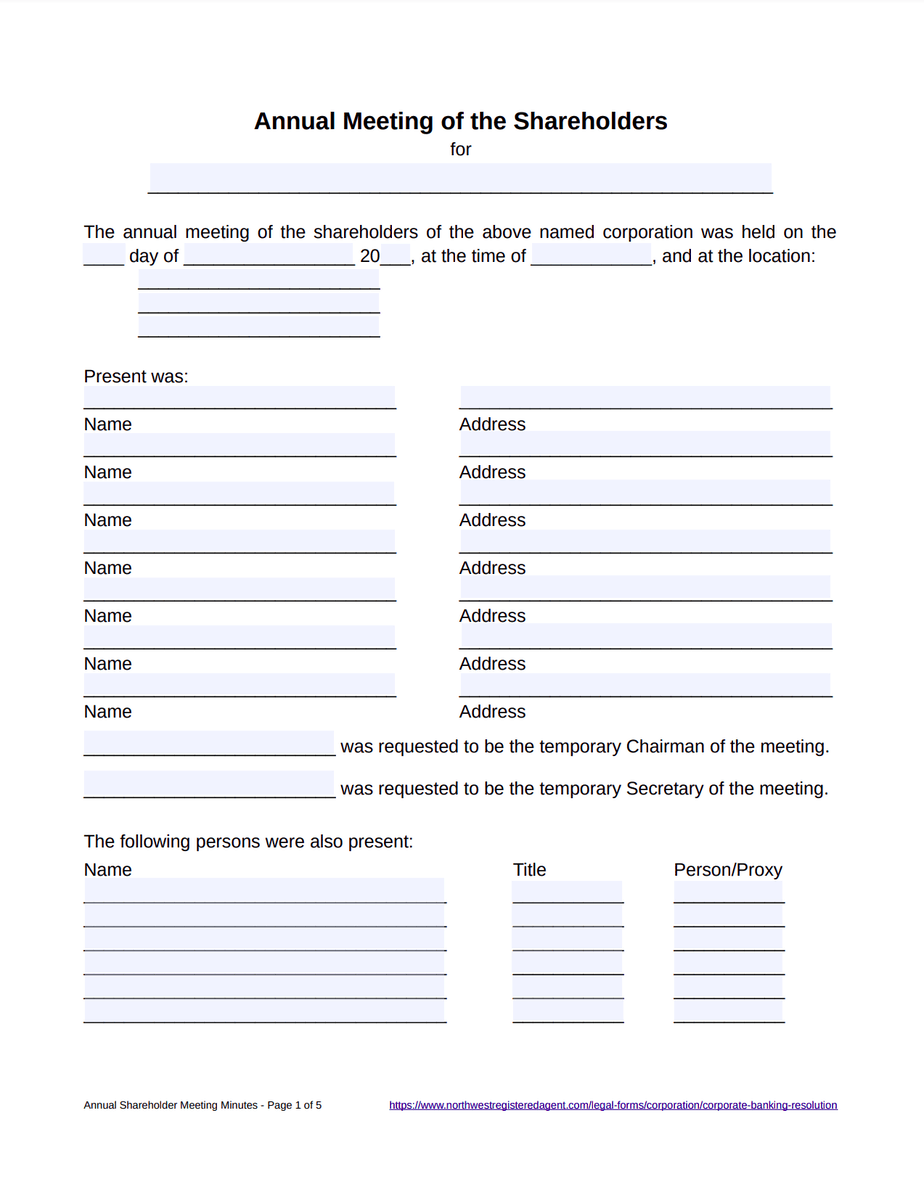 Why should I record annual shareholder meeting minutes?
You can keep the same directors on the board of directors from the previous year, but the annual shareholder meeting is your time to make changes if you would like. The board of directors are typically elected to serve on the board for 1 year or until another meeting of shareholders is held to vote for new directors.
Electing directors is one of the most important duties of a corporation's shareholders. The directors are the decision makers of the corporation, and they elect the officers who run the day-to-day operations of the corporation. As a shareholder, director elections are one of the most significant powers you have. Major decisions like these should always be recorded in meeting minutes.
Want more assistance forming or maintaining your corporation? We can help. We'll get your corporation set up correctly for only $100 plus state fees. We also provide industry-leading registered agent service for $125 a year.
What should annual shareholder meeting minutes include?
Annual meetings are the chance for shareholders to elect directors and review the preceding year. Meeting minutes should reflect these actions as well as any other business conducted. Our free annual shareholder meeting minute template includes all of this and more:
General Meeting Information: Our template includes spaces to list the corporation's name, meeting date, and location.

Attendance: The names of shareholders in attendance and their number of shares are listed. The names and addresses of any non-shareholders in attendance are also listed.

Chairperson and Secretary Elections: The corporation elects a chairperson to run the meeting and a secretary to keep minutes.
Quorum and Notice Confirmation: The chairperson confirms that a quorum (minimum number) of shareholders is present. The secretary confirms that sufficient notice of the meeting was given or was waived by shareholders.

Review of Previous Minutes: The minutes from the last shareholder meeting are made available for review by the shareholders.
Director Elections: The directors of the corporation are elected. The minutes record the name and number of votes each candidate receives. The directors who are chosen to serve for the next year are listed. Director compensation is also fixed and recorded.

Report Presentations: The president presents an annual report to the corporation. The treasurer also presents a financial report, which includes gross receipts, gross profits and net profits for the preceding year.
Other Items of Business: The template includes space for any additional items of business conducted.

Signatures: The meeting secretary signs and dates the meeting minutes. Witnesses can also add their names and signatures.