First Organizational Shareholder Meeting – Minutes Template
The first shareholder meeting is an organizational meeting where shareholders ratify and approve the actions of the incorporators. Shareholders also approve shares values, appoint directors and officers if needed, and wrap up other initial tasks. Meeting minutes ensure that all these actions are documented in the corporate record. We provide a free meeting minutes template for your first shareholder meeting.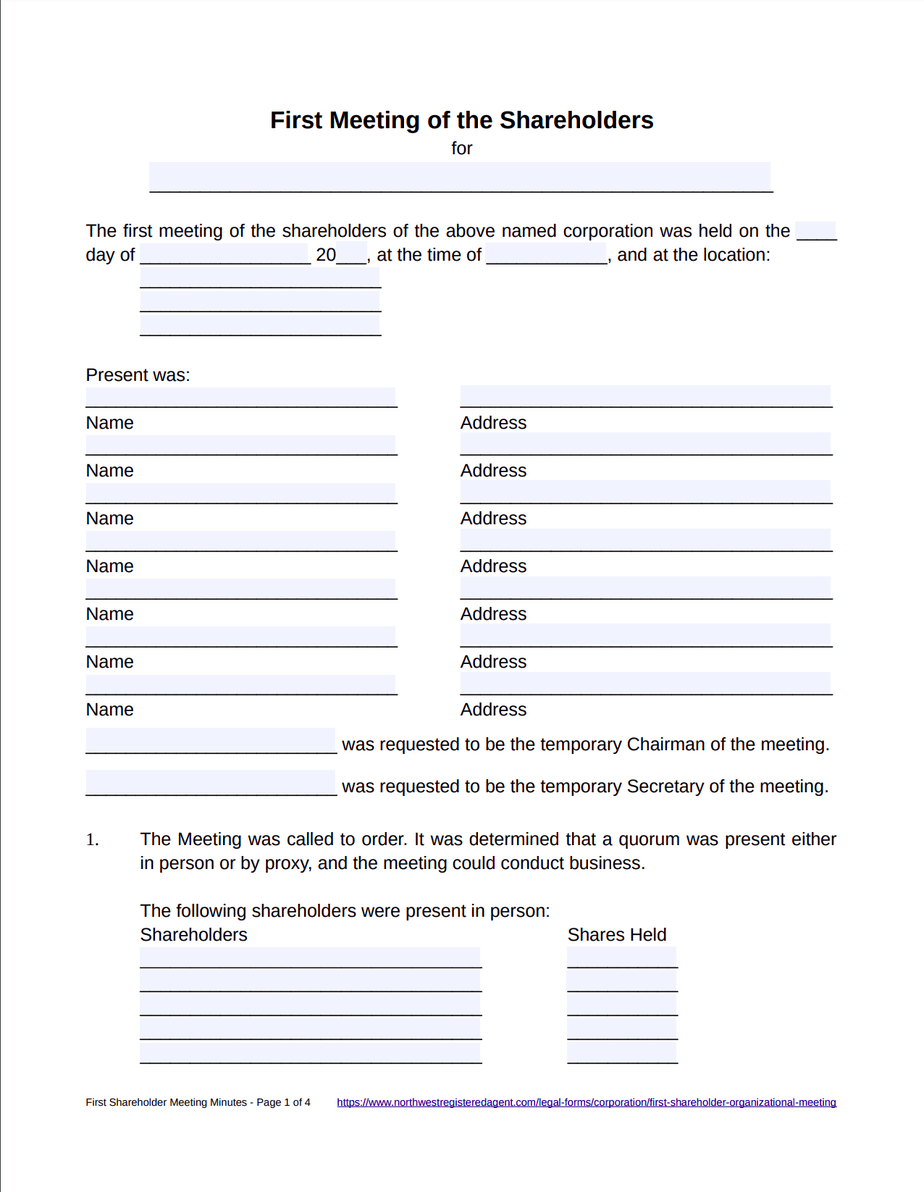 Why should I record first shareholder meeting minutes?
Corporations come with a lot of formal requirements—these include holding shareholder meetings and keeping meeting minutes. Recording minutes for this first meeting may feel like a waste of time, especially since much of the meeting is regurgitating info you've already put into writing elsewhere, like your Articles of Incorporation. However, not everything at the first shareholder meeting is a rehashing or confirmation of earlier decisions.
One of the most important topics that a first shareholder meeting goes over is the issuance of shares. The value of shares is agreed upon, the value of any assets being exchanged for shares is agreed upon, and and shareholders are issued shares with a bill of sale or certificate of stock. Significant actions such as these should always be recorded in minutes.
Free minutes templates are great, but if you'd like more assistance forming or maintaining your corporation, we can help. We'll get your corporation set up correctly for only $100 plus state fees. We also provide industry-leading registered agent service for $125 a year.
What should first shareholder meeting minutes include?
Your corporation's first meeting of shareholders covers some key initial steps, from ratifying and approving documents to appointing officers. Our free first meeting minute template includes the following essential information:
General Meeting Information: Our template includes spaces to list the corporation's name, meeting date, and location.

Attendance: The shareholders in attendance and their number of shares are listed. In addition, any shareholders by proxy are also listed, along with their number of shares. The names and addresses of any non-shareholders in attendance are also listed.

Chairperson and Secretary Elections: The corporation elects a chairperson to run the meeting and a secretary to keep minutes.
Quorum and Notice Confirmation: The chairperson confirms that a quorum (minimum number) of shareholders is present. The secretary confirms that sufficient notice of the meeting was given or was waived by shareholders. Need a waiver? We also have a free template for a waiver for the first shareholder meeting.

Approval of Key Documents: A variety of organizational documents (such as the Articles of Incorporation, bylaws, resolutions, and minutes for the first meeting of directors) are typically ratified and approved at this meeting.
Director and Officer Appointments: The initial directors and officers of the corporation are recorded (and appointed if necessary). In many cases, the corporation has already listed directors and officers in the Articles of Incorporation.
Share Values: The shareholders agree on the value of shares and to the bill of sale of issued shares.
Other Items of Business: While the most common meeting topics are covered above, the template includes space for any additional items of business conducted.

Signatures: The meeting secretary signs and dates the meeting minutes. Witnesses can also add their names and signatures.