Free Certificate of Incorporation - Delaware or Any State
A Certificate of Incorporation is a form you file with an agency in your state to register your corporation. In most states, this same form is called "Articles of Incorporation," but a handful of states, including Delaware, use the term "Certificate of Incorporation" instead. We offer a free Certificate of Incorporation template that you can use in Delaware or any state.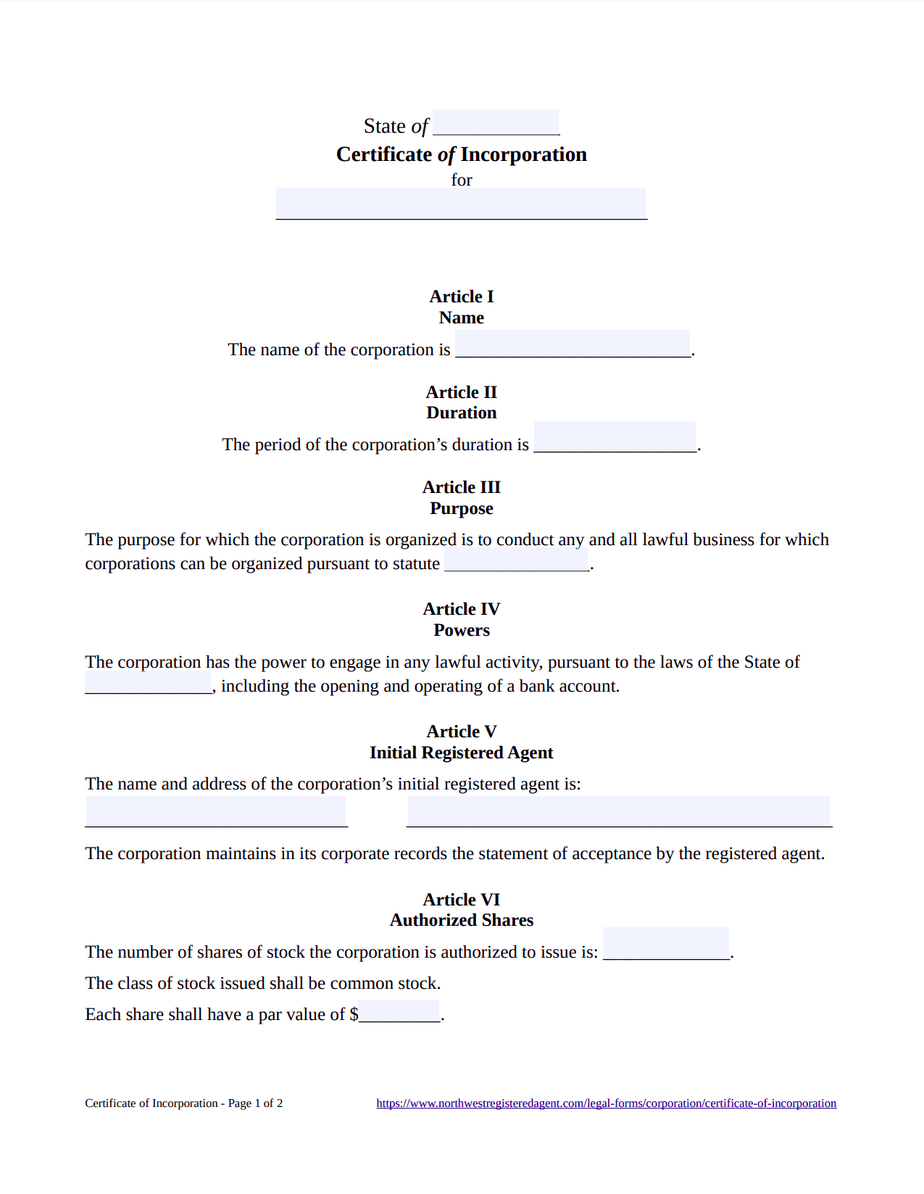 Delaware Certificate of Incorporation – Free Template
Our Certificate of Incorporation is a general template designed for states that request a "Certificate of Incorporation" instead of the more common "Articles of Incorporation." Feel free to use our template, but please do not take this form as a replacement for competent legal counsel on your specific needs. Like all our forms, this template is intended for individual use.
If you would like our help forming your corporation, we incorporate businesses every day. We'll get your corporation set up correctly for only $100 plus state fees. We also provide industry-leading registered agent service for $125 a year.
What should a Certificate of Incorporation include?
You'll need a few essentials, such as your corporation's name and registered agent, as well as some general information about directors and shares. Our Certificate of Incorporation template covers these topics and more:
Article I: Name
Corporate names usually require corporate identifiers, such as "Corp.," "Inc.," "Corporation" or "Incorporated." You also need to make sure your name is available in your state with a business name search.
Article II: Duration
Duration is how long your business will exist. Most corporations are perpetual, meaning they continue until they are dissolved.
Article III: Purpose
Your business purpose is what your corporation will actually do. This template lists a general purpose ("to conduct any and all lawful business") and leaves a space to cite the state statute for business purpose.
Article IV: Powers
This section explicitly gives the corporation powers to engage in any lawful activity under the state's corporation code.
Article V: Registered Agent
You'll need to list your registered office and agent. Your registered office is a street address in the state where legal notifications will be sent. Your registered agent accepts these notifications at the registered office during regular business hours. Don't plan to be in the office all day? Many businesses opt to hire a registered agent service like Northwest.
Article VI: Authorized Shares
In this section, you'll list the number of shares you'd like to authorize (create). You'll also need to note any classes of shares (such as common and preferred) and their par value, if any. Par value is the "face value" of the share, usually the lowest price at which a share can be sold.
Note that par value can affect filing fees and franchise taxes. For instance, you'll pay a higher filing fee in Oklahoma if your combined par value is over $50K. In Delaware, the state's annual franchise tax can be calculated in two different ways, one of which is based on par value. If your Delaware corporation has "no par value" shares, you'll be limited to tax calculation based on authorized shares.
Article VII: Directors and Officers
List the names of your corporation's directors and officers, including their titles.
Article VIII: Bylaws
This article states that the corporation will adopt initial bylaws. Need a template for bylaws? Check out our free corporate bylaws template.
Article XI: Dissolution
This article focuses on how assets will be distributed if the corporation dissolves, noting that procedures will be included in the bylaws and will follow applicable state laws.
Article XIII: Incorporator
Your incorporator signs and submits the Certificate of Incorporation. The incorporator can be a director or officer, or someone else you authorize to complete this paperwork. If you hire Northwest to form your corporation, we'll be your incorporator.
What is the process for filing a Certificate of Incorporation?
Every state their own state-specific requirements for incorporation. You can find the state filing fees, requirements and much more on our individual state corporation pages. Just select your state from the drop down on our "Incorporation Guide" page.
Once you've got all your paperwork ready, the Certificate of Incorporation is filed with an agency in your state (typically the Secretary of State office) along with the required filing fee. Once filed, some states send you an official certificate while others just return your original submission with a stamp of approval.
After your Certificate of Incorporation is approved, your corporation is legally registered—but that's just the first step to becoming business-ready. You'll want to open a bank account, get an EIN, and obtain any required business licenses or permits as well.