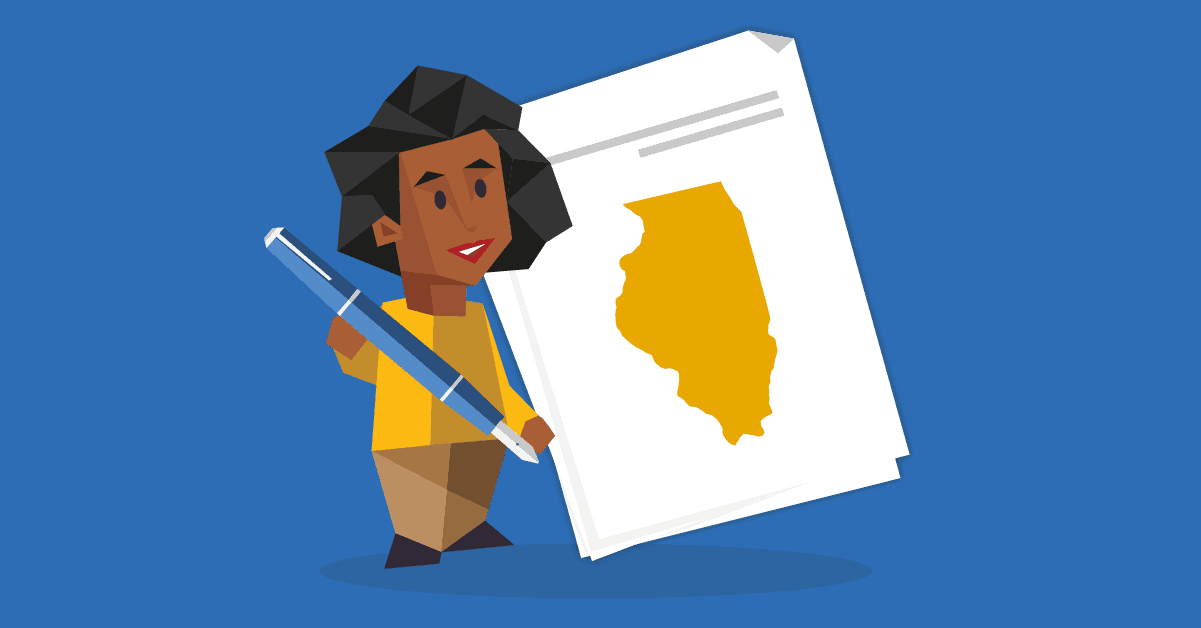 Q: I'd like to change my business name. Can you help?
Thank you to a customer from Illinois for that great question! To change your LLC name in Illinois, file Articles of Amendment with the Secretary of State and inform the IRS of your name change. Here's a step-by-step guide to changing your LLC name in the Land of Lincoln.
1. Choose a business name
Just like your original LLC name, your new business name needs to meet Illinois's legal requirements. According to §805 ILCS 180/1-10, an Illinois LLC name must:
Not already be in use in Illinois
Contain the words "limited liability company" or an abbreviation thereof, such as "LLC"
Not include words that suggest that the LLC is a different entity type, such as "incorporated" or "limited partnership"
Not use the words "trust," "trustee," or "fiduciary," unless the business is a corporate fiduciary
You can do a business name search on the Secretary of State website to find out if your preferred name is available.
2. File Illinois LLC Articles of Amendment
An Illinois LLC that wants to change its name needs to file Articles of Amendment with the Secretary of State. Here's the information you'll need to provide in your amendment:
Current LLC name
Date when the amendment will take effect (Most LLCs choose "the file date")
What you're changing—in this case, the LLC name
Additional information (optional)
New LLC name
Signature
Have questions? Read more about How to File an Illinois LLC Amendment.
How much does it cost to file Illinois Articles of Amendment?
Filing the IL Articles of Amendment costs $50. You can also expedite your filing for an additional $100.
How do I submit my Articles of Amendment?
You can file Articles of Amendment online, by mail, or in person.
Online: Illinois Secretary of State
By mail or in person:
Secretary of State
Department of Business Services
Limited Liability Division
501 S. Second St., Rm. 351
Springfield, IL 62756
How long will Illinois take to process my Articles of Amendment?
Illinois's normal processing speed is around 10 days. Expedited processing takes 24 hours (excluding weekends and holidays).
3. Contact the IRS
Next, you'll need to inform the IRS of your business name change. The way you contact the IRS will depend on how your LLC is taxed:
Sole proprietorship/disregarded entity—Write the IRS to inform them of the change.
Partnership—Mark the name change box (Page 1, Line G, Box 3) and write your new name on Form 1065 when you file taxes.
S-corp—Mark the box on Form 1120-S (Page 1, Line H, Box 2).
C-corp—Mark the box on Form 1120 (Page 1, Line E, Box 3).
If you've already filed taxes for the year, you'll need to write the IRS at the same address where you filed your return and inform them that your business name has changed.
Do I need a new EIN when I change my business name?
Nope! You can continue to use the same EIN after you change your business name.
4. Update your business name wherever you use it
Finally, you should update your business name everywhere you use it, including:
Learn more about How to Change Your Business Name.