How To Start An LLC In Pennsylvania
To start an LLC in Pennsylvania, you must file a Certificate of Organization and accompanying documents with the Pennsylvania Bureau of Corporations and Charitable Organizations, pay a $125 filing fee, and get an EIN from the IRS. The complete steps to forming a Pennsylvania LLC are as follows:
File a Pennsylvania LLC Certificate of Organization and Docketing Statement

Pay the Bureau of Corporations and Charitable Organizations $125

Wait to receive an approved copy of your Certificate of Organization

Get a Federal EIN tax ID for the LLC

Create a Pennsylvania LLC Operating Agreement

Take these documents to the bank and get a Pennsylvania LLC bank account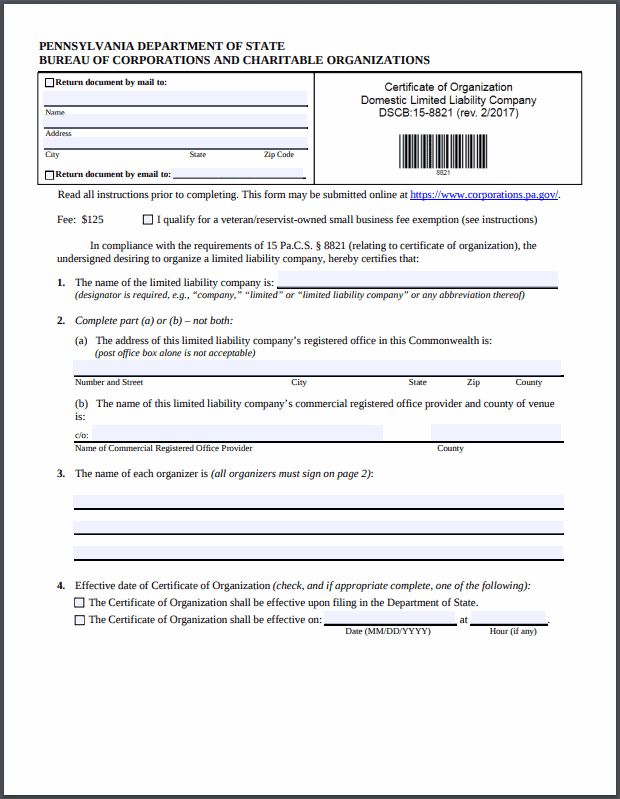 How to File a Pennsylvania LLC Certificate of Organization
To form a Pennsylvania LLC, you file the LLC Certificate of Organization by following these steps:
Choose a name for your new LLC
Decide if you want to hire a registered agent service to minimize public disclosures
Decide when you'd like your Pennsylvania LLC to begin
Drop off your filing and $125 fee at 401 North St, 206 North Office Building, Harrisburg PA 17120, file online and pay $125 with a credit card, or mail to the Bureau of Corporations and Charitable Organizations at PO Box 8722, Harrisburg, PA 17105 with a check or money order for $125
Free Download
File Online
HOW LONG DOES IT TAKE TO START A PENNSYLVANIA LLC?
Fastest 1 day: The only way to expedite your filing in Pennsylvania is to drive to Harrisburg, wait in line, and submit your Certificate in person. Expediting is a THOUSAND dollars for 1-hour processing (which makes the $300 for 3 hours and $100 for same-day service look like a bargain).
Pretty Fast 5 days: A much more reasonable option is to submit your Certificate online or hire Northwest to submit it for you. When you hire Northwest, you just answer a brief questionnaire, sit back, and wait for our Corporate Guides to file everything correctly the first time.
Not Too Shabby 1-2 weeks: Mailing your Certificate of Organization doesn't save you any money, and it will typically add a day or two of processing time, as someone has to manually enter in all your data.
WHAT IS THE COST OF A PENNSYLVANIA LLC?
The Commonwealth's filing fee for a Pennsylvania LLC Certificate of Organization is $125. Hire Northwest, and your total, out-the-door cost is $350, including Pennsylvania fees.
How much does an LLC in Pennsylvania cost each year?
For regular LLCs, there isn't a general yearly fee. Instead, every ten years, you have to submit a Decennial Report and pay the $70 filing fee.
You do have to shell out yearly fees if you form either a Restricted Professional or Benefit LLC. Restricted Professional LLCs (think doctors and lawyers) have to file a Certificate of Annual Registration each year and pay a steep $520 per member fee. Benefit LLCs (LLCs created for public benefit) pay $70 a year to submit their Annual Benefit Report.
What is a Pennsylvania LLC Decennial Report?
Basically, your Pennsylvania LLC Decennial Report is a form you file every ten years to let the state know that your LLC still exists. Reports are due by the end of each year ending in "1" (2021, 2031, 2041, etc.). The filing fee is $70. Forget to file? You lose exclusive rights to your company's name—meaning other businesses can request it. Ten years is a long, long time between filings, but Northwest can help you remember to submit your report. When you sign up for our services, we'll send you report reminders. Better yet, cross this task off your list entirely and hire Northwest to submit your Decennial Report for you.
What are the Pennsylvania LLC taxes?
The Pennsylvania personal net income tax rate is a flat 3.07%. Pennsylvania sales tax is 6%. Counties can add up to 2% more to the sales tax, so the total sales tax is as much as 8% in areas like Philadelphia. The average total sales tax, however, is only 6.14%–pretty close to the Commonwealth rate.
IS A PENNSYLVANIA LLC REGISTERED OFFICE REQUIRED?
Yes, your Pennsylvania LLC is required to maintain a Pennsylvania registered office where legal notifications are accepted. The address you decide to list becomes a part of the public record of your LLC. Since public data is a goldmine for data sellers, if you put your own address, you'll likely end up with fat stacks of junk mail. Another issue with listing your own address or office is that someone has to be there during business hours in case a process server pops by. For small or single-member LLCs (or just businesses that don't keep the standard 9-5), this can be particularly hard. Running a business is already tough enough without being stuck in the office.
Instead, you could hire a commercial office provider, like Northwest Registered Agent. When you hire Northwest, we list our office address instead of yours. We're in the business of being available, so you never have to worry about missing a legal notice. We'll even scan and send you any service of process the same day.
DO I NEED A TAX ID NUMBER (FEIN) FOR A PENNSYLVANIA LLC?
You're required to get a FEIN if you plan to hire employees or file certain federal excise taxes like Alcohol/Tobacco/Firearms returns. You'll also be asked for your FEIN for plenty of regular business activities too, like opening a bank account, establishing credit with vendors, applying for local permits or licenses, or filing state or municipal tax forms. In some cases, you can use your personal social security number instead—but constantly handing out your SS# can put your data privacy at risk. FEINs are free from the IRS, and you can fill out an application on the IRS website. Rather pass this task off to us? You can add on EIN service when you hire Northwest to form your Pennsylvania LLC.
DOES A PENNSYLVANIA LLC NEED A BUSINESS LICENSE?
Pennsylvania doesn't have a general business license, but some cities and counties have local business licensing requirements. For example, if you engage in business in Philadelphia, you'll need a free Commercial Activity License. In Harrisburg, you'll fork over at least $50 a year for their mandatory Business Privilege and Mercantile License.
PENNSYLVANIA LLC VERSUS PENNSYLVANIA CORPORATION:
In Pennsylvania, the fees for starting and maintaining an LLC and a corporation are the same: $125 for Articles and $70 every ten years for the Decennial Report. Tax obligations can either be similar or radically different, depending on your business's tax elections. For example, both LLCs and corporations can choose to be taxed as S corporations, which would make their tax obligations the same.
Without any significant cost advantage, why choose one type over the other? LLCs and corporations operate differently, and these differences can be advantageous to different types of businesses. Many small businesses and new business owners choose LLCs because they're pretty straightforward and flexible. While corporations must have directors and officers, LLCs don't have to have any sort of higher management at all. Members can run the show themselves. Or not—they can appoint or hire managers if they want. The same goes for other formal requirements like annual meetings, which are required for corporations but optional for LLCs. Corporations, on the other hand, are common choices for businesses that hope to scale quickly or become publicly-traded. Interested in a corporation? Here's information on Pennsylvania incorporation.
DOES A PENNSYLVANIA LLC NEED AN OPERATING AGREEMENT?
Will your LLC be dissolved, revoked or lose its good standing if you don't have an operating agreement? No. Is an operating agreement really necessary for your Pennsylvania LLC? Absolutely.
You have a lot on your mind when starting a business—you're navigating registrations and permits, wooing investors, or maybe researching suppliers and manufacturers. It'd be easy to write off operating agreements as nonessential. After all, they don't even have to be submitted to the state. That line of thinking, however, will get you off on the wrong foot.
Your operating agreement is your Pennsylvania LLC's most important internal document because it defines the terms of your business. It puts in writing who owns the business and how much each person invested. It spells out how profits and losses will be allocated and what happens if you end up shutting the whole thing down. This information is the core of your business—and shouldn't be decided on a whim. Members will want you to have a solid operating agreement. So will your bank when you go to open a bank account or take on debt. Trying to lure investors or partners? They'll be very interested in your operating agreement.
You know who else cares about operating agreements? We do. At Northwest, we know that your operating agreement is critical for your business. That's why we give you a free operating agreement, specific to your management style, when you hire Northwest to form your Pennsylvania LLC. We've been giving out free operating agreements and other key forms (resolutions, membership certificates, etc.) for years. We were the first website to hand out free LLC forms and we've spent the years since refining and improving them to ensure your business starts out right. And we're proud to say that over a million LLCs have used our free LLC forms to help form and maintain their businesses.
WHAT IS THE PENNSYLVANIA LLC STATUTE?
PENNSYLVANIA LLC CERTIFICATE OF ORGANIZATION REQUIREMENTS:
In addition to the Certificate of Organization, filers must also submit a Docketing Statement. Online, this form is included, but if filing with a paper form, you'll have to download the Docketing Statement separately. It is a short form that requests the name and mailing address of the person responsible for tax reports, a brief description of business activity, your tax or fiscal year end date and your FEIN (which you can get later).
Company Name:

Your name must include "Limited Liability Company," "Limited," "Company" or an abbreviation.

Tip:

Most businesses keep it short and sweet with "LLC."

Registered Office or Provider:

Y

ou must list the Pennsylvania street address where

someone

will be available to accept legal notifications. This address becomes part of the permanent public record of your LLC. If you have a commercial

office provider

like Northwest, you just need to list their name and the county they're in.

Tip: Northwest offers expert commercial

office provider

service.

Pennsylvania LLC Organizer:

Your organizer is the person you authorize to form and file your Pennsylvania LLC Certificate of Organization. It doesn't have to be a member, manager, or anyone in the LLC.

Tip:

Hire Northwest, and we'll be your organizer.

Effective Date:

You can choose whether your Pennsylvania LLC will begin immediately or at a later date. You can choose an effective date up to 90 days in the future (so if the next tax period is creeping up, you could wait to start until then). Tip: Most businesses begin right away.

Professional Companies:

Tick this box if you're a professional company. While you'

re

probably perfectly professional, a Professional LLC offers licensed medical, law or accounting services and

has

additional

filing

requirements. Tip: Most LLCs are not professional.

Benefit Companies:

Benefit companies are kind of a cross between a profit and a non-profit. They are created for general public benefit (such as education). Like Professional LLCs, benefit companies have additional

filing

requirements. Tip: Most LLCs aren't benefit companies either.
Our Pennsylvania LLC Formation Service Includes:
Filing of Pennsylvania Certificate of Organization
Listing our Pennsylvania address instead of your home or office becoming permanent public records
Pennsylvania LLC Filing Fees
Organizer Initial Resolutions
Pennsylvania LLC Operating Agreement
Pennsylviana LLC Banking Resolution
Pennsylvania LLC Membership Certificates
Pennsylvania Registered Agent Services
Compliance Reminders
Online Account with instant tools to help you start and run your business