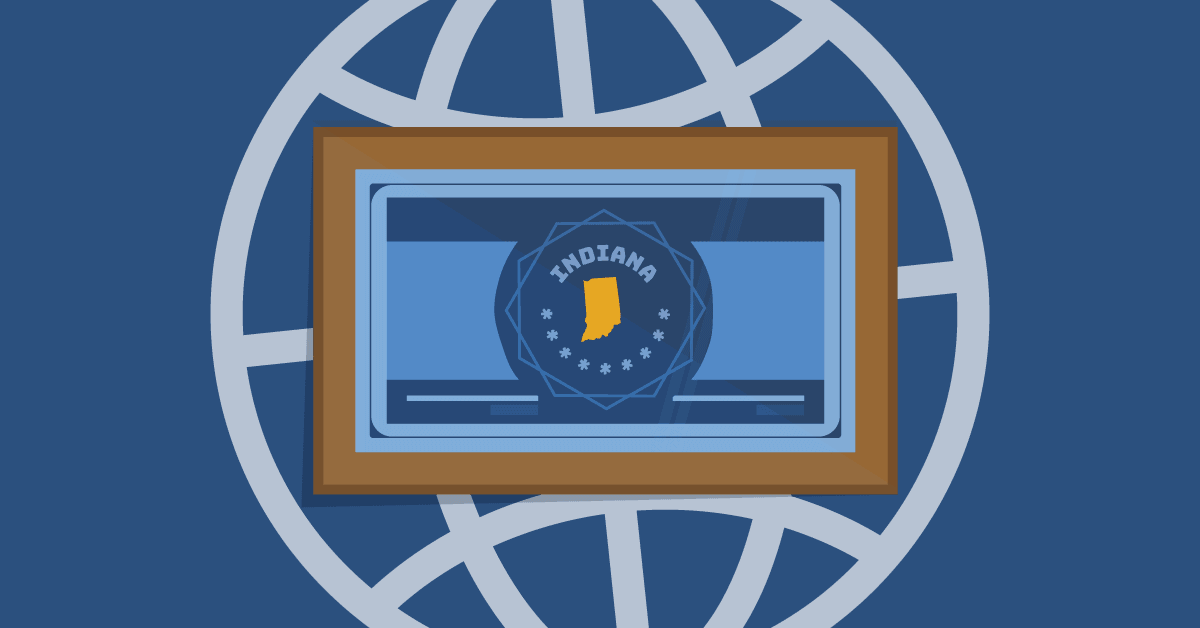 Q: We are based [outside the US] and are planning on holding inventory in Indiana for US distribution. I believe we need to register, and need some help with this process as I want to make sure we fill in all the right forms. Is this something you can help with/advise on?
Thank you to this business owner for the great question! There are two issues to address here: (a) whether or not you need to register in Indiana and (b) what that registration process looks like.
Let's talk about whether or not you need to register first. The Indiana Secretary of State's online business resource, INBiz, explains that any company maintaining "an inventory of merchandise or material for sale distribution, or manufacture, or consigned goods in the state" "may be considered to be doing in business" in Indiana and must register with the state as a foreign business entity. Since you intend on holding inventory in Indiana, it sounds like your company fits the bill for foreign registration. (Read more about Indiana foreign registration requirements on INBiz's Out-of-State business page.)
Now, let's go over the registration process itself. Foreign registration involves several steps and will most likely include obtaining Apostille certification from your home jurisdiction. Here's a breakdown of what you'll need to do before you can legally conduct business in Indiana as a company based outside the US:
1. Hire a Registered Agent
With very few exceptions, every business entity registered to do business in a US state must have a registered agent. Your Indiana Registered Agent will be the conduit between state-generated legal forms (known as service of process) and your company, ensuring you receive such forms in a timely manner. Having a registered agent is not only important for maintaining good business practices—it's required by Indiana state law (see: IN Code § 23-0.5-4-1).
2. Obtain a Certificate of Existence
A Certificate of Existence (also known as a Certificate of Authority or Certificate of Good Standing) is a document that shows your business has paid all required taxes and fees, and is generally fit to do business. You will need to obtain an equivalent document in your home jurisdiction before you will be approved to do business in Indiana.
Do I need to obtain a Certificate of Existence within a particular timeline?
Yes. Indiana requires you to submit a Certificate of Existence (or an equivalent document) that has been obtained within 60 of your application for foreign registration.
What if documents from my home jurisdiction are not in English?
No problem. You'll just have to provide a certified English translation along with the original document.
3. Get an Apostille
An Apostille is a certificate that authenticates documents used in international business. Only nations that are Members of the 1961 Hague Convention can obtain apostille certification.
How do I get an Apostille?
The process may not be the same in all nations. But in general, apostille certifications are issued by government agencies. This might be at the national or local level—you'll have to check with your jurisdiction to find out how to proceed.
What's the Hague Convention?
The Hague Convention of 1961 is an international treaty that standardized the process of authenticating international government documents. (This standardized process is known as Apostille Certification.) In full, this treaty is known as The Hague Convention of 1961 Abolishing the Requirement of Legalization of Foreign Public Documents.
4. Submit an Indiana Foreign Registration Statement
To register as a foreign entity in Indiana, you must submit a Foreign Registration Statement to the Indiana Secretary of State, Business Services Division. All for-profit entities must pay a filing fee of $125, while nonprofit corporations are required to pay $75. Additionally, the Master LLC of a Series LLC must pay $250.
5. Mail your authenticated documents
Once you have obtained your Certificate of Existence and Apostille and have filled out your Indiana Foreign Registration Statement, you must submit all three documents to the Indiana Secretary of State's office. You may do this online or via regular mail.
Online: INBiz
By Mail:
Secretary of State
Business Services Division
302 West Washington Street, Room E-018
Indianapolis, IN 46204