Alabama Incorporation Services
To start a corporation in Alabama, you must file a Certificate of Formation with the Alabama Secretary of State. The Certificate of Formation and required name reservation cost $128 to file ($132 online). Your filing formally creates your Alabama corporation. However, to actually ready the corporation to do business, you must complete several additional steps.
Starting an Alabama Corporation Guide:
Alabama Corporation Filing Options
Free PDF Download
Alabama Certificate of Formation free download. When you're done filling out the form, submit it to your state.
Do It Yourself Online
Our free account and tools will walk you through starting and maintaining an Alabama corporation. All for free.
Alabama Corporation
Includes registered agent service, bylaws & more.
$
357
Total
Alabama Name Reservation Requirement
What is the Alabama corporation name reservation requirement?
This is a unique requirement—Alabama is the only state that requires you to reserve your name before you can file your Certificate of Formation. Don't worry, it won't slow down the process much—online name reservations ($28) are processed immediately. After you've reserved your name, print out the reservation. You'll submit it with your Certificate of Formation. Note that names must include "Corporation," "Incorporation" or an abbreviation like "Corp" or "Inc."
Alabama Certificate of Formation Requirements
To form an Alabama corporation, you can file online or submit one signed original and two copies of your Certificate of Formation to the Alabama Secretary of State. See the document below and click on any number to see what information is required in the corresponding section.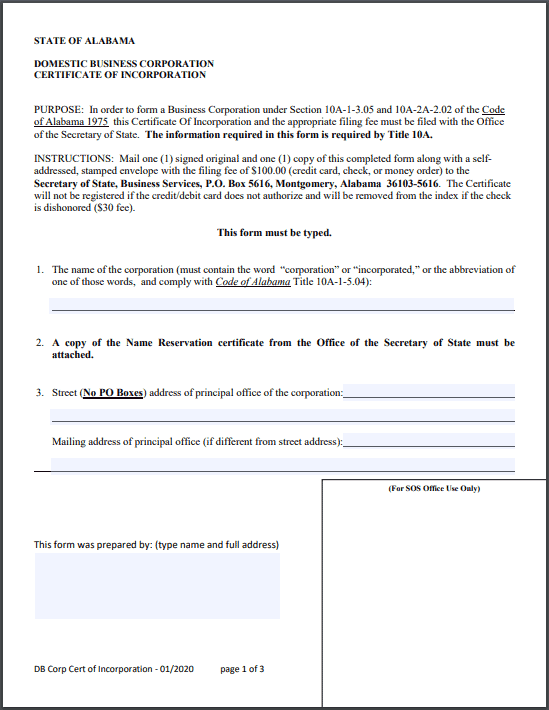 1. Business Name
Enter your corporation's name and attach a copy of the Name Reservation Certificate (described in the previous section).
2. Preparer
On the first page, there's a box with space for the name and address of the person who prepared the form (typically the same person as your incorporator). When you hire Northwest to form your Alabama corporation, we'll prepare your Certificate of Formation.
3. Principal Office
This is the main business office of your corporation and will become part of the permanent public record. Hire us as your registered agent, and you can use our Alabama address—and benefit from the fast filing times in Houston County.
4. Registered Agent
You can either list an individual Alabama resident (such as yourself) or an authorized business (like Northwest). We recommend Northwest.
5. Registered Agent Address
This Alabama street address is where your registered agent will be available to accept legal notifications during business hours. Our address will go here when you hire Northwest.
6. Purpose
It sounds existential, but this section is really just asking about what your business will actually be doing. The form already includes a general purpose, so a sentence or two here describing your business activities (for example, stating that your corporation is being formed to restore, repair and maintain motorcycles) is sufficient.
7. Number of Shares
List how many shares you wish to create (you need at least one). You'll distribute some or all of these shares later on at your organizational meeting. You can also list the par value (initial price) of these shares, but this is optional, so you're free to skip that part.
8. Alabama Incorporator
Someone has to sign and submit your Certificate of Formation, and that person is your incorporator. Incorporators don't have to be directors, officers, or anyone in the corporation. They do, however, have to include their name and street address. We'll be your incorporator when you hire us.
9. Directors
List at least one director and their street address on your Alabama Certificate of Formation.
How much does it cost to start an Alabama corporation?
$132 online and $128 by mail. The state filing fee is $100, and the mandatory name reservation fee is $28 online. Online filings also have a 4% convenience fee.
When you hire Northwest, your total, out-the-door cost is $357, including the above fees.
How long does it take to start an Alabama corporation?
Online filings are processed fast, within a day or two. Mailed filings take longer. How long is variable, from days to weeks. There is an option to expedite for an additional $100.
At Northwest, we submit online for the fastest processing time at the best value. We typically have your Alabama corporation formed within 2 business days. 
Does an Alabama corporation need a registered agent?
Yes, your corporation must have an Alabama registered agent. You can take this responsibility on yourself and be your own registered agent—but you already have so much on your plate, and it's not an easy job.
Alabama is a state that follows its own path—nothing is done quite the same way as it's done in other parts of the country. Instead of just a Certificate of Formation, the state requires a name reservation as well. Instead of just an Annual Report, it's a report and tax filing. Everything seems to require an extra form, an extra filing, an extra authorization—it's not easy starting a business in Alabama.
Hiring a service like Northwest can make things easier. As your registered agent, our address goes on your Certificate instead of yours. Your Certificate of Formation is a part of the permanent public record, so when you list your own address, you lose privacy and gain a bunch of annoying junk mail. Using our address throughout your Certificate also provides consistency—you don't have to worry about updating multiple addresses as your corporation grows and changes. And, when you hire Northwest, we're the ones tied to the desk from 9-5 waiting for legal notifications. You're free to run your business on your time.
Create Bylaws for Your Alabama Corporation
Do I need bylaws?
Yes—the Code of Alabama (10A-2-2.06) states that the board of directors shall adopt initial bylaws (unless that right has been reserved for shareholders in your formation documents). Bylaws are adopted at your organizational meeting. This is the first official meeting of your new business and where you finish organizing your corporation.
Why are corporate bylaws important?
Why does your Alabama corporation need bylaws? Bylaws define how your corporation works internally. They say who's on the board of directors, how long they get to stay there, how they can be replaced, and what their powers and duties are. Very importantly, bylaws say how many board members are needed to vote on resolutions. Bylaws also spell out the details of your corporation's stock, such as stock classes and voting shares of stock. Bylaws list the officers of your corporation and who is authorized to act on behalf of the corporation in different situations. Basically, it defines who has power over what—making your bylaws the single most important internal document of your Alabama corporation.
Do I have to write bylaws?
Not from scratch. That's why Northwest includes free corporate bylaws when your hire us to form your Alabama corporation. These aren't just cheap-o junk forms either, like a lot of what's floating out on the web. We've spent years refining these and all our free forms—bylaws, resolutions, record-keeping templates and more. Take a look at the free corporate forms we provide to help corporations form and maintain their businesses.
Get an EIN for Your Alabama Corporation
Do I have to get a tax ID number (EIN)?
Yes, corporations are required to get an EIN. You'll need your EIN for filing taxes, opening a corporate bank account and even applying for some licenses and permits. EINs are free from the IRS. Or, skip the extra paperwork and hire Northwest to get your EIN for you when you sign up for our services.
Open a Bank Account for Your Alabama Corporation
To open a corporate bank account, you will need to bring the following to the bank:
A copy of the Alabama corporation's Certificate of Formation
The Alabama corporation's bylaws
The Alabama corporation's EIN
If your bylaws don't specifically assign the power to open a bank account, you may also want to bring a corporate resolution to open a bank account that states that the person going to the bank is authorized by the business to open the account in the name of the corporation.
We recommend calling your bank ahead of time before going in and asking what their requirements are. Most banks don't open corporate accounts nearly as frequently as personal accounts, so some bankers may be unfamiliar with their own bank's requirements. As frustrating as that may be for you, calling ahead will help save you from being super annoyed when you walk into the bank.
Obtain a Business License
Does an Alabama corporation need a business license?
The Code of Alabama Title 40 Chapter 12 lists all sorts of licensing requirements—pretty much every business will need some kind of license. Although required by the state, most licenses are obtained locally through the county probate office or county licensing commission.
Cities and towns often have their own municipal licensing requirements as well. For example, Birmingham requires those conducting business in city limits to get a general business license.
File Alabama Corporation Reports
What is the Alabama Annual Report and Business Privilege Tax?
Alabama combines its Annual Report with an annual tax called the Alabama Business Privilege Tax. The Annual Report ($10) updates the state on your current ownership and contact information. The Business Privilege Tax is based on the net worth of your corporation in Alabama. There's a minimum tax of $100. The report and tax filings are combined in one form. For C corps operating on a calendar year, annual filings are due by April 15th each year and use Form CPT. (S corps use Form PPT, which is due by March 15th.)
Forget to file? Late fees start at $50 but increase depending on how much you owe. Northwest can help you remember to file—when you hire us as your registered agent, we'll send you reminder notifications so you're not stuck with annoying late fees.
Is an Initial Report required?
Yes. Your first filing must be submitted within 2.5 months of incorporation and is called the Initial Report. This initial filing uses a different from (Form BPT-IN) but includes the Business Privilege Tax, just like the Annual Report.
How much does a corporation in Alabama cost each year?
At least $110 in state fees. Alabama corporations are required to file an Annual Report ($10) together with a Business Privilege Tax return (minimum $100).
Let Us Be Your Guide
At Northwest Registered Agent, we've spent years crafting our Alabama corporation service. When you hire us, we'll form your Alabama corporation for $357 total and include:
One year of registered agent service
Corporate bylaws and resolutions
Digital notifications
Alabama Annual Report reminders and directions for fast filing
A secure online account filled with intuitive business maintenance tools and forms to make corporate upkeep simple
Lifetime Corporate Guide Service—call us anytime, and one of our Corporate Guides will help you navigate whatever business problem, task or curiosity you have
Northwest Registered Agent is the only national corporation formation service that is dedicated to your personal privacy. We don't sell data to third-parties, and we do everything we can to keep your personal information secure.
START YOUR ALABAMA CORPORATION FOR $357 TOTAL