How to Start an LLC in Illinois
To start an LLC in Illinois you must file Articles of Organization with the Department of Business Services Limited Liability Division, pay a $150 filing fee, and get an EIN from the IRS. The complete steps to forming an Illinois LLC are as follows:
File Illinois LLC Articles of Organization

Pay the Limited Liability Division $150

Wait to receive the approved copy of your Articles

Get a Federal EIN tax ID for the LLC

Create an Illinois LLC Operating Agreement

Take these documents to the bank and get an Illinois LLC bank account

Register with the Illinois Department of Revenue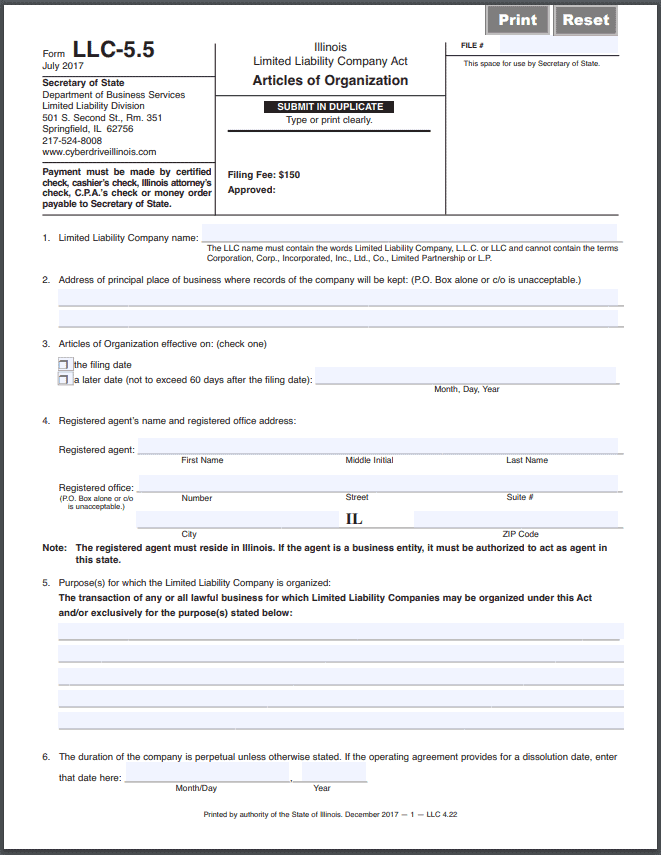 How to File Illinois LLC Articles of Organization
To form an Illinois LLC, you file Articles of Organization by following these steps:
Choose a name for your new LLC
Decide what address you'd like to list publicly
Decide if you want to hire a registered agent service to minimize public disclosures
Choose how long you'd like your LLC to exist
Decide who you will list publicly as the members or managers
File online with a credit card (fastest) or mail two copies of your Articles to the Limited Liability Division at 501 S Second St, Rm 351, Springfield, IL 62756 with a check or money order
Free Download
File Online
HOW LONG DOES IT TAKE TO START AN ILLINOIS LLC?
Faster (but Costly) 1 day: Pay an extra $100 for expediting and you can get your Articles of Organization processed in one business day.
Slower (but Cheap) 10 days: Have a couple weeks to kill while you wait for your Articles to be processed? You can save a little cash in exchange for your patience.
Whether you prefer the fast or slow, make the process even easier when you hire Northwest—sit back and let our Corporate Guides file everything right the first time.
WHAT IS THE COST OF AN ILLINOIS LLC?
The filing fee for your Illinois LLC Articles of Organization is $150, plus $100 if you want expediting. Online filings also have a credit card processing fee based on the total amount of the transaction, adding on a few more dollars.
Hire Northwest, and your total, out-the-door cost is $379 ($481 expedited), including state filing fees.
How much does an LLC in Illinois cost each year?
The fee for the Illinois LLC Annual Report is $75.
What is an Illinois LLC Annual Report?
The Illinois LLC Annual Report is basically an information update you file each year so the state knows who currently runs things and how to contact your business. The $75 filing fee is no fun, but the real killer is the late fee—if your report is more than 60 days late, you're stuck with a $300 penalty. Fail to pay your filing and penalty? Your business will be dissolved 180 days after the original due date. Yikes.
The lesson here? Don't take your annual reports lightly. They may seem a little ridiculous, especially if you don't need to update anything from the previous year, but they're serious business (and revenue) for the state. We want you to stay in good standing—and in business! When you sign up for Northwest, we send you reminders for your annual report due dates. You can even hire us to complete your reports for you if you want one less thing to worry about each year.
What are the Illinois LLC taxes?
The Illinois personal net income tax rate is a flat 4.95%. The state also has a 6.25% sales tax—although cities and counties can stack on local sales taxes as well. The maximum total sales tax tops out at 11% (which you can find in River Grove), but the average total sales tax is 8.4%
Most LLCs are taxed as either partnerships or S corporations, so you shouldn't have to worry about corporate net income taxes, right? Well, not exactly. While you won't pay the actual corporate net income tax, Illinois has still found a way to tax your income at the entity level with its Personal Property Replacement Tax. Businesses taxed as partnerships or S corporations pay a 1.5% tax on net income. (At least it's better than the C corporation PPRT rate of 2.5%.)
Property taxes are also worth a note—Illinois has the second-highest property tax in the country, averaging a painful 2.32%. This doesn't necessarily mean business owners should swear off property in Illinois though. For example, the high taxes have driven many to rent instead of buy, so there's a strong apartment rental market. If you do decide to invest in Illinois property, your attorney will likely advise creating an LLC to protect your personal assets. At Northwest, we can form your Illinois LLC for as low as $379.
IS AN ILLINOIS LLC REGISTERED AGENT REQUIRED?
100% yes—Illinois requires LLCs to appoint and maintain a registered agent. You could appoint an individual like yourself or a secure, dependable company like ours. Hiring Northwest as your registered agent gives you some great benefits—namely privacy and consistency.
Your Articles of Organization are part of the permanent public record—including all the names and addresses. If you list your own private address, you could end up with unwanted visitors at your door (not to mention a mailbox full of junk). Let us deal with the strangers and spam—when you hire us, our address is listed in your Articles.
Also, when you appoint yourself or a friend as registered agent, there's going to be a lot of adjustments. You'll switch offices. You'll need to be out of town for a while. These things happen. And whenever you change up your registered agent or office, you have to pay a $25 fee and file a Statement of Change. With Northwest, you'll have consistency—no worrying about constant (and expensive) address updates.
DO I NEED A TAX ID NUMBER (FEIN) FOR AN ILLINOIS LLC?
Yes—you'll need a FEIN to file your Personal Property Replacement Tax with the Illinois Department of Revenue. You'll also need a FEIN if you have employees, and you'll likely use your FEIN when you open a business bank account. You can apply for a FEIN directly from the IRS at no cost. Or, save some time and pay us to do it for you.
DOES AN ILLINOIS LLC NEED A BUSINESS LICENSE?
While Illinois doesn't have a state-level business license, some cities and counties require business licenses. For example, Chicago only requires licenses for specific business activities, such as manufacturing or child care. Elgin, on the other hand, requires a (free) general business license in addition to any business-specific licenses.
ILLINOIS LLC VERSUS ILLINOIS CORPORATION:
In Illinois, starting a corporation costs more than starting an LLC. While the Articles filing fee for corporations and LLCs is technically the same ($150), corporations also have to pay a franchise tax when they form ($1.50 for each $1000 of paid-in capital). The minimum franchise tax is $25, so a corporation will end up costing at least $25 more to launch than an LLC. 
LLCs and corporations also operate a bit differently. LLCs are pretty straightforward—no requirements for tiers of management or annual meetings. LLCs can manage themselves and meet when they see fit, making LLCs a common choice for small businesses. On the other hand, some of the things that make a corporation more complicated—like preferred stock—are attractive to some business owners and investors. Considering a corporation in Illinois? Read more about Illinois incorporation here.
DOES AN ILLINOIS LLC NEED AN OPERATING AGREEMENT?
You don't have to file your operating agreement with any Illinois agency, so technically, you could get away without one—but why would you want to? An operating agreement isn't just annoying paperwork. It's one of your LLC's most important internal documents. Your operating agreement lists everything from individual investments to how profits and losses are allocated. It even goes over what happens if the business closes.
Members and managers will definitely want to see this information in writing. Even if your dream isn't to be the next Caterpillar and you plan to stay small (maybe even just you), it's useful to have an operating agreement. When you open a business bank account, the bank will want to see your agreement. Potential business partners and investors will want to see it too. You don't want to respond to a request for your operating agreement with "hang on, I have to go write one real quick."
At Northwest, we're here to help your LLC get off on the right foot. When you hire us, we don't just form and file your Articles and provide expert registered agent service (although we do both of these things very well). We also provide your LLC with a free operating agreement, specific to your management style. We've spent years developing these agreements and other forms—free LLC forms which have been used by over a million LLCs.
WHAT IS THE ILLINOIS LLC STATUTE?
ILLINOIS LLC ARTICLES OF ORGANIZATION REQUIREMENTS:
Company Name:

You have to include "Limited Liability Company" or an abbreviation like "LLC." You can't include words that would make people think you're a different business entity like "corporation."

Principal Office:

This

must be a street address in Illinois (no PO Boxes).

When you hire Northwest, you can list our Illinois address as your principal address.

Effective Date:

Most businesses begin their existence as soon as their Articles are approved. If you want to push off your start date a bit (

maybe if the next tax year is just around the corner), you can list a date up to 60 days in the future.

Registered Agent:

You can list yourself, someone else, or a service like Northwest. Naturally, we recommend Northwest.

Registered Office:

This is the street address in Illinois where your registered agent will be available. When you hire us, our address will go here.

Purpose:

If you'd like to

include

a specific purpose for your business, you can

enter one in this section

.

The Articles already include a general purpose (the transaction of lawful business), however, so it's not usually necessary to add anything further.

Duration:

If you don't want a specific end date for your LLC, skip this section. Otherwise, write in the date you want your business to end.

LLC Management:

Include the name and business address of the managers (if your LLC is manager-managed) or members. Note that you only need a business address; there's no need to include anyone's personal address.

Illinois LLC Organizer:

Your organizer is just the person who completes and submits your Articles. Organizers are required to put their name, address and signature. This doesn't have to be anyone within your LLC—when you hire Northwest, we'll put all of our information in this section.
Our LLC Formation Service Includes:
Same-day filings and instant registered agent service included (renews annually for $125).
State resources and business maintenance services in your online service account, with self-filing instructions to help you.
We send multiple annual report reminders, and you can also track your due dates in your online account.
We locally scan 'service of process' and all documents to you in real-time for no added cost.
And, most importantly…We're just not annoying™.