How To Start An LLC In Maine
To start an LLC in Maine, you must file a Certificate of Formation with Maine's Division of Corporations, UCC & Commissions, pay a $175 filing fee, and get an EIN from the IRS. The complete steps to forming a Maine LLC are as follows:
File your Maine LLC Certificate of Formation

Pay the Division of Corporations, UCC & Commissions $175

Wait to receive an approved copy of your Certificate of Formation

Get a Federal EIN tax ID for the LLC

Create a Maine LLC Operating Agreement

Take these documents to the bank and get a Maine LLC bank account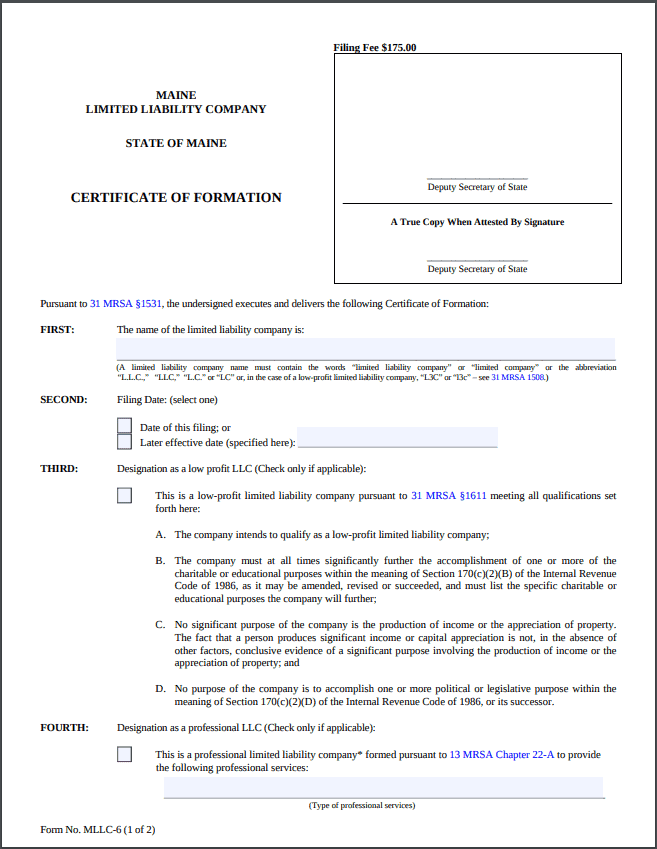 How to File a Maine LLC Certificate of Formation
To form a Maine LLC, you file the LLC Certificate of Formation by following these steps:
Choose a name for your new LLC
Choose when you'd like your business to start
Decide if you want to hire a registered agent service to minimize public disclosures
Mail your completed Certificate of Formation to the Secretary of State (Division of Corporations, UCC & Commissions, 101 State House Station, Augusta ME 04333-0101)
Free Download
CORPORATE
GUIDES™
$100 gets our Corporate Guides™ who will form your Maine LLC with the most asset protection possible, plus: custom LLC Certificate of Formation, resolutions showing you own it, operating agreement and membership certificates
HOW LONG DOES IT TAKE TO START A MAINE LLC?
Maine doesn't have online filing for their Certificate of Formation—everything is processed by hand, so there are essentially two options: faster and slower.
Faster (1-2 days): For an extra $50, you can expedite your filing.
Slower (2ish weeks): Not in a hurry? Save some money by forgoing expediting fees.
Want to make the whole process easier? Hire Northwest, choose your filing speed, fill out a brief questionnaire and sit back. Let our Corporate Guides file everything correctly the first time.
WHAT IS THE COST OF A MAINE LLC?
The filing fee for your Maine LLC Certificate of Formation is $175, plus $50 if you want 1-2 day expediting.
When you hire Northwest, your total out-the-door cost is $400 ($450 expedited), including state fees and a full year of registered agent service.
How much does an LLC in Maine cost each year?
The filing fee for a Maine LLC Annual Report is $85.
What is a Maine LLC Annual Report?
Essentially, a Maine LLC Annual Report is an expensive form you're required to file by June 1st each year. On the form, you update your LLC's contact and ownership information (even if it's exactly the same year to year). Don't even consider blowing it off, though. There's a $50 late fee—and if left unpaid for 65 days, the state will dissolve your LLC. The state doesn't even mail out reminders anymore, so it's important to keep this deadline on your radar. We can help with this—when you hire Northwest, we send you reminder notifications for your reports. For total peace of mind, you can even hire us to file your reports for you each year.
What are the Maine LLC taxes?
The Maine personal net income tax rates for single filers are:
5.80%: $0 to $21,049
6.75%: $21,050 to $49,999
7.15%: $50,000+
The state sales tax in Maine is 5.5%, and there aren't any city or county sales taxes. There are a few exceptions to the 5.5% rate though—prepared food and rental lodging are taxed at 8% and short-term auto rentals are taxed at 10%.
IS A MAINE LLC REGISTERED AGENT REQUIRED?
Yes, a Maine registered agent is required for your LLC. You can either go with noncommercial agent or a commercial agent. A noncommercial agent can be pretty much any Maine resident, like a family member or even yourself. It's not just a title, however—it's real work that affects you and your business. Registered agents are required to give a physical address that becomes a part of the permanent record of your Maine LLC. Unfortunately, publicly-listed addresses are common targets for data-sellers and spammers. Registered agents also have to be available at the address listed during business hours to accept legal notifications. Maine won't sympathize if you miss a process server because you were out sick, snowed in, or away in the City for business.
That's why many businesses go with a commercial agent, like Northwest Registered Agent. We put our address on your Articles of Organization, so you don't get junk mail or unwanted visitors. And our job is to be available, so you never miss a service of process.
DO I NEED A TAX ID NUMBER (EIN) FOR A MAINE LLC?
In order to register with the Maine Department of Administrative and Financial Services (for example, for sales and use taxes or service provider taxes), your LLC will need an EIN. You'll also need an EIN if you have employees or file certain federal excise taxes. When you go to open a business bank account, the bank will likely ask for your EIN. Long story short, you will almost definitely need an EIN. Getting an EIN is pretty easy and free from the IRS. Or, even easier, add on EIN service when you hire Northwest, and we'll apply for your EIN for you.
DOES A MAINE LLC NEED A BUSINESS LICENSE?
Maine doesn't have a general, statewide business license. Most cities and towns don't require a general license either, but they do license specific business activities, from clamming to liquor sales.
MAINE LLC VERSUS MAINE CORPORATION:
The filing fee to form a Maine corporation is $145—that's $30 less than the fee to form an LLC. Your Annual Report, however, will cost the same for either entity. Taxes too can be pretty similar—tax obligations are based on how your business chooses to be taxed. For example, LLCs and corporations can both choose to be taxed as S corporations, making the costs for both entities pretty even overall.
Which one's better? It really comes down to how you want to run your business. LLCs have a lot of flexibility. Then can have managers (like how a corporation has directors) or they can manage themselves, like a partnership. They can decide for themselves whether they need formalities like annual meetings—which are required for corporations. Many small or first-time business owners go with an LLC because their flexibility makes it easier to run their business in their own way. Corporations are more complicated, but they have their benefits as well. If you're considering a corporation, here's more information on Maine incorporation.
DOES A MAINE LLC NEED AN OPERATING AGREEMENT?
It may be tempting to skip writing an operating agreement because it's not a document you're required to file with any state agency. Plus, starting a business in the 207 already involves plenty of paperwork. But your operating agreement isn't something to ignore—it's the most important internal document of your Maine LLC.
Your operating agreement spells out how your LLC operates—how much each member invested, how profits and losses will be allocated, and what happens if there are member disagreements or if you close down the whole business. And while it's mainly an internal document, your operating agreement isn't just for members or managers. Your bank will ask to see it when you go to open a business account. Potential investors and partners will want to see it before they sign on.
This is why we give you a free operating agreement, specific to your management style when you sign up for our service at Northwest. We want your business to start out on the right foot. We're proud of our forms and have spent years refining and developing operating agreements, resolutions, membership certificates and more, which we provide for free. We were the first website to hand out free LLC forms, and over a million LLCs and counting have used our forms to help form and maintain their businesses.
WHAT IS THE MAINE LLC STATUTE?
MAINE LLC CERTIFICATE OF FORMATION REQUIREMENTS:
Company Name:

Your name must include "Limited Liability Company," "Limited Company," or an abbreviation like "LLC." Most businesses go with "LLC."

Effective Date:

Most LLCs want their LLCs to begin their existence immediately, but if you want to push off your start date (say the next tax period is right around the corner), you can list an effective date up to 90 days in the future.

Designation:

If your LLC is a low-profit LLC or a professional LLC, you'll have to note this in your

Certificate

. A low-profit LLC isn't just an LLC that doesn't make a lot of money—it has a charitable or education purpose instead of the purpose of making money. Likewise, professional LLCs aren't just more polite—they provide the services of licensed professionals like attorneys or surgeons. Tip: Most LLCs aren't low-profit or professional.

Registered Agent:

You can list a noncommercial agent and include a street address in Maine that will become part of the permanent record for your LLC. Or, you can list a commercial registered agent like Northwest. Our address is already on file with the Maine Secretary of State.

Maine LLC Authorized Person:

An "authorized person" is what Maine labels the person who signs and submits your Certificate of Formation. An authorized person doesn't have to be a member, manager, or anyone with ownership interest in your LLC. When you hire Northwest, we'll be your authorized person.
Our 2-Day Maine LLC Formation Service Includes:
Filing of Maine Certificate of Formation
Listing our Maine address instead of your home or office becoming permanent public records
Maine LLC Filing Fees
Expedited Service
Organizer Initial Resolutions
Maine LLC Operating Agreement
Maine LLC Banking Resolution
Maine LLC Membership Certificates
Maine Registered Agent Services
Annual Compliance Reminders
Online Account with instant tools to help you start and run your business