Nebraska Incorporation Services
To start a corporation in Nebraska, you must file Articles of Incorporation with the Secretary of State. You can file the document online or by mail. The Articles of Incorporation cost a minimum of $78 to file. Once filed with the state, this document formally creates your Nebraska corporation. However, to actually ready the corporation to do business, you must complete several additional steps.
Starting a Nebraska Corporation Guide:
Nebraska Corporation Filing Options
Free PDF Download
Nebraska Articles of Incorporation free download. When you're done filling out the form, submit it to your state.
Do It Yourself Online
Our free account and tools will walk you through starting and maintaining a Nebraska corporation. All for free.
2 Day Nebraska Corporation
Includes registered agent service, bylaws & more.
$
303
Total
Nebraska Articles of Incorporation Requirements
To form a Nebraska corporation, you must complete and file the Articles of Incorporation with the Secretary of State. See the document below and click on any number to see what information is required in the corresponding section.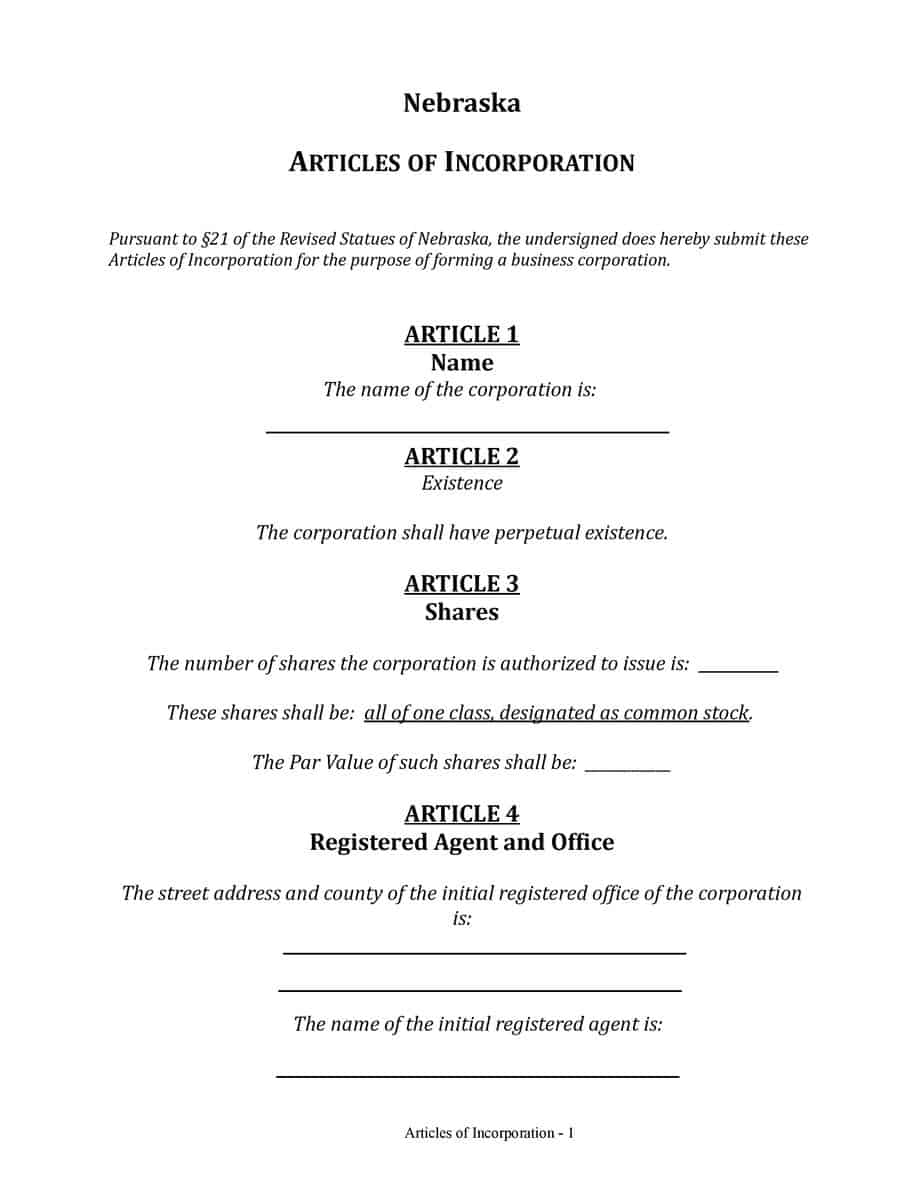 1. *Note*
Nebraska doesn't provide an official form or template for your Articles of Incorporation. Even if you file online, you must first create your own Articles and then upload this file to the Corporate Document eDelivery system. Because there's a $5 per page fee, it's wise to keep your Articles brief and to the point. Below are the minimum requirements for what you'll need to include in your Articles of Incorporation, according to the Nebraska Revised Statutes.
2. Entity Name
Your name must include "Corporation," "Incorporated," "Company," "Limited" or an abbreviation for one of these words. Tip: Most corporations keep it short and sweet with "Corp" or "Inc."
3. Shares and Par Value
For each class or series, list the number of shares and the par value of each share. Par value (also called "face value") is the price listed on stock certificates and is typically the lowest value at which the share will be traded.
4. Registered Agent
Your Nebraska registered agent can be an individual (like yourself) or a business (like Northwest). Fun Fact: We're fans of Northwest.
5. Registered Office
This Nebraska street address is where your registered agent will be available to accept legal notifications on behalf of your corporation. Tip: Hire Northwest and our address will go here.
6. Nebraska Incorporator
Your incorporator is the person who signs off on your Articles of Incorporation. Some people assume that an incorporator must be a director or someone in your corporation—but it's just the the person you authorize to submit your Articles. Incorporators must include their name and address. Tip: We'll be your incorporator when you hire Northwest to form your Nebraska corporation.
7. Duration and Effective Date
If you submit your filing with Nebraska's Corporate Document eDelivery portal, you'll also need to include how long your corporation will exist and when it will begin. If you want your business to continue indefinitely, select "perpetual." Otherwise, include an end date. If you want your business to begin right away, choose "effective when filed." If not, enter a delayed effective date up to 90 days in the future.
How much does it cost to start a Nebraska corporation?
A minimum of $65. Nebraska charges $60 for corporations with up to $10,000 of authorized capital stock, plus $5 for each page of your Articles. Have more than $10K in authorized capital? Your filing fee increases. For instance, the base fee is $100 if you have between $10K and $25K in capital. Filing online? There's an additional $2 convenience fee.
Hire Northwest to form your Nebraska corporation and your total, out-the-door cost is $303 for corporations with up to $10K in authorized capital.
How long does it take to start a Nebraska corporation?
File your Articles of Incorporation online or by mail and receive your approval in 2-4 days. If you file online, note that the Nebraska Secretary of State doesn't have a standard Articles of Incorporation form, so you'll have to upload your own as a PDF using the state's Corporate Document eDelivery system.
If you hire Northwest to start your corporation, we file online and typically have your Nebraska corporation formed within 2 business days.
Does a Nebraska corporation need a registered agent?
Absolutely. Nebraska Revised Statute §21-220 only specifically requires a few key pieces of information in your Articles of Incorporation, but this includes your registered agent's name and address. You could be your own registered agent, but there are a few drawbacks. Your Articles are public, which means the address you list will be publicly available—so you could end up with a mailbox full of junk or unwanted visitors on your doorstep. Also, you'd have to be regularly available at the address you list. If you, like many business owners, are frequently out and about for meetings and errands (or biking the Cowboy Trail), you could miss a process server.
Avoid these hassles and frustrations with a registered agent service like Northwest. Our registered office address will go on your Articles of Incorporation, and we'll scan and send you any legal notifications the same day.
Publish a Notice in a Nebraska Newspaper
What are the publishing requirements for a Nebraska corporation?
Your Nebraska corporation will have to publish a notice of incorporation in a local newspaper for three consecutive weeks after you submit your Articles of Incorporation, per NE Code §21-2,229. Corporations need to list their name, number of authorized shares, registered agent and office, and name and address of incorporator.
For details, see our guide on How to Publish Your Notice of Incorporation in Nebraska.
Create Bylaws for Your Nebraska Corporation
Do I need bylaws?
Yes, your Nebraska corporation needs bylaws. Your bylaws are where you get to define how your corporation works internally.
Why are corporate bylaws important?
In your bylaws, you'll determine how decisions are made and who has the power to make those decisions. For instance, your bylaws will explain who's on the board or directors, what the scope of their powers are, how they'll be replaced, and how many members it'll take to vote on a resolution. You'll list the details of your corporation's stock, such as classes, series and voting shares. You'll also list the officers and their duties. All these details are critical. You've worked hard to build your business, and the last thing you want is for things to unravel because powers and procedures are unclear.
How do I begin writing bylaws?
Take the time to do things right. Carefully consider the effects of these decisions on your business. Not sure where to begin? Northwest can help. When you hire Northwest to form your Nebraska corporation, we'll give you free corporate bylaws. We'll give you loads of other free corporate forms as well, from resolutions to meeting minute templates. We want to work with your business for years to come, so it's important for us that you start off on the right foot. That's why we've spent years refining and improving our docs. Check out the free corporate forms we provide to help corporations form and maintain their businesses.
Get an EIN for Your Nebraska Corporation
Do I have to get a tax ID number (EIN)?
Absolutely. Corporations are required to obtain an EIN for federal tax filings. An EIN can come in handy for more than just taxes though—you'll need your EIN for a variety of initial paperwork just to set up your corporation. Whether you're applying for business permits or opening a corporate bank account, you'll almost certainly be asked for your EIN.
So how do you get an EIN? You can fill out the IRS's application for no fee. Prefer to skip the extra paperwork? Hire Northwest to get your EIN for you. Just add on EIN service during checkout when you sign up for our Nebraska incorporation services.
Open a Bank Account for Your Nebraska Corporation
To open a corporate bank account, you will need to bring the following to the bank:
A copy of the Nebraska corporation's Articles of Incorporation
The Nebraska corporation's bylaws
The Nebraska corporation's EIN
If your bylaws don't specifically assign the power to open a bank account, you may also want to bring a corporate resolution to open a bank account that states that the person going to the bank is authorized by the business to open the account in the name of the corporation.
We recommend calling your bank ahead of time before going in and asking what their requirements are. Most banks don't open corporate accounts nearly as frequently as personal accounts, so some bankers may be unfamiliar with their own bank's requirements. As frustrating as that may be for you, calling ahead will help save you from being super annoyed when you walk into the bank.
Obtain a Business License
Does a Nebraska corporation need a business license?
Whether or not you need a business license depends on what your Nebraska corporation does and where it's located. Nebraska doesn't have a general, statewide business license and most cities don't either. However, specific business activities are frequently licensed. For instance, the City of Lincoln licenses dozens of business services, from auctioneers to vending machines.
File Nebraska Corporation Reports
What is the Nebraska Occupation Tax and Biennial Report?
This is a form you must submit to the Nebraska Secretary of State in even numbered years by March 1st. The form serves as both a Biennial Report and an Occupation Tax filing.
For the Biennial Report, you'll have to confirm or update your director and officer information. You'll also confirm your contact information. However, if you need to update your registered agent or office, you'll have to fill out a separate Change of Registered Agent and/or Office form and pay the filing fee ($30 minimum). For the Occupation Tax, you pay a rate based on your corporation's paid-up capital stock. If you have $10K or less in capital stock, your tax will be $26.
As your registered agent, Northwest will send you reminders to file your Occupation Tax and Biennial Report. If you'd rather not deal with this filing at all, you can hire us to prepare and submit it for your Nebraska corporation for just $100 plus state fees.
How much does a corporation in Nebraska cost each year?
At least $26 every other year. This is the minimum tax required for the Nebraska Occupation Tax and Biennial Report filing.
Pay Corporate Taxes
What are the taxes for a Nebraska corporation?
In addition to the Occupation Tax, Nebraska corporations also pay a corporate income tax. The corporate net income tax rates are:
5.58%: $0 to $100,000
7.81%: over $100,000
Nebraska's sales tax rate is 5.5%. Cities and counties can add on local sales taxes as well. The 5 biggest cities in Nebraska (Omaha, Lincoln, Bellevue, Grand Island and Kearney) all add on 1.5% in sales taxes, so customers pay a total of 7% at the counter in these cities.
Let Us Be Your Guide
At Northwest Registered Agent, we've spent years crafting our Nebraska corporation service. When you hire us, we'll form your Nebraska corporation for $303 total and include:
One year of registered agent service
Corporate bylaws and resolutions
Digital notifications
Nebraska Biennial Report reminders and directions for fast filing
A secure online account filled with intuitive business maintenance tools and forms to make corporate upkeep simple
Lifetime Corporate Guide Service—call us anytime, and one of our Corporate Guides will help you navigate whatever business problem, task or curiosity you have
Northwest Registered Agent is the only national corporation formation service that is dedicated to your personal privacy. We don't sell data to third-parties, and we do everything we can to keep your personal information secure.
START YOUR NEBRASKA CORPORATION FOR $303 TOTAL