Delaware Registered Agent
When You Want More
A Delaware registered agent is a business entity's contact for the Division of Corporations. Registered agents receive legal notices, such as service of process, and correspondence from the state of Delaware, such as Franchise Tax notices, and forward these documents to clients in a timely manner. Delaware corporations and LLCs are required by law to appoint a registered agent. Registered agents must maintain a physical street address where service of process and other official documents can be served. A post office box is not acceptable.

With our Delaware registered agent service, you get Privacy by Default®, a business address, free mail forwarding, free Phone Service for 60 days, and local Corporate Guides® that can help you navigate often difficult state filing requirements—only at Northwest.
Everything You Need To Know About Delaware Registered Agents: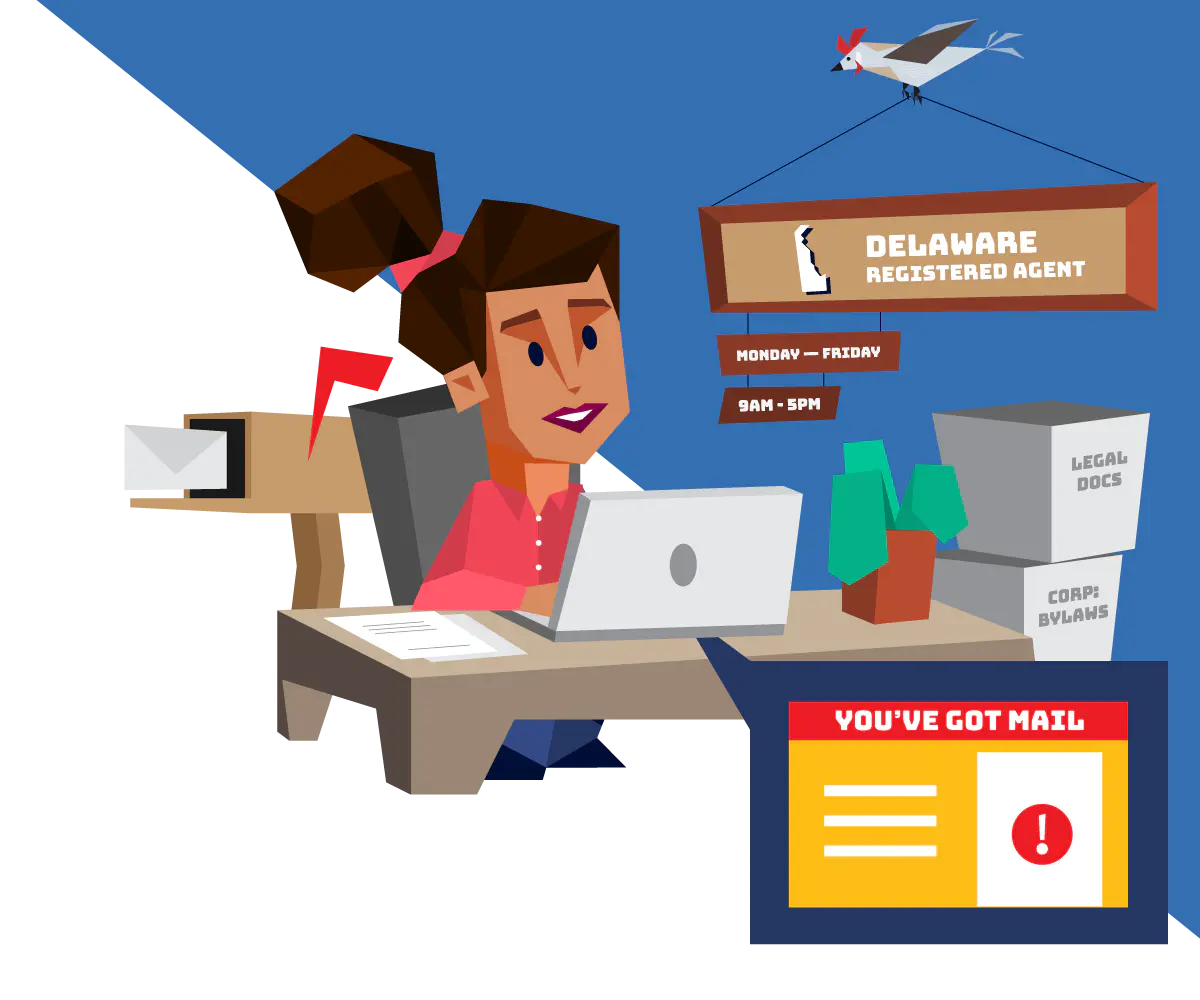 What Do Delaware Registered Agents Do?
Your Delaware registered agent serves as your business's official point of contact with the state and the legal world. In other words, your registered agent's address acts as the official place where any service of process and official mail for your Delaware LLC, Delaware corporation or Delaware nonprofit will be sent.
In Accordance with Delaware State Law (Title 8, Chapter 1, § 132) any business entity formed with the Delaware Division of Corporations has a registered agent. This law is built around the idea of due process and that lawsuits can't move forward in court unless the parties have been properly notified.
However, the right registered agent service can also do much more. At Northwest, we go above and beyond the minimum to ensure top speed, security, privacy and support.
How Do I Change My Delaware Registered Agent?
Changing your registered agent is a straightforward process:
You'll file a change of agent form with the Delaware Secretary of State.
If you place an order with us, the form will be available instantly. We'll even pay and file the change of agent filing for you.
It's a simple change, but for more info, see our guide on how to change your registered agent in Delaware.
What Makes Northwest Different From Other Services?
Northwest is the choice of professionals for registered agent service. But why? At Northwest, we do business the right way. We're dedicated to getting you your docs fast, protecting your privacy and offering you support. Here's how:
Same-Day Scans, Instant Notifications:

We accept and scan your docs at our

local

 office the same day. We notify you instantly and reach out to you if your essential mail goes unread.

Privacy by Default®:

For every client and every service, we

minimize the exposure of and access to your personal data.

We never sell your data. We list our own business address on public docs to better keep your personal info safe.

O

ur

commitment to

privacy

put

s

our clients first.

Free Limited Mail Forwarding:

As your registered agent, we automatically accept and scan your state and legal mail. Sometimes, however, we receive personal or business mail from clients or companies trying to connect with your business. We'll accept and scan these for you as well—up to 10 documents a year FREE. We'll also scan additional mail at a per doc rate of $

15

.

Unlimited Mail Forwarding: Expecting much more business mail? For $20 a month, we also offer unlimited Delaware mail forwarding. Our unlimited option includes a Delaware business address with a unique suite number—great for listing on your website, establishing a business presence, or giving a home or online business a more professional appearance. We accept Amazon Verification Cards, but we can not be your Amazon return address since our offices aren't equip to hold anything beyond regular sized mail.
Corporate Guides®:

Have questions? We have answers. Our guides are business experts whose sole job is to provide phone and email support for all your toughest business questions.
Delaware Registered Agent FAQs
Can I Be My Own Registered Agent In Delaware?
Yes, you can be your own registered agent in Delaware and pay $0 but there are several requirements that have to be met. A registered agent must be a Delaware resident or business entity with a physical address in Delaware where the registered agent will keep regular business hours and accept hand-delivered services of process (no P.O. Boxes). Be aware, though, that if your business is sued and you are your own registered agent, the sheriff, deputy, or process server will be delivering the lawsuit to your home or place of business which can be distracting, if not flat-out embarrassing. But if you'd like to save some money, you just need to live in Delaware and be willing to list your address and name on public documents. (The state and court needs to be able to serve legal process and notices on your business in Delaware. That's why a registered agent has to have a physical location actually in Delaware).
Why Should I Hire A Professional Registered Agent Service For My Delaware Business?
If your business is web-based or doesn't have a physical presence within Delaware, the business still needs a registered agent located inside state lines.
Some Delaware business owners hire registered agent services because their business doesn't keep regular business hours in which service of process or official mail can be delivered.
Privacy. Many business owners don't want their home or business address listed on public record as a point of contact, so they hire a registered agent.
Avoiding distractions. Listing an employee or family member as your registered agent could be a huge mistake, as that may be the last person you want knowing the intimate details of lawsuits your business might become entangled in. Worse, just having a process server hand them a document is proof that you got it, regardless of whether they actually get it to you in a timely manner. You could miss a court deadline before realizing it.
If you don't want the added responsibility of tracking mail and notices from the Delaware Division of Corporations, you can hire a registered agent to track the important paperwork for you. Having an online account to help maintain your business is often worth the nominal registered agent fee.
What If I Never Get Sued? Does My Registered Agent Provide Any Additional Services?
First, if you never get sued, congratulations! But don't think of fees paid for a registered agent service as wasted money. Your Delaware registered agent should also keep you updated on any business reports owed to the state. And if you hire Northwest Registered Agent, we'll provide you with any form you could file in Delaware, along with helpful tips for filing forms and paying the state with no markup, as well as amazing customer service. If you end up with multiple states with us, you'll be able to easily see your annual report dates in every state in your account.
What If I Get Sued All The Time? Does Northwest Registered Agent Charge Additional Fees?
Northwest Registered Agent doesn't charge more for high volume clients. If you know you're going to get served hundreds of times a year, we should create a custom price for you that makes sense to both parties. Our typical clients get fewer than 15 lawsuits a year and never pay additional fees.
Where Is Northwest's Registered Office In Delaware?
We accept and scan all of our Delaware clients' documents on site at our registered office in Dover, DE.
Can I Use Your Delaware Registered Office Address For Everything On My State Business Filing?
Yes! We're the only national registered agent service that allows our clients to list our address for everything on a filing to help keep your address private.
Can I Have My Business's Mail Delivered To Your Delaware Office?
Yes! Just sign up for our unlimited Delaware Mail Forwarding option ($20/month). You'll get a unique suite number and a Delaware business address you can use for mail, advertising and more. While you can use our address, we are not a return depot for online or Amazon sellers, though we'd love to accept your foosball tables.
Don't need a unique suite number? Our Delaware registered agent service comes with free limited mail forwarding. We'll list our business address (no unique suite number) on your public docs to better protect your privacy. And, we'll scan the occasional business mail we receive—up to 10 documents a year, for FREE. You can request any additional documents to be forwarded at a per document rate of $15.
Should I Hire A Registered Agent Before I Start My Business In Delaware?
Yes. You will be unable to form a Delaware business entity if you do not have your registered agent's information.
How Is A Registered Agent In Delaware Served With A Lawsuit?
A process server will deliver a summons form (basically instructions for responding to the lawsuit) and a complaint form (this describes who is suing, the reasoning behind the lawsuit, and what the person or entity suing want from the lawsuit—typically this is an amount of money) to a Delaware registered agent's address. The registered agent will sign the process server's documents acknowledging receipt of the lawsuit. If you've hired us, within minutes of receiving service of process, we'll upload the document to your account and you'll instantly receive an email prompting you to log into your account.
How Do I Look Up A Delaware Business And Contact Their Registered Agent?
You can easily look up a company's basic details online with a Delaware business name search.
Type in the name of the company you're searching for.
In the results, you'll find the registered agent's name and registered office street address.
To legally notify a business, just send a certified letter directly to the registered agent name and registered office address.
How Do I Resign From Being A Registered Agent in Delaware?
In Delaware, to resign as a registered agent, you must submit a Certificate of Resignation of Registered Agent to the Delaware Secretary of State and make sure to provide the name and address of the new registered agent if appointing a successor. It's pretty straight forward, but for a more detailed walkthrough you can refer to our guide on how to resign as a registered agent in Delaware.
How To Order Delaware Registered Agent Service:
1
Step One
You sign up online, clicking on one of the buttons or links that says "HIRE US."
2
Step Two
We collect the first year's fee for registered agent service up front.
3
Step Three
For new businesses, once your business registration filing with the Delaware Secretary of State is complete, we'll become your Delaware registered agent.
4
Step Four
About a year later, we'll send an invoice for another year of Delaware registered agent service. If you want to keep using us, great; if you don't, you can easily cancel.
5
Step Five
It's easy to add registered agent services in other states if your business expands. We have offices in every state. We don't farm out work (or your info) to other companies—wherever you are, WE are your registered agent.
6
Step Six
We make your account a real go-to resource for you, not just for Delaware registered agent service or paying a bill but for keeping up with corporate paperwork formalities like the Delaware annual report.
Information Your Delaware Registered Agent Should Help You Understand:
The Delaware Division of Corporations asks you only for minimal information in order to form your company, and Delaware does not list that minimal info on its public website, forcing interested parties to buy copies of your formation documents in order to find your info. Delaware also doesn't ask for shareholder or owner information for any of the Delaware companies registered with the DE Division of Corporations. This is all a huge benefit to you. When forming your Delaware company, the less any state agency has on you the better! The brilliant move is that the state requires us, your registered agent and say, "We're just an administrative government agency; the registered agent is responsible for representing the people behind all the entities, and the IRS requires any Delaware company doing business to assign a person with a Social Security Number to that company, so you can subpoena the registered agent or the IRS." So the great news for you is that the state doesn't want your personal info! Delaware is very smart. By design, the state wants to:
Give you a reason to incorporate in Delaware,
Not harbor sketchy people, and
Have a way to track down the sketchy individuals behind sketchy Delaware entities if needed.
Anyone wanting to properly notify your company will look up your company's information and send a complaint or notice to your Delaware registered agent. Your registered agent should have a reliable, commercial address and office and be open during business hours to accept these documents for you and make sure you get them, see them, and understand them. Northwest offers you an online account to help manage and organize these documents, and we also offer an extensive set of delivery options. With so many communication options today (cell, voip, text, apps, multiple emails, etc.) it's important to have options that suit how you want to receive notifications.
At Northwest, we can also form your LLC or form your corporation in Delaware for $100 plus state fees. As part of our commitment to Privacy by Default®, we put our business address on your filings to better protect your privacy. And you always have the support of our Corporate Guides®.
Get Delaware Registered Agent Service