How to Start An LLC in Alaska
To start an LLC in Alaska you must file Articles of Organization with the State of Alaska Corporations Section, pay a $250 filing fee, get a business license from the State of Alaska Business Licensing Section for $50 a year, and get a free EIN number from the IRS. The complete steps to forming an Alaska LLC are as follows:
File Alaska LLC Articles of Organization

Pay the $250 filing fee

Print your Certificate of Organization immediately (if filing online) or wait approximately two weeks to receive your certificate by mail

File an Alaska Initial Report

Get an Alaska Business License

Get a Federal EIN Number for the LLC

Create an Alaska LLC Operating Agreement

Take your license, EIN and operating agreement to the bank and get an Alaska LLC bank account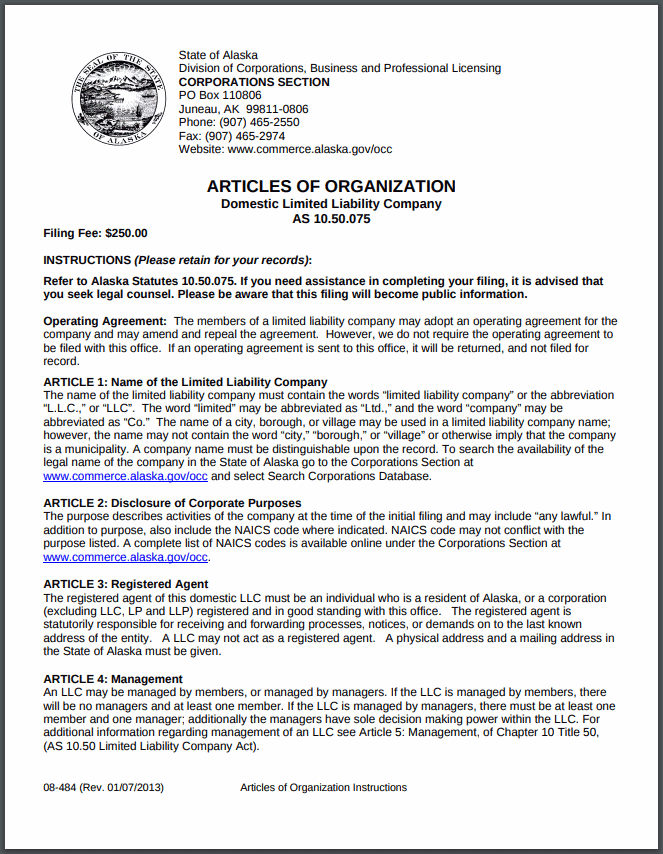 How to File Alaska LLC Articles of Organization
To form an Alaska LLC, you file LLC Articles of Organization in the following steps:
Choose a name for your new LLC
Declare your LLC's purpose and find the NAICS code that best describes your company's activities
Decide if you want to hire a registered agent service to minimize public disclosures
Choose a management style (member-managed or-managed managed)
File online and pay $250 with a Visa or MasterCard (fastest) or mail to the State of Alaska Corporations Section, PO Box 110806, Juneau, AK 99811-0806 with a check or money order for $250
Free Download
File Online
HOW LONG DOES IT TAKE TO START AN ALASKA LLC?
Fastest same day: File online yourself. Your online Alaska LLC filing will be processed immediately and you can print your own Certificate of Organization.
Almost Fastest (and some might say better) 1 day: Sign up for our LLC formation service, answer a few easy questions, and relax while our Corporate Guides file everything correctly the first time.
Acceptable 10-15 business days: Download and print out the Alaska LLC Articles of Organization, write a check, and mail the filing. In a couple weeks, you'll get a stamped copy back, along with a Certificate of Organization—as long as you submit January-March or July-September.
Painfully Slow 15+ business days: For a full half of the year—six months—the State of Alaska notes that "processing time may take longer" for mailed submissions. In April-June and October-December, Alaska offices are hit with an increase in other filings, such as biennial reports, and the system slows to a crawl. 15 business days is three weeks—and that's the low end. It could potentially take a month or more for your Articles to be processed. You already have to go online to download the paper form—why not submit online and save some time? Or better yet, let us submit online for you and save yourself time AND a headache.
WHAT IS THE COST OF AN ALASKA LLC?
Filing Articles of Organization with the State of Alaska's Corporations Section is $250. If you hire us to form your LLC, your total cost is $475, including a year of registered agent service.
How much does it cost to maintain an LLC in Alaska?
It costs roughly $100 a year to keep in good standing with the State of Alaska. An Alaska LLC needs to file an initial report (free), a biennial report every other year ($100) and maintain a business license ($50/year for most businesses).
What is an Alaska LLC Initial Report?
Your Initial Report informs the State of Alaska of your contact and ownership information. There's no filing fee for this report, and you can submit online. While you have six months after your Articles are approved to submit this report, do it as soon as you can. You don't want to forget and lose your good standing before you've even turned a profit.
What is an Alaska LLC Biennial Report?
Your biennial report is a form you submit every two years updating the State of Alaska on the contact and ownership information you provided in your Initial Report and your Articles of Organization. The filing fee is $100 and is due on January 2nd (on odd years if you registered your LLC in an odd year and vice versa). You can file your Biennial Report online.
What are the Alaska LLC taxes?
Alaska is one of the few states that doesn't have a personal net income tax. Since the Alaska LLC is defaulted to be taxed at the personal level, your business is virtually free from an Alaska tax perspective.
Alaska doesn't have a state sales tax either. However, some cities and boroughs levy a small sales tax, typically between 2-5%. For example, our office is in Anchorage, which doesn't have a sales tax, while Wasilla's sales tax is 3% and Juneau's is 5%.
Does an Alaska LLC need a business license?
Yep, all businesses need some kind of license, typically an Alaska business license. A few industries—mining, fishing, insurance and liquor sales—are exempt from the standard business license from Alaska's Division of Corporations, Business and Professional Licensing but require specialized licenses from other departments instead. The Division of Corporations, Business and Professional Licensing also licenses professions in 45 different categories, from Acupuncturists to Veterinary Examiners.
IS AN ALASKA LLC REGISTERED AGENT REQUIRED?
Absolutely—Alaska LLCs are required to have and maintain a registered agent. While you can be your own registered agent, it's a demanding role. You must be available during business hours to accept legal notices. If you don't intend to be tied to your desk—if you want to take vacations, attend meetings, or travel for business—you may want to hire a registered agent service.
Hiring us as your registered agent does more than free you up to manage your business. Business formation and maintenance documents (like Articles of Organization and Biennial Reports) are publicly available—so if you list your personal address or office on these forms, you could have strangers and solicitors knocking at your door. Let them knock on ours instead. Also, using one address for your mailing address, registered agent, and correspondence for members and managers provides consistency. No need to worry about checking or updating multiple addresses.
DO I NEED A TAX ID NUMBER (EIN) FOR AN ALASKA LLC?
You are required to get an EIN if you have employees or if you submit special tax filings like Alcohol/Tobacco/Firearms returns.
Even if you don't need an EIN right away, it's a good idea to get one. First of all, they're free from the IRS (or, if you don't want to fill out the paperwork, hire us to get an EIN for you). EINs are also often requested when opening a business bank account. And for credit applications, loans and state tax forms, you can often list your LLC's EIN instead of handing over your personal social security number.
ALASKA LLC VERSUS ALASKA CORPORATION:
Both an LLC and a corporation cost the same to form and maintain in Alaska: $250 for formation filing fees, $100 every two years for the Biennial Report and $50 a year for a business license. There isn't really a significant tax advantage for either business type. Whether you choose an LLC or corporation, you're not tied to your default tax status—for example, both LLCs and corporations can elect to be taxed as S corporations.
When it comes down to it, your entity choice is really about how you want to run your business. Looking for a simple, straightforward business type? An Alaska LLC is easier to understand and operate—no requirements for formalities like annual meetings and no mandate to appoint directors or officers. Not quite sure if an Alaska LLC is right for you? Learn more about corporations on our Alaska incorporation page.
DOES AN ALASKA LLC NEED AN OPERATING AGREEMENT?
If your brother asked to borrow $50K, you'd probably have him sign some sort of IOU, right? When it comes to that kind of money, it'd be crazy not to put basic terms in writing. Well, your business is your money. And while legally, no, you're not required to write an operating agreement, your operating agreement is probably your Alaska LLC's most important internal document. It tells you who owns what. How much each person's vote is worth. What everyone's responsibilities are. What happens if you shut down shop. You may be best friends with your business partners now—they may even be actual family members. But there's a reason why tattoo artists advise you not to put your girlfriend's name on your arm and why lawyers always recommend a prenup. Disagreements are inevitable. Squabbles are inevitable. Operating agreements help ensure your business doesn't fall apart in the dark times. They're also a snapshot of how your business actually runs. New partners will want to see your operating agreement. Banks typically want to see it to before they let you open an account.
At Northwest, we know that operating agreements are critical. That's why as part of our formation service package, we include a free operating agreement specific to your LLC's management style. We believe in the power of well-written business documents so much that we hand out loads of other important (and free) LLC forms too: resolutions, membership certificates, bill of sale templates and more. We have everything your Alaska LLC needs, and we've spent years revising and improving our forms to make them better and better.
WHAT IS THE ALASKA LLC STATUTE?
ALASKA LLC ARTICLES OF ORGANIZATION REQUIREMENTS:
Company Name:

You must in

clude

the words

"Limited Liability Company" or an abbreviated form, like "LLC."

You can't

include the words "city," "borough" or "village."

You'd think no one would mistake "Pancake City" for a municipality, but apparently Alaska

is not about to take that risk.

Purpose:

While your purpose is probably "to make money," don't write that in your Articles. "Purpose" really means "business activities." You can be specific and put "reupholster furniture," or you can

do what most people do and

put a general purpose, like "e

ngage in any lawful activity for which a Limited Liability Company may be organized in Alaska."

NAICS Code:

In addition to a purpose, you're also asked to include a NAICS code, which is a just a

numerical code for a business activity. For example, the code for "cement manufacturing" is 327310. You can search for a code on the

NAICS website

—if

you can't find a perfect fit, just put the closest one you can find.

Registered Agent:

Your registered agent could be yourself or a friend, or you could hire a professional service like us.

You'll need to include a physical and mailing address for your registered agent, which will become part of the permanent public record.

Hire us and that public address could be ours, not yours.

LLC Management:

Management style is all about decision-making power.

You can either have members make all the decisions for the LLC, or you can have one or more managers

run the show

.

Managers don't have to be members (but they can be if that works better for you).

If you have a manager-managed LLC, members don't have any decision-making authority other than to vote for or remove a manager.

Oregon LLC Organizer:

Despite the fancy title of "organizer," an organizer is just the person filing the Articles of Organization.

Organizers don't have to actually be connected to the LLC in any way. Don't want to include your name? Hire us, and we'll be your organizer.
Our Alaska LLC Formation Service Includes:
Filing of Alaska Articles of Organization
Listing our Alaska address instead of your home or office becoming permanent public records
Alaska LLC Filing Fees
Expedited Service
Organizer Initial Resolutions
Alaska LLC Operating Agreement
Alaska LLC Banking Resolution
Alaska LLC Membership Certificates
Alaska Registered Agent Services
Compliance Reminders
Online Account with instant tools to help you start and run your business