How To Start An LLC In Maryland
To start an LLC in Maryland, you must file Articles of Organization with the Department of Assessments & Taxation, pay a $100 filing fee, and get an EIN from the IRS. The complete steps to forming a Maryland LLC are as follows:
File Maryland LLC Articles of Organization

Pay Maryland's Department of Assessments & Taxation $100

Wait to receive an approved copy of your Articles of Organization

Get a Federal EIN tax ID for the LLC

Create a Maryland LLC Operating Agreement

Take these documents to the bank and get a Maryland LLC bank account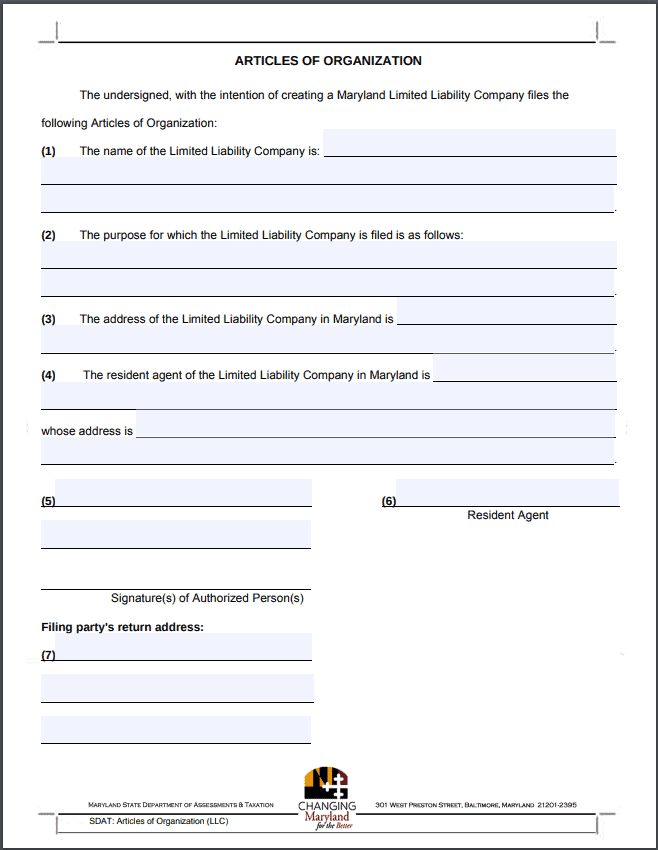 How to File Maryland LLC Articles of Organization
To form a Maryland LLC, you file Articles of Organization by following these steps:
Choose a name for your new LLC
Declare the purpose of your LLC
Decide what address you'd like to list publicly
Decide if you want to hire a registered agent service to minimize public disclosures
File online and pay $100 (plus processing fee) with a credit card, or mail to the State Department of Assessments and Taxation, Charter Division, 301 W Preston St, 8th Floor, Baltimore MD 21201-2395 with a check or money order for $100
Free Download
File Online
HOW LONG DOES IT TAKE TO START A MARYLAND LLC?
Fastest and Simplest 3 days: File online yourself and choose expedited processing.
Almost Fastest (and some might say better) 3 days: Hire Northwest, answer a few brief questions, and sit back and let our Corporate Guides file everything correctly the first time.
Not Too Shabby 7 days: If you have to file by mail and want your approval in the foreseeable future, you'll need to expedite. Expediting costs the same for mailed and online filings, yet mailed filings still take twice as long.
Archaic 4-6 weeks: Yes, that's 4-6 WEEKS. If you file by mail and have the audacity not to expedite, your filing apparently goes to the very bottom of the pile.
WHAT IS THE COST OF A MARYLAND LLC?
The filing fee for Maryland LLC Articles of Organization is $100. Expediting is another $50. If filing online, there's also a credit card processing fee of 3%.
When you hire Northwest, your total cost is $380, including all of the above fees.
How much does an LLC in Maryland cost each year?
There's a $300 filing fee for the Maryland LLC Annual Report.
What is a Maryland LLC Annual Report?
A major hit to your wallet. Every year, you're required to fork over $300 to file a Maryland LLC Annual Report. The report updates the state on your LLC's ownership and contact information. Late fees vary from $30 to $500, depending on how late your filing is and how much you owe in personal property taxes. If that sounds bizarre, it's because Maryland also requires a Personal Property Return (described below) to be filed along with the Annual Report. Afraid you'll forget to file? Northwest has your back. When you sign up for our services, we'll send you reminder notifications.
What is a Maryland LLC Personal Property Return (PPR)?
The PPR is a tax return where you report the value of your personal property. You have to submit a PPR together with your Annual Report each year if you have a Trader's License or if your LLC owns, lease or uses personal property in Maryland.
Personal property doesn't include intellectual property, real estate, registered vehicles or land—but it does include pretty much everything else. Furniture, computers, books, supplies, tools—even inventory. Even the curtains in your office (no joke). The form takes some work, so give yourself plenty of time to go over it before April 15th when it's due.
What are the Maryland LLC taxes?
The Maryland personal net income tax rates for single filers are:
2%: $0 to $999
3%: $1,000 to $1,999
4%: $2,000 to $2,999
4.75%: $3,000 to $99,999
5%: $100,000 to $124,999
5.25%: $125,000 to $149,999
5.5%: $150,000 to $249,999
5.75%: $250,000+
The state sales tax in Maryland is 6%—cities and counties can't tack on local sales tax either. There are a few exceptions to the 6% rule though. Alcoholic beverages are taxed at a 9% rate, and most short-term vehicle rentals are taxed at an 11.5% rate.
IS A MARYLAND LLC RESIDENT AGENT REQUIRED?
Yes, Maryland requires LLCs to have a resident agent (also called a registered agent) to accept legal notifications. You can list an individual, like yourself or a friend, or you can choose a business that provides resident agent service, like Northwest.
Hiring a service like ours has a few significant benefits, the first being that our address goes on your Articles instead of yours. Your Articles of Organization are a part of the permanent public record, so when you list your own address, you lose privacy and gain a bunch of junk mail. Using our address throughout your Articles also provides consistency. You don't have to worry about updating multiple addresses as your LLC grows and changes. Our address stays the same—unlike the Colts. (Sorry, sorry. It still hurts.) And, when you hire Northwest, we're the ones tied to the desk from 9-5. You're free to run your business on your time.
DO I NEED A TAX ID NUMBER (EIN) FOR A MARYLAND LLC?
On the federal level, your LLC is required to get an EIN if you have employees or file certain federal excise taxes (like Alcohol/Tobacco/Firearms returns). There are also plenty of local reasons you'll need an EIN. When you go the bank to open an account or take on debt, they'll ask for your EIN. When you go to establish credit with a vendor, they'll ask for your EIN. In some cases, you can give your personal social security number instead, but with the rise of identity theft and data mismanagement, who wants to do that? EINs are issued for free by the IRS. You can apply yourself, or you can hire us to apply for you when you sign up with Northwest.
DOES A MARYLAND LLC NEED A BUSINESS LICENSE?
Not on the state level—but you may need a local business license. For example, Ocean City requires all businesses operating in the city to get a license.
MARYLAND LLC VERSUS MARYLAND CORPORATION:
State filing fees for Maryland LLCs and corporations are the same—$100 for Articles and $300 for Annual Reports. Taxes are just as likely to be the same as they are to be different—LLCs and corporations aren't tied to their default tax types. They can make other tax elections. For example, an LLC can opt to be taxed as an S or even a C corporation. When it comes to costs, Maryland LLCs and corporations aren't significantly different.
How LLCs and corporations operate is somewhat different though. LLCs are a little simpler. Members can self-manage, making it faster and easier to make decisions and changes. Corporations have more requirements—they need to appoint directors and officers, authorize stock, and hold annual meetings. These aren't bad things, but they do make businesses a touch more complicated to run, especially for new business owners. Leaning towards a corporation? Here's information on Maryland incorporation.
DOES A MARYLAND LLC NEED AN OPERATING AGREEMENT?
Is there a statute or ordinance in Maryland requiring LLCs to have an operating agreement? No. Should your Maryland LLC have an operating agreement? Yes, yes, yes. An operating agreement may sound like just one more annoying piece of paperwork, but it's a critical document—the most important internal document of your LLC. Why is it so important? This document puts into writing how your business actually functions. It includes how much each member invested, how profits and losses will be allocated, what happens if the business goes belly up, and more.
Anyone with the hundred bucks for the filing fee can make an LLC. While most people who take the leap to become a business owner have a solid plan, there's still plenty of people who are just making things up as they go along. People want proof that you're in the former group, not the latter. When you go to open a business bank account or take on debt, the bank will ask to see your operating agreement. Potential investors, partners and members will follow suit.
At Northwest, we've been helping businesses get their start for years, and we know how important an operating agreement is. That's why we include a free operating agreement, specific to your management style, when you sign up for our services. These aren't just cheap-o junk forms either, like a lot of stuff on the web. We've spent years refining these and all our free forms—operating agreements, resolutions, membership certificates and more—and over a million LLCs have used our free LLC forms to help form and maintain their businesses.
WHAT IS THE MARYLAND LLC STATUTE?
MARYLAND LLC ARTICLES OF ORGANIZATION REQUIREMENTS:
Company Name:

Your name has to include "Limited Liability Company" or an abbreviation like "LLC."

Purpose:

While the purpose of most businesses is to make a profit, don't write that in your Articles. "Purpose" here is really asking what your LLC's business activities are. Most businesses keep it really general with a statement like "the purpose of this LLC is to engage in any lawful activity in the state of Maryland."

Principal Office:

You have to list a street address in Maryland (no PO Boxes).

Want to avoid having to update multiple addresses every time something changes? When you hire Northwest, you can keep things simple and list our address here.

Resident Agent:

A resident agent can be a person (like yourself) or a service (like Northwest).

We recommend Northwest.

Resident Agent Address:

This is the street address in Maryland where your resident agent will be available during business hours. Hire Northwest and our address will go here.

Maryland LLC Authorized Person:

Your authorized person is just the person

your LLC authorizes to

sign and submit the Articles of Organization.

It doesn't have to be anyone in the LLC. Northwest will be your authorized person when you hire us.
Our Maryland LLC Formation Service Includes:
Filing of Maryland Articles of Organization
Listing our Maryland address instead of your home or office becoming permanent public records
Maryland LLC Filing Fees
Organizer Initial Resolutions
Maryland LLC Operating Agreement
Maryland LLC Banking Resolution
Maryland LLC Membership Certificates
Maryland Resident Agent Services
Annual Compliance Reminders
Online Account with instant tools to help you start and run your business