How to Start An LLC in Kansas
To start an LLC in Kansas you must file Articles of Organization with the Kansas Secretary of State, pay a $160 filing fee, and get an EIN from the IRS. The complete steps to forming a Kansas LLC are as follows:
File Kansas LLC Articles of Organization

Pay $160 to the Kansas Secretary of State ($165 by mail)

Wait for your approved copy of your Articles of Organization

Get a Federal EIN tax ID for the LLC

Create a Kansas LLC Operating Agreement

Take these documents to the bank and get a Kansas LLC bank account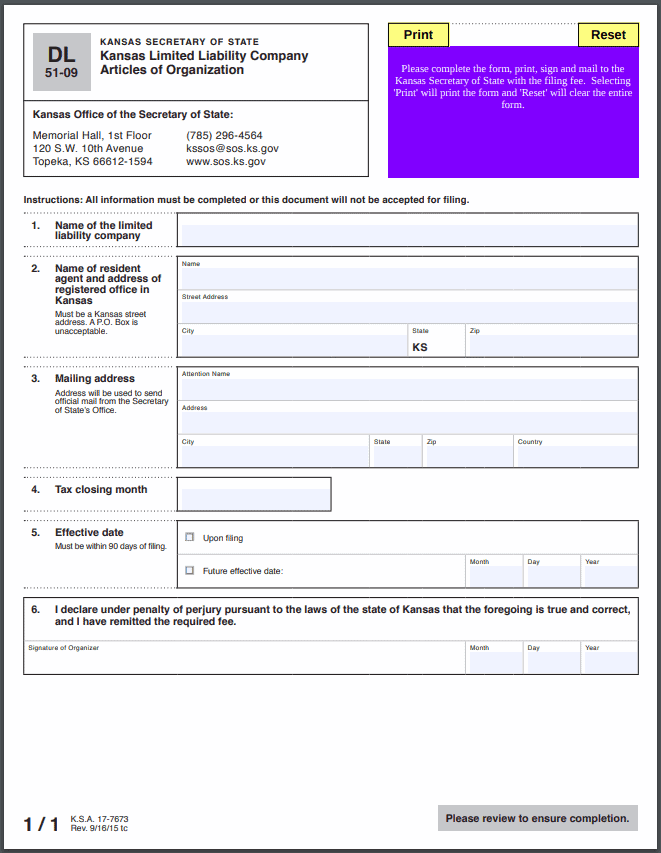 How to File Kansas LLC Articles of Organization
To form a Kansas LLC, you file Articles of Organization by following these steps:
Choose a name for your new LLC
Decide if you want to hire a registered agent service to minimize public disclosures
Decide what address you'd like to list publicly
File online and pay $160 with a credit card (fastest) or mail to the Kansas Office of the Secretary of State at Memorial Hall, 1st Floor, 120 SW 10th Ave, Topeka KS 66612-1594 with a check or money order for $165
Free Download
File Online
HOW LONG DOES IT TAKE TO START A KANSAS LLC?
Fast and Easy (1 day): Hire Northwest, fill out a brief questionnaire and sit back. Let our Corporate Guides file everything online correctly the first time.
Fast and Not-So-Easy (1 day): Use the state's KanAccess portal to file Articles of Organization online yourself.
Archaic (3-5 days): Filing by mail is like choosing the road with the most construction: it'll get you there, but it's not a smooth ride. When you file by mail, you wait longer for approval AND pay a higher filing fee.
WHAT IS THE COST OF A KANSAS LLC?
The Kansas Secretary of State charges $160 if you file Articles of Organization online and $165 for paper filings.
Hire Northwest and your total, out-the-door cost is $385 dollars, including state filing fees and a full year of registered agent service.
How much does an LLC in Kansas cost each year?
The filing fee for a Kansas LLC's Annual Report is $50 ($55 by mail).
What is a Kansas LLC Annual Report?
Your Kansas LLC Annual Report is a form you must submit once a year to the Kansas Secretary of State. The report updates the state on your LLC's contact and ownership information. You have to file, even if nothing has changed. And if you don't file? After 90 days, your business will be forfeited. Basically, the state cancels your business registration and you lose the right to operate in Kansas. When you hire Northwest, we'll help you remember your annual reports by sending you reminder notifications. You can even hire us to file your reports for you so you don't have to think about them at all.
What are the Kansas LLC taxes?
The Kansas personal net income tax rates for single filers are:
2.9%: $0 to $14,999
4.9%: $15,000 to $29,999
5.2%: $30,000+

The state sales tax rate in Kansas is 6.5%. However, because cities, counties and special jurisdictions can add on their own sales taxes, total sales tax averages around 8% across the state with the highest combined tax rate topping 11%.
IS A KANSAS LLC REGISTERED AGENT REQUIRED?
Yes, Kansas requires LLCs to appoint and maintain a Kansas registered agent. You could appoint an individual like yourself, but you'd have to list your address in your public Articles of Organization, leaving you open to junk in your mailbox and unwanted visitors on your doorstep. You also have to actually be regularly available at the address you list. And let's be real—Wichita Riverfest is 9 days; you can't be expected to be in the office that week. Instead, you could hire us. When you hire Northwest, our information goes in your Articles and we'll be ready and waiting for any service of process, so you can go about your business.
Also, when you appoint yourself or a friend as registered agent, there's going to be a lot of adjustments. You'll upgrade offices. Your friend will decide to follow the trend of leaving small-town Kansas for Wichita or Kansas City. These things happen. And whenever you change up your registered agent or office, you'll shell out a minimum of $30 to file an LLC Change of Registered Office or Agent form with the state. With Northwest, our address stays the same. No worrying about constant (and expensive) address updates.
DO I NEED A TAX ID NUMBER (EIN) FOR A KANSAS LLC?
You must get an EIN if you have employees or file certain federal excise taxes, like Alcohol/Tobacco/Firearms returns. Banks will typically require your Kansas LLC to have an EIN before opening an account. Sometimes you'll need an EIN for local tax forms or vendors you do business with. Using your EIN instead of your personal social security number on applications and filings also helps keep your private information more secure. Even if you don't absolutely need an EIN right now, it's good to have one. EINs are free—you can apply for one directly from the IRS. If that sounds like more annoying paperwork, you can add on EIN service when you hire us, and we'll get your EIN for you.
DOES A KANSAS LLC NEED A BUSINESS LICENSE?
Kansas doesn't have a state-level general business license, but some cities have their own local business license requirements. Lenexa, for example, requires all businesses operating in the city to obtain a business license.
KANSAS LLC VERSUS KANSAS CORPORATION:
Forming a Kansas corporation is a bit cheaper than forming an LLC ($85 vs $160 for online filings). Annual maintenance is the same though—both LLCs and corporations pay the same to file their Annual Reports ($50 online). Taxes are often similar as well because both LLCs and corporations can choose their tax types. For example, both LLCs and corporations can be taxed as S corporations. Other than the one-time difference in initial fees, costs are pretty similar for Kansas LLCs and corporations.
A bigger difference between LLCs and corporations is how they function. LLCs are often easier to operate, especially for small businesses and new business owners. You aren't required to have directors, officers or even any managers at all. Members can manage the business themselves—which often means decisions and changes can be made pretty fast. Corporations are a bit more complicated, but sometimes that's advantageous (like if you want to offer shareholders preferred stock). If you're considering a corporation in Kansas, here is more information on Kansas incorporation.
DOES A KANSAS LLC NEED AN OPERATING AGREEMENT?
There's no legal requirement to have an operating agreement, but it's become pretty standard to have one—and for good reason. Operating agreements spell out who invested what, how profits and losses will be allocated, and what happens if you shut it all down. Members and managers will want to see your operating agreement. Potential business partners and investors will want to see it too. Banks will also ask to see your operating agreement when you go to open a business bank account. Your operating agreement is practically a roadside attraction—every new person who comes along wants to see it.
At Northwest, we know the importance of a strong operating agreement. When you hire us, we do more than simply form your LLC and provide expert registered agent service. We also provide your LLC with a free operating agreement, specific to your management style. And we provide loads of other free forms too—from resolutions to membership certificates. We're proud of our forms and have spent years refining them. We were the first website to hand out free LLC forms, and over a million LLCs have used our free LLC forms to help form and maintain their businesses.
WHAT IS THE KANSAS LLC STATUTE?
KANSAS LLC ARTICLES OF ORGANIZATION REQUIREMENTS:
Company Name:

You

must include "Limited Company," "Limited Liability Company" or an abbreviation.

Most companies

stick with the short and sweet

"LLC."

Registered Agent:

You can list an individual like yourself or a service like Northwest. We recommend Northwest.

Registered Office:

This is a street address in Kansas that will become a permanent part of the public record

f

or your LLC. Hire Northwest and our address will go here.

Official Mail:

Y

ou'll have to pick an address where you'd like

official mail sent (not including

legal notifications

)

.

Want to avoid having to check and update multiple addresses?

When you hire Northwest, you can list our address here.

Tax Closing Month:

Most businesses operate on a calendar year and put "December" in this section. If your business uses a fiscal year,

however,

put the month your fiscal year ends.

Effective Date:

On paper filings, you'll be asked whether you want your LLC to begin existence upon filing or at a later date. If you want to wait a bit (maybe if the next tax period is just about to begin) you can put a future date within 90 days.

Kansas LLC Organizer:

Your organizer completes, signs and submits your Articles of Organization. The organizer doesn't have to be anyone in your LLC. Hire us, and we'll be your organizer.
Our 1-Day Kansas LLC Formation Service Includes:
Same Day Filing of Kansas Articles of Organization
Listing our Kansas address instead of your home or office becoming permanent public records
Kansas LLC Filing Fees
Organizer Initial Resolutions
Kansas LLC Operating Agreement
Kansas LLC Banking Resolution
Kansas LLC Membership Certificates
Kansas Registered Agent Services
Annual Compliance Reminders
Online Account with instant tools to help you start and run your business