How To Start An LLC In Minnesota
To start an LLC in Minnesota, you must file Articles of Organization with Minnesota's Secretary of State, pay a $135 filing fee, and get an EIN from the IRS. The complete steps to forming a Minnesota LLC are as follows:
File Minnesota LLC Articles of Organization

Pay the Minnesota Secretary of State $135

Wait to receive your Certificate of Organization

Get a Federal EIN tax ID for the LLC

Create a Minnesota LLC Operating Agreement

Take these documents to the bank and get a Minnesota LLC bank account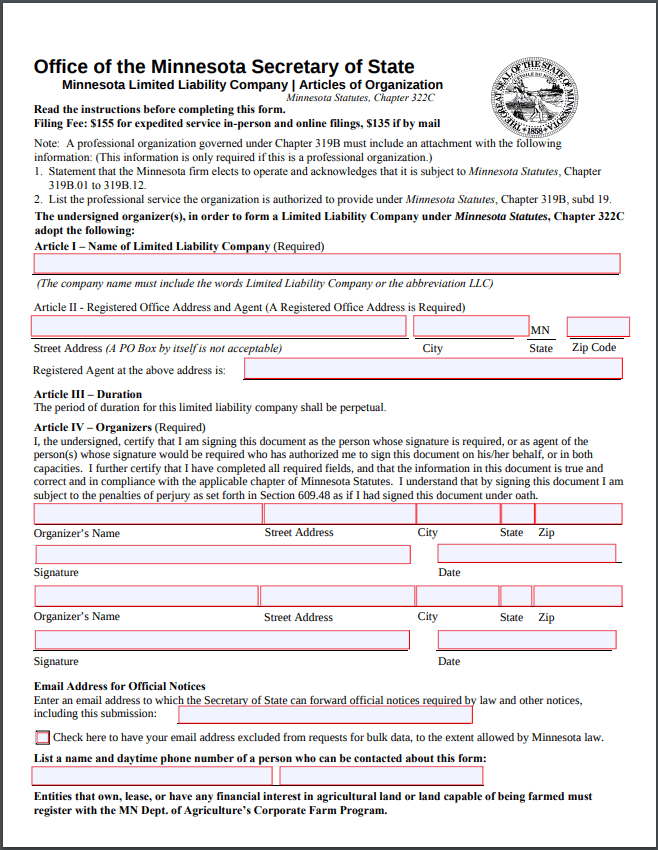 How to File Minnesota LLC Articles of Organization
To form a Minnesota LLC, you file Articles of Organization by following these steps:
Choose a name for your new LLC
Decide if you want to hire a registered agent service to minimize public disclosures
Decide what email to list for official notifications
File online and pay $155 with credit card or mail to the MN Secretary of State at 60 Empire Dr, Suite 100, Saint Paul MN 55103 with a check or money order for $135
Free Download
File Online
HOW LONG DOES IT TAKE TO START A MINNESOTA LLC?
Fastest and Simplest 1 day: File yourself online or in person and pay the mandatory $20 expediting fee for 1-day processing.
Almost Fastest (and some might say better) 1 day: Hire Northwest and we'll form and file your Articles of Organization for you online. Just answer a few brief questions, sit back and let our Corporate Guides file everything correctly the first time.
Not Too Shabby 4–7 days: Have some time to kill? Save twenty bucks and file your Articles of Organization by mail. Maybe go fishing for a few days. Eventually someone will process your form by hand.
WHAT IS THE COST OF A MINNESOTA LLC?
The Minnesota Secretary of State charges a $135 filing fee to submit Articles of Organization for your LLC. If you file online or in person, you're also hit with an automatic expediting fee of $20.
When you hire Northwest, your total out-the-door cost is $380, including state fees and a full year of registered agent service.
How much does an LLC in Minnesota cost each year?
There is no filing fee for your Minnesota LLC's Annual Renewal.
What is a Minnesota LLC Annual Renewal?
The Minnesota LLC Annual Renewal is a report your LLC must submit each year in order to update your LLC's contact and ownership information. Filing the renewal is free. If you fail to file the renewal, however, your LLC will be dissolved by the state. At Northwest, we want your business to remain in business. When you sign up for our services, we'll send you annual renewal notifications so you don't forget to file. Or, hire us to file your renewal for you each year, so you'll have one less thing to worry about.
What are the Minnesota LLC taxes?
The Minnesota personal net income tax rates are:
5.35%: $0 to $25,389
7.05%: $25,390 to $83,399
7.85%: $83,400 to $156,910
9.85%: $156,911+
The state sales tax rate is 6.875%, but cities and municipalities can add on local sales taxes as well, so the average sales tax rate sits at 7.245%.
The Minnesota Department of Revenue also collects an unusual tax/fee that's simply called the "minimum fee." The minimum fee affects businesses taxed as partnerships, S corporations and C corporations. If your Minnesota property, payroll and sales are high (roughly $930K+, although the number is adjusted each year for inflation), you'll have to pay the fee, which starts at $200.
IS A MINNESOTA LLC REGISTERED OFFICE REQUIRED?
Yes, you must have a Minnesota registered office for your LLC, and Minnesota Statute Chapter 5 §36 states that all business entities registered or formed in Minnesota must designate a registered agent as well. You can be your own agent and list your own address as your registered office—but that address becomes a part of the permanent public record for your LLC. There are two downsides to this. First, if you need to update your address later on as your business grows and changes, you'll have to file a Notice of Change with the Secretary of State and pay the $35 fee. Second, public data is a goldmine for data sellers, meaning your info will be sold and resold, leaving you with a mountain of junk mail.
Avoid these problems when you hire Northwest—no need to update addresses or sort through spam. And one last perk—with a commercial registered agent like Northwest, you don't have to be available during business hours at your registered office. You can sleep in late. Attend meetings. Go on business trips. Take an extra long lunch to check out the new food trucks. And you won't have to worry about missing a process server.
DO I NEED A TAX ID NUMBER (FEIN) FOR A MINNESOTA LLC?
FEINs are required if your LLC has employees or files certain federal excise taxes. Plan to open a business bank account? You'll need a FEIN. There are other situations where you might need a FEIN as well—vendors often request a FEIN when you establish credit, and local tax forms often require one as well. Basically, even if you don't need one right this minute, you're going to need one eventually. It's not a burden to get one—they're free from the IRS. If that one last piece of paperwork is one too many, you can even hire Northwest to apply for your FEIN for you when you sign up for our services.
DOES A MINNESOTA LLC NEED A BUSINESS LICENSE?
Minnesota doesn't have a statewide general business license, but specific professions and business activities (from meat packing to nursing) require licensing. You can review licensing requirements on the state's Minnesota Elicensing website. Cities and counties in the North Star State often have their own licensing requirements as well.
MINNESOTA LLC VERSUS MINNESOTA CORPORATION:
Minnesota charges the same filing fees for starting and maintaining both LLCs and corporations ($135 for Articles and no fee for Annual Renewals). Tax obligations can be similar as well (or vastly different) depending on your business's tax election. Both LLCs and corporations can choose different tax types—for example, a typical LLC is taxed as partnership or disregarded entity but can choose to be taxed as an S or C corporation.
With no significant cost advantage, many people choose their entity type based on how it operates. LLCs tend to be easier to manage, so they're a common choice for small businesses and new business owners. While corporations are required to appoint directors and officers, members can manage their LLC themselves, meaning decisions and changes can often be made more quickly and easily. Corporations are more complex, but that's not necessarily a disadvantage. Interested in forming a corporation? Here's information on Minnesota incorporation.
DOES A MINNESOTA LLC NEED AN OPERATING AGREEMENT?
While it's not a form you have to file with any state agency, an operating agreement is one of your LLC's most critical internal documents. Of course you should have one. An operating agreement puts into writing how your LLC actually functions. It explains how much each member invested, how profits and losses will be allocated, and what happens if (knock on wood) the whole business comes crashing down. Imagine being offered a job at a company that didn't tell you how much they'd pay you and when—and wouldn't put anything in writing. Odds are you wouldn't put up with that—but a surprising number of LLCs expect their members to do exactly that. Even if you're the only member in your LLC, it's still a good idea to have an operating agreement. Your bank will ask to see your agreement when you go to open a business bank account. Potential investors and partners will want to see your operating agreement as well.
At Northwest, we believe every LLC should have an operating agreement. That's why we include a free operating agreement, specific to your management style, when you hire Northwest to form your Minnesota LLC. We were the first website to hand out free LLC forms, and while there's a lot of cheap-o junk floating around the web now, we've spent years refining our operating agreements, along with our other free forms: resolutions, membership certificates and more. As a result, over 1 million LLCs and counting have used our free LLC forms to help form and maintain their businesses.
WHAT IS THE MINNESOTA LLC STATUTE?
MINNESOTA LLC ARTICLES OF ORGANIZATION REQUIREMENTS:
Company Name:

Your name must include "Limited Liability Company" or "LLC." Most businesses

go

with "LLC."

Registered Office:

This Minnesota street address will become a part of the permanent public record of your LLC. Hire Northwest, and our address will go here.

Registered Agent:

You can list a person or a business that provides registered agent service, like Northwest. We have provided expert Minnesota registered agent service for years.

Minnesota LLC Organizer:

Your organizer is the person who signs and submits your Articles of Organization. Your organizer has to include their name and street address, but it doesn't have to be anyone in your LLC. When you hire Northwest, we'll be your organizer.

Email Address:

You must include an email. The Secretary of State uses the email to forward official notices.

If you decide to put your own email, be sure to tick the box to exclude the email from requests for bulk data. This won't protect you from spam and data miners entirely, but it'

ll

help.

Or, hire us and you can list our email here.

Name and Phone Number:

Just like everything else in your Articles of Organization, the phone number you put becomes part of the public record—and a target for data buyers to sell and resell. We allow our clients to put our phone number and information here to save you from endless annoyance.
Our Same Day Minnesota LLC Formation Service Includes:
Same Day Filing of Minnesota Articles of Organization
Listing our Minnesota address instead of your home or office becoming permanent public records
Minnesota LLC Filing Fees
Organizer Initial Resolutions
Minnesota LLC Operating Agreement
Minnesota LLC Banking Resolution
Minnesota LLC Membership Certificates
Minnesota Registered Agent Services
Annual Compliance Reminders
Online Account with instant tools to help you start and run your business