How to Start An LLC in Arizona
To start an LLC in Arizona you must file Articles of Organization with the Arizona Corporation Commission, pay a $50 filing fee, register with the Arizona Department of Revenue (free), and get an EIN tax ID from the IRS (free).
The complete steps to forming an Arizona LLC are as follows:
File Arizona LLC Articles of Organization, along with required attachments

Pay the Arizona Corporation Commission the $50 filing fee

Wait around a month (or two weeks for an extra $35) and receive an approval letter and a Notice of Publication form.

Send your completed Notice of Publication form to a newspaper in your county for publication

Get a Federal EIN tax ID for the LLC

Create an Arizona LLC Operating Agreement

Take your EIN and operating agreement to the bank and get an Arizona LLC bank account

Register with the Arizona Department of Revenue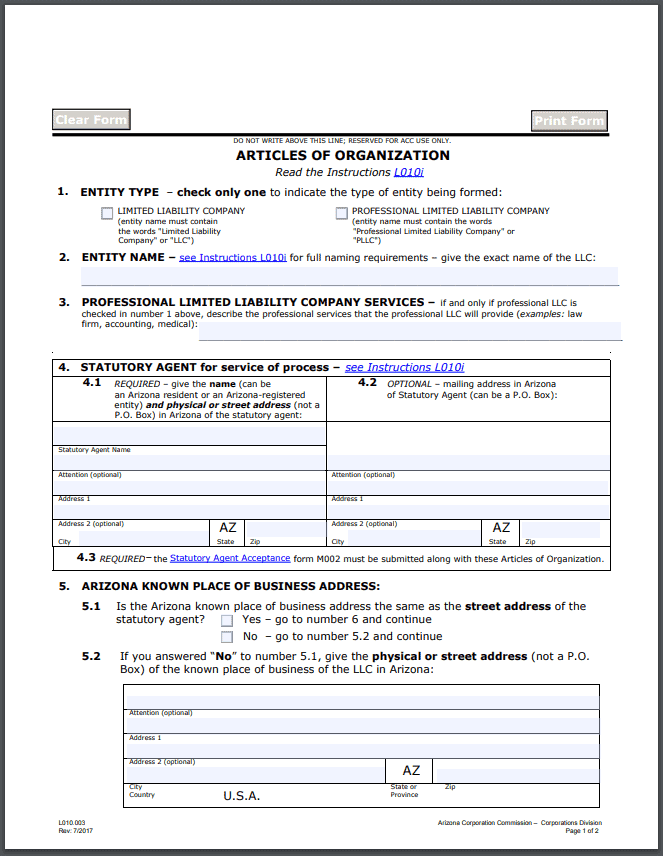 How to File Arizona LLC Articles of Organization
To form an Arizona LLC, you file the LLC Articles of Organization by following these steps:
Choose a name for your new LLC
Decide if you want to hire a registered agent service to minimize public disclosures, and complete a Statutory Agent Acceptance form
Decide what address you'd like to list publicly
Choose how long you'd like your LLC to exist
Choose if your LLC will be member-managed or manager-managed, and complete a Member/Manager Structure Attachment form
For paper filings, complete and attach an Arizona Corporation Commission cover sheet
File online and pay $50 with a credit card, or mail to the Corporation Filings Section at 1300 W Washington St, Phoenix, AZ 85007 with a check or money order for $50
Free Download
File Online
HOW LONG DOES IT TAKE TO START AN ARIZONA LLC?
Arizona doesn't guarantee processing and essentially has two options: faster and slower.
Faster (+$35): 1-2 weeks when things are going well. When things aren't going well (like when the ACC rolls out a new online filing system like they did in May 2018), "faster" is more like 3-4 weeks.
Slower: 3-4 weeks in good times. It's been as much as 50 business days in bad times.
Waiting by the mailbox? Every week, the ACC updates their current processing time online.
WHAT IS THE COST OF AN ARIZONA LLC?
The filing fee for Arizona LLC Articles of Organization is $50 for standard processing (add another $35 for expedited processing). If you hire Northwest to form your LLC, your total cost is $310, including a year of registered agent service.
How much does an LLC in Arizona cost each year?
Arizona doesn't require LLCs to file an annual report, so there's no annual fee.
What are the Arizona LLC taxes?
The Arizona tax rates for personal net income are:
2.59%: $0 to $10,179
2.88%: $10,179 to $25,445
3.36%: $25,445 to $50,890
4.24%: $50,890 to $152,668
4.54%: $152,668 +
Instead of a sales tax, Arizona has a gross receipts tax called a Transaction Privilege Tax (TPT). Basically, instead of a taxing the buyer, the state taxes the seller on income from retail sales. So, if your LLC engages in retail or requires a TPT license (like restaurants, hotels, utilities and publishers), you'll have to pay the TPT. However, since it's legal to pass this tax on to the customer, most businesses end up treating the TPT kind of like a sales tax.
Watch out for local taxes. In addition to the TPT rate of 5.6%, some counties AND cities have their own TPT or sales tax as well. For example, in Phoenix, you'll add both 2.3% (courtesy of the city) and an additional 0.7% (courtesy of Maricopa county), bringing the total TPT/sales tax to 8.6%.
IS AN ARIZONA LLC STATUTORY AGENT REQUIRED?
If you're like 99.9% of people, you've never even heard of a statutory agent—but yes, you are legally required to have one. Your statutory agent (called a "registered agent" in most states) accepts legal notices for your LLC. Your agent can either be an individual or a business (but not your own business). It sounds like a cake job (accepting mail!), so some people just appoint themselves or their friends—but it's a lot more annoying than it sounds.
First, you have to be publicly list the physical address you're using. No PO Boxes. And that address becomes a permanent part of the public record. Also, you actually have to be at the address during regular business hours. Not in meetings. Not at other offices. Not traveling overseas. Need to move offices? Hired a friend that didn't work out? You'll have to file forms to update your info (and pay a "change agent" fee). Hire Northwest, and keep your privacy, freedom and a consistent address.
DO I NEED A TAX ID NUMBER (EIN) FOR AN ARIZONA LLC?
You'll need a federal tax ID if you want to hire employees or if you submit special tax filings like Alcohol/Tobacco/Firearms returns. You may also find you'll need an EIN to open a business bank account, establish credit with a vendor or fill out local tax forms. It'd be kind of weird not to get an EIN, especially since they're free from the IRS. Not keen on filling out any more applications? You can add on EIN service for an additional fee when you hire us.
DOES AN ARIZONA LLC NEED A BUSINESS LICENSE?
Most likely—Arizona itself doesn't issue a general business license, but most cities do. The Arizona Department of Revenue issues TPT licenses. Some occupations require professional licenses. All in all, there are plenty of potential licenses and permits you may need. Arizona doesn't have a centralized licensing office and pretty much expects you to research all the different licensing possibilities yourself. The Arizona Commerce Authority does however have a checklist that can help you determine what licenses your LLC might need.
ARIZONA LLC VERSUS ARIZONA CORPORATION:
Starting and maintaining an Arizona LLC costs a bit less than a corporation. Filing Articles to form a corporation costs $60 ($10 more than an LLC). Unlike LLCs, Arizona corporations are also required to submit an Arizona Annual Report, which has a $45/year filing fee. Unless you really need a corporation (maybe you're dreaming of Wall Street), an Arizona LLC is likely going to be the cheaper, easier choice. Considering a corporation? Here's information on Arizona incorporation.
DOES AN ARIZONA LLC NEED AN OPERATING AGREEMENT?
It's tempting when you learn that there's no legal requirement to have an operating agreement just to cross it off your "to do" list. We get it. By the time you've reached this stage in the process, you've got paperwork burnout. You're not about to create one more document or fill out one more form than is absolutely necessary.
You really do need an operating agreement though. There are business decisions you should put in writing before the situation arises—how will you allocate profits and losses? What happens if members can't agree on an issue? What happens if your business closes down? Even if you're the only person in your business, new partners will want to see your operating agreement. When you open a business bank account, the bank will probably ask to see your operating agreement. At Northwest, we believe every LLC should have a solid operating agreement. That's why when you sign up with us, we include a free operating agreement, specific to your management style. Our operating agreements are just a few of many forms we've spent years developing. Over a million LLCs have used our free LLC forms.
WHAT IS THE ARIZONA LLC STATUTE?
ARIZONA LLC ARTICLES OF ORGANIZATION REQUIREMENTS:
Entity Type:

Arizona uses the same form for both professional and standard LLC

s,

so you'll need to tick the right box.

Most LLCs are standard.

PLLCs

offer the service of licensed professionals (like real estate agents).

Entity Name:

You must include "Limited Liability Company" or "Limited Company" in your name, or an abbreviation like "LLC." Professional LLCs must include "Professional Limited Liability Company" or an abbreviation. Banking words like "bank" or "trust" require approval from the Arizona Department of Financial Institutions

(and yes, you actually have to be in banking to get approval).

Professional Services:

PLLCs have to describe what professional services they provide. Don't have a PLLC? Skip this section.

Statutory Agent:

You can put your own name

and address

, someone else's, or you can list a business that provides statutory agent service.

Hey! Northwest is a business that provides statutory agent service!

Known Place of Business Address:

Seriously, how weird is the phrase "known place of business?" What does that even mean? Basically, your "known place of business address" is an Arizona business address. It can be your actual office location, or it can be your statutory agent's address. (In other words, when you hire us, our address can go here).

Duration:

Want to put a self-destruct timer on your business? Include the date you want your business to shut down. Most people don't actually want their businesses to stop existing on a certain date, however, and they leave this section blank.

LLC Management:

If the members of your Arizona LLC make decisions for the company, then you

are

"member-managed." If decision-making powers are vested in one or more managers, you

are

"manager-managed." (If your manager is also a member, don't worry. You haven't

created

a

time-space paradox; just consider your LLC "manager-managed.") In your Articles, you

don't just

tick the appropriate box.

Y

ou also have to fill out an appropriate attachment:

either a

Member Structure Attachment

or a

Manager Structure Attachment

,

where you include

the names and addresses of members and managers. Just like your Articles, these docs are public, so many people opt not to put personal addresses and use their business or

statutory agent's

office instead.

(Yep, you can use our address again here.)

Arizona LLC Organizer:

"Organizer" may sound like a fancy, official position like "director" or "manager," but it's just the person who signs and submits your Arizona LLC Articles of Organization.

The organizer doesn't need to be an owner or manage

r. We'll be your organizer

when

you hire us.

Cover Sheet:

Submitting with a paper form? T

he

Arizona Corporations Commission requires a special cover sheet for every document you submit. On the sheet, you indicate your payment method and how you want to receive your documents (email, mail, pick up, etc.). Again, Arizona is pretty clear that all documents submitted to the ACC are public, so…maybe don't put your personal email or address? Especially when you can hire us and use our address.
Our Arizona LLC Formation Service Includes:
Filing of Arizona Articles of Organization
Listing our Arizona address instead of your home or office becoming permanent public records
Arizona LLC Filing Fees
Expedited Service
Organizer Initial Resolutions
Arizona LLC Operating Agreement
Arizona LLC Banking Resolution
Arizona LLC Membership Certificates
Arizona Registered Agent Services
Online Account with instant tools to help you start and run your business