How To Start An LLC In Oklahoma
To start an LLC in Oklahoma, you must file Articles of Organization with the Oklahoma Secretary of State, pay a $100 filing fee, and get an EIN from the IRS. The complete steps to forming an Oklahoma LLC are as follows:
File Oklahoma LLC Articles of Organization

Pay the Oklahoma Secretary of State $100

Wait to receive your Certificate of Organization

Get a Federal EIN tax ID for the LLC

Create an Oklahoma LLC Operating Agreement

Take these documents to the bank and get an Oklahoma LLC bank account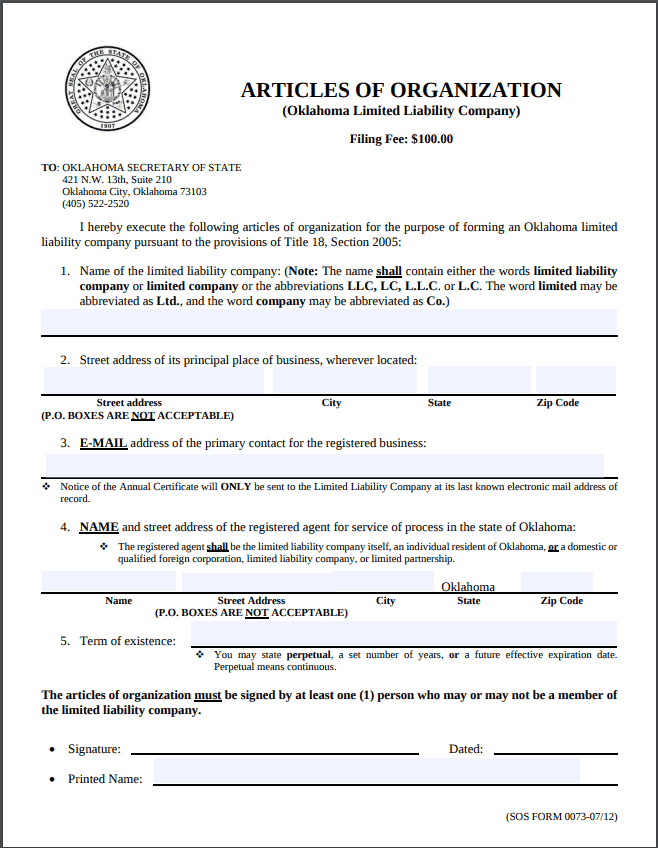 How to File Oklahoma LLC Articles of Organization
To form an Oklahoma LLC, you file the LLC Articles of Organization by following these steps:
Choose a name for your new LLC
Decide what address and email you'd like to list publicly
Decide if you want to hire a registered agent service to minimize public disclosures
Choose how long you'd like your LLC to exist
File online and pay $100 with a credit card (plus processing fee), mail to the Secretary of State at 421 NW 13th, Suite 210, Oklahoma City OK 73103 with a check or money order for $100, or drop off your filing and fee at the same address and pay with credit card, check or money order
Free Download
File Online
HOW LONG DOES IT TAKE TO START AN OKLAHOMA LLC?
Fastest 1 hour: The only expediting available is for those applying in person. So, if you're willing and able to drive to OKC, wait in line, and pay an extra $25 for expediting, you can get your Articles approved in about an hour.
Almost Fastest (and some might say better) 2 days: For an easier (and cheaper) option, file your Articles online yourself. Or, make it even easier: hire Northwest to file them online for you. When you hire Northwest, just answer a few brief questions about your business, sit back, and let our Corporate Guides file everything correctly the first time.
Not Too Shabby 1-2 weeks: Have some time to kill? Mail your Articles of Organization to the Secretary of State. Eventually, someone will enter all your data in by hand and process your filing.
WHAT IS THE COST OF AN OKLAHOMA LLC?
The state filing fee for Oklahoma LLC Articles of Organization is $100. If you file online, there's also a credit card processing fee of 4%.
Hire Northwest, and your total, out-the-door cost is $330, including state fees.
How much does an LLC in Oklahoma cost each year?
Oklahoma LLCs pay $25 each year to submit their Oklahoma Annual Certificate.
What is an Oklahoma LLC Annual Certificate?
Your Oklahoma LLC Annual Certificate is a form you file each year with the Oklahoma Secretary of State to confirm that your company is still active and that your contact info hasn't changed. If you don't file, you'll lose your good standing with the state. Your certificate is due each year by the end of your "anniversary month" (the month your business first registered). If you find this due date tough to remember, you're not alone (why can't it just be due on tax day like everything else?). Northwest can help with this—when you sign up for our services, we send you reminder notifications for your Annual Certificate. You can even hire us to file your certificate for you each year.
What are the Oklahoma LLC taxes?
The Oklahoma personal net income tax rates for single filers are:
0.5%: $0 to $999
1.0%: $1,000 to $2,499
2.0%: $2,500 to $3,749
3.0%: $3,750 to $4,899
4.0%: $4,900 to $7,199
5.0%: $7,200+
The state sales tax rate is 4.5%. Cities and counties can tack on their own sales taxes as well, making the average total sales tax 7.692%.
IS AN OKLAHOMA LLC REGISTERED AGENT REQUIRED?
Yes, an Oklahoma registered agent is required for your Oklahoma LLC. You could always be your own registered agent, but your privacy and availability would take quite a hit. You'd have to list the address where you'd be regularly available in your Articles of Organization. Your Articles and other business entity filings are public documents. These days, personal data—from addresses to emails—is a hot commodity, and at best you'll end up with a mailbox full of junk. Being your own registered agent also means being available at the address you listed. And who wants to be stuck at the office all day?
Instead, consider hiring a commercial registered agent like Northwest. When you sign up for our services, you can use our address and information throughout your Articles of Organization. No need to worry about junk mail or unwanted visitors on your doorstep. We'll also accept, scan and send you any service of process the same day. No need to worry about missing legal notifications when you're at a meeting (or just ducking out early to watch the Thunder with your pals).
DO I NEED A TAX ID NUMBER (EIN) FOR AN OKLAHOMA LLC?
You're required to get an EIN from the IRS if you have employees or file certain federal excise taxes, like Alcohol/Tobacco/Firearms returns. You'll need an EIN for a few other situations as well—opening a business bank account, establishing credit with vendors, and even filing some local tax forms. You can sometimes use your personal social security number instead, but that's just another opportunity for someone to access your personal information. EINs are free from the IRS, so there's no reason not to get one. If you want one fewer application to complete, you can even hire Northwest to get your EIN for you when you sign up for our services.
DOES AN OKLAHOMA LLC NEED A BUSINESS LICENSE?
Oklahoma doesn't have a general, statewide business license, but that doesn't mean your business doesn't need any specific permits or licenses. Some occupations, like accountants or psychologists, require state-level professional licenses. Other business activities, like child care services, typically require local licenses.
OKLAHOMA LLC VERSUS OKLAHOMA CORPORATION:
The filing fee to form an Oklahoma corporation is cheaper than the fee for an LLC: $50 versus $100. LLCs also pay $25 each year to file an Annual Certificate with the state. Corporations aren't required to file an Annual Certificate.
So far, things are looking more expensive for Oklahoma LLCs. Taxes, however, can make costs a bit more comparable. Oklahoma corporations (including S corporations) have to pay a franchise tax each year. The franchise tax rate is $1.25 for every $1,000 of capital used or invested in Oklahoma. Most LLCs are taxed as partnerships and don't have to pay the franchise tax—making the overall cost of an LLC much more competitive. However, if your LLC elects to be taxed as a C or S corporation, you'll have to pay up.
Taking costs out of the equation, small businesses and new business owners often go with LLCs because they're easier to operate. There's no need for directors, officers, or even managers—members can do all the decision-making themselves. Corporations have their own advantages as well and are common choices for larger businesses. Here's more information on Oklahoma incorporation.
DOES AN OKLAHOMA LLC NEED AN OPERATING AGREEMENT?
You bet. Your operating agreement is a document you definitely don't want to gloss over (or worse yet, blow off completely). Unlike your Articles of Organization, your operating agreement isn't a state filing, so you don't need to officially submit it anywhere. Instead, your operating agreement is an internal document—a critical one.
Your operating agreement sets the terms of your Oklahoma LLC. It states who owns the business and who invested what. It explains how profits and losses are allocated and what happens if there's a disagreement or if the whole business goes down in flames (hopefully not literally). Members need this information. Managers need this information. Even people outside your LLC (banks, lenders, investors, partners, etc.) will want to see your operating agreement. While state approval of your Articles makes you a business in the eyes of Oklahoma, your operating agreement is what defines how your business functions—and what legitimizes your business. Anyone with $100 can start a business, but your operating agreement shows you're serious and shows how you really operate.
Operating agreements are so important that we give you a free operating agreement, specific to your management style, when you hire Northwest to form your Oklahoma LLC. We want to work with your business for years to come, so we want you to start out on the right foot. We've spent years refining these and our other free forms: membership certificates, resolutions and more. Over a million LLCs have used our free LLC forms to help form and maintain their businesses, and we're happy to give them to you too.
WHAT IS THE OKLAHOMA LLC STATUTE?
OKLAHOMA LLC ARTICLES OF ORGANIZATION REQUIREMENTS:
Company Name:

Your name must include "Limited Liability Company," "Limited Company," or an abbreviation. Tip: Most businesses keep it simple with "LLC."

Principal Place of Business:

This street address is the official address of your LLC.

Hire

Northwest

as your registered agent, and you can use our

Oklahoma

address as your principal

address

.

Business Email:

This email address is where the Secretary of State will send

A

nnual

Certificate

notifications. Since the information in your Articles of Organization is part of the permanent public record, using a personal email could mean you end up with an inbox full of spam. At Northwest, we allow our clients to use our email address.

Registered Agent:

Your Oklahoma LLC registered agent can be an individual resident or a qualified business, like Northwest Registered

A

gent.

Naturally, w

e're fans of Northwest.

Registered Office:

This Oklahoma street address becomes part of the permanent public record of your LLC. When you hire Northwest, our address goes here.

Term of Existence:

Want your business to continue indefinitely? List your term of existence as "perpetual." Prefer to put a self-destruct timer on your LLC? Enter an end date or a certain number of years to exist. Tip: Most LLCs are perpetual.

Executor:

Your executor is the person you authorize to form and file your Oklahoma LLC Articles of Organization.

It doesn't have to be a member, manager, or anyone in your LLC. Hire Northwest, and we'll be your executor.
Our Oklahoma LLC Formation Service Includes:
Filing of Oklahoma Articles of Organization
Listing our Oklahoma address instead of your home or office becoming permanent public records
Oklahoma LLC Filing Fees
Organizer Initial Resolutions
Oklahoma LLC Operating Agreement
Oklahoma LLC Banking Resolution
Oklahoma LLC Membership Certificates
Oklahoma Registered Agent Services
Annual Compliance Reminders
Online Account with instant tools to help you start and run your business